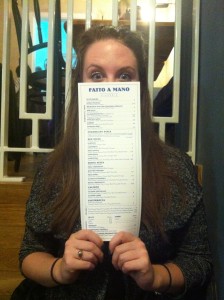 I've been following Fatto a Mano on Twitter since they opened and I've seen other bloggers going so I decided it was time to go get me some pizza. Situated at the top of London Road next to Hare and Hounds, it's the latest addition to the 'let's make London Road nice' effort.
We arrived at 7.30pm on a Wednesday and it was really busy but we just got a table. As soon as you open the door an incredible smell hits you. As we were seated we looked around and saw the queue going out the door. We gots lucky. We were tucked away in what is normally our favourite place, the corner, which was great until we tried to order and were hindered by the surrounding tables which took a few attempts to get someone's attention. We order a Hugo (prosecco, elderflower liquer and soda) and an Aperol spritz with a garlic foccacia to share and a pizza each – the Salsiccia e Friarielli for me (sausage and broccoli and chilli) and the Pizza Panna without cream for Catriona. Both are 'white' pizzas so neither feature tomato sauce on them.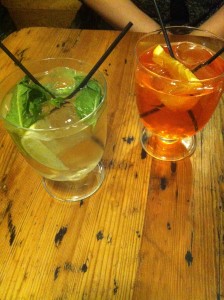 The drinks take a little long time to arrive but the Aperol spritz, according to Catriona, was "fantastic! Not too much soda which is usually a big problem." My opinion is that I still don't like orange. The Hugo however is lovely with not too much mint. A good balance of elderflower and soda so it wasn't too sweet or too bitter. Worth the wait.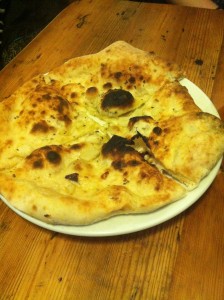 The focaccia is not focaccia as I know it, it's quite flat and looks more like pizza dough. Still bloody tasty. My one critique is that it could do with – and I realise how this sounds but – a more even distribution of garlic (half was covered in garlic and half had none).
At this point Catriona grabs my phone and writes: I enjoy the fact that the couple next to us seem to be eating chips as a starter. I think I want to be part of that relationship. (Sorry to the couple next to us, we did stare at you a lot. But you definitely had the chips to start. They did look great though.)
An hour after we arrive we have drinks and a starter but no pizza, but obviously then as soon as I typed that into my phone our pizzas appeared.
Catriona: Most of the ingredients were clearly very fresh including the dough and the ham, but I would say there is too much cheese. As I asked for it without cream maybe they added more cheese to compensate. There were a lack of mushrooms and the mushrooms that were on it did not taste fresh. They felt cooked before hand and then added to the pizza, rather than a topping that was then cooked with the pizza which meant they were slimy and flavourless.
| | |
| --- | --- |
| Pizza Panna (no cream) | Salsiccia e Friarielli |
I enjoyed my pizza. The broccoli was so soft and tender that it felt more like spinach. The chilli gave it a really great kick that was cooled down by the cheese along with some good quality sausage meat with no gristly bits. The dough was really good, whilst it was thin it wasnt so crispy you couldn't cut it. Nice and chewy and was great to eat at the end with some Mayo that we had asked for. I thought that I would miss the tomato sauce but the toppings of mine were so good that I didn't miss it at all.
It was certainly good value for money. Neither of us finished our pizzas and for a starter at £3.50, cocktails at £5 and pizzas at £7.50 and £8 it's a great place to get a quality (and unpretentious) pizza without spending a small fortune. The atmosphere in the restaurant is great, it was busy with couples and groups chatting away and really friendly staff. It helps that as the evenings draw in, we were warm and cosy as we hid from the cold weather. I had a better experience than Catriona did, so I would recommend going back. It's simple food done really well. Plus you can have lemoncello at the end. Because that is obviously what we needed after wine and cocktails…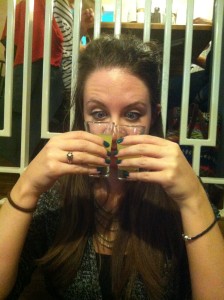 You can find out more about Fatto a Mano on their website, Facebook, Twitter and Instagram, and you follow me on Twitter and Instagram.
(Plus, added bonus, if you go up the sneaky steps to the old railway bridge before/after your meal you can see a train with the magic lighting. Thanks to Catriona for finally showing me how to get up there!)