I have had the best few weeks. It was my birthday so we had three weeks of celebrations including Avenue Q, power ballads, rugby, taxidermy, Hamlet with Benedict Cumberbatch, massive roast dinners and, to round it all off, the Great British Blind Gin Taste Test.
Admittedly that isn't the name I used when I pitched it to my friends. I believe it went along the lines of "guys, so I have a lot of gin and I always say I don't really like Bombay Sapphire and love Gordon's but what if I can't actually tell them apart?" I already owned a bottle of Gordon's, but thanks to the lovely Natasja I now also have a bottle of Hendrick's, thanks to the wonderful Jo and Rach I have a bottle of Bombay Sapphire and the awesome housemate Jenny Bernarde participated and donated her Greenall's. Alongside myself and Jenny B (yes, Jenny and Jenny live together), we had Catriona helping to taste test and Lisa (the gin hater) being the controller and gin administrator.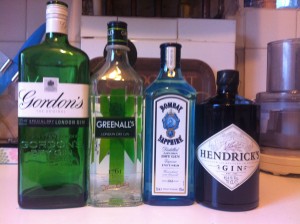 Few quick facts. Gordon's and Bombay Sapphire are both English gins started in 1769 and 1987 respectively, Hendrick's and Greenall's started in Scotland in 1999 and 1762. All are readily available in supermarkets for anywhere between £15 – £28. Hendrick's is pricier than the other three, but is usually roughly the same price in bars as the others. All four are big brands and between us we all had a favourite.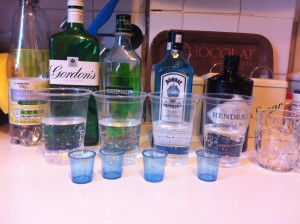 So how did we do it? Lacking four glasses the same, we used plastic pint cups. Each filled with a double shot of spirit and a mini tumbler of Co-op tonic. At this point, I left Lisa alone in the kitchen with a pack of straws and plastic mixers whilst the three of us sat (rather nervously) in the lounge.
One at a time the drinks were bought out to us. We had to write down our thoughts on each and not discuss it until the end as we didn't want to influence each other. I was really nervous. This could all go horribly wrong. We were allowed to taste each one more than once to compare, and we could change our answers as many times as we want until we start reading them out.
So, how did we do?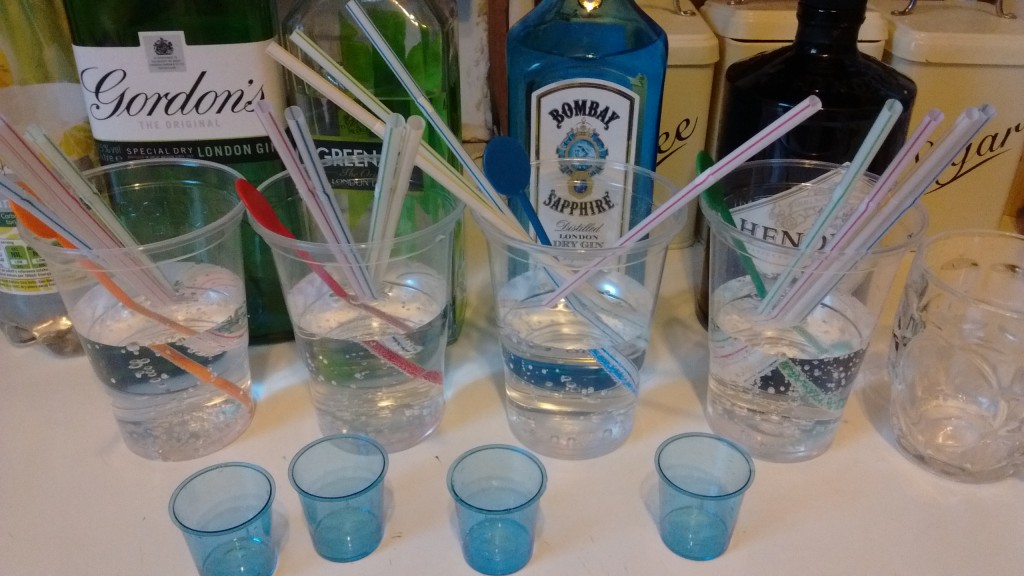 | | | | | |
| --- | --- | --- | --- | --- |
| The actual gin | 1 – Greenall's | 2 – Gordon's | 3 – Hendrick's | 4 – Bombay Sapphire |
| Jenny M Guess | Greenall's – smooth and I originally thought it was Gordon's until I tried the second one | Gordon's. Recognised this straight away. Because I recognised this I changed my first answer to Greenall's as I know they taste similar | Bombay Sapphire. I originally thought this was Hendrick's, but after Catriona had her massive adverse reaction to number four, I thought I was maybe missing something. This is why we weren't meant to say anything! | Hendrick's. I thought this was really bitter and originally thought it was Bombay, then Catriona freaked out as she really hates cucumber and I thought her hatred of cucumber was higher than my hatred of Bombay. I wasn't certain but I went for it. Damn her! |
| Catriona Guess |  Gordon's. Lemony and non-descript | Bombay Sapphire. It tastes fancy. | Greenall's (although she called it Hendall's). Fresh and nice (Catriona always goes on about hating Hendrick's. Look who's wrong now) | Hendrick's. I quote "fucking cucumber". |
| Jenny B Guess | Gordon's. Really nice and a slight bit of the Gordon's tang. Smooth and classic. | Bombay Sapphire. Had a really bitter after taste. Shocked when finding out it was Gordon's as that's the usual order when out, and apparently I don't like it. | Hendrick's. Fresh and I could definitely pick out the fresh cucumber and could taste the quality | Greenall's. Smooth but not quite as fresh as gin number three and less tangy. |
Jenny M – 2/4 correct (although so nearly a perfect score!)
Catriona – 0/4 correct (sucks to be you)
Jenny B – 1/4 correct (winner of the wooden spoon)
So I won. But only just. I'm glad I recognised the Gordon's and the Bombay Sapphire, even if I went by Catriona's apparently terrible taste buds. We all had some revelations. For me, whilst Bombay Sapphire is still a bit bitter and not to my taste, it isn't as bad as I built it up in my head and I will definitely be tucking into my birthday bottle. For Jenny B, she doesn't like Gordon's as much as she thought and does like Bombay Sapphire more than she thought. For Catriona, she doesn't hate Hendrick's. Her usual drink is Bombay Sapphire and whenever I mention Hendrick's her reaction would be "bleugh cucumber". Oh how we all laughed when she got it wrong.
This was a really interesting experiment, and I challenge everyone to do it. We spoke about repeating it in the future to see if our taste buds improved and to see if it got easier/harder. It was a really fun way to spend a Sunday afternoon, so gather together your friends and your gin! In the pipeline is also the "Tonic Taste Test" because again I LOATHE Britvic, so want to see if I can pick it out from Schweppes, Fevertree and Fentimans.
Big shout out to Catriona and Jenny for tasting with me, and to Lisa for overseeing it all and for trying all of them afterwards with the comment "Greenall's was the best of a bad bunch and Bombay Sapphire was the worst of a bad bunch". She isn't a gin fan. My lovely friends are all over social media and the interwebs:
Catriona – has Twitter but barely uses it, but is fun when she does.
Jenny Bernarde – big Twitter user who always has good music recommendations and writes a blog about making her own clothes (which she is very good at).
Lisa – also all over Twitter, Tumblr and blogs, most recently about her recovery after heart surgery but also less terrifying things. She is also the author of our A-Z challenge of Brighton pubs brightona2zreviews.blogspot.co.uk
As for me, I'd love to hear your thoughts on our gin tasting, you can tweet me @jennifermclaren or message me on Instagram – that's a thing right?