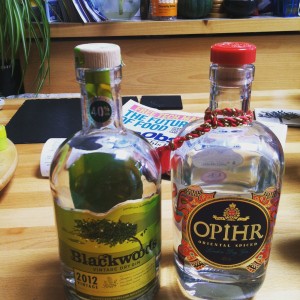 What does one do on a rainy Sunday afternoon in Brighton? If you're myself or Catriona, you drink some gin. "Is two o'clock too early for gin?" I ask, "not if we have two different ones to drink plus wine" she replies. This is why we are friends.
She treats me to a gin that she was given by her brother – Blackwoods Vintage Dry Gin. This claims to be the world's first vintage gin, the current vintage is 2012. How many bottles of this were made I don't know so soon we might see a 2013 vintage perhaps. Hand picked botanicals from Shetland include Sea Pink, Marsh Marigold and meadow-sweet which are combined with the more usual flavours from juniper, coriander and citrus peel to create their 40% proof gin. Note that Blackwoods also create a vintage 60% gin and a botanical vodka using similar flavours.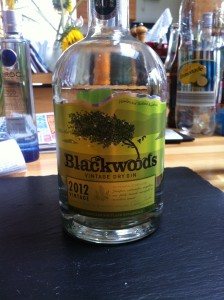 So there we are. Catriona's kitchen, overlooking the damp garden, measuring out gin into her Granddad's tumblers like naughty school children while we had the house to ourselves. The first smell to reach you is floral and fruity, with a heavy lean towards the juniper. Measured with water the citrus flavours come to the front and it has a wonderful fragrance to it. It is soft on the tongue and, considering how heavy the citrus is, it isn't bitter. Sometimes when the citrus flavours dominate, it leaves a bitter taste but this feels well-rounded.
After a mild panic that there was no tonic in the house and that we would have to venture into the rain, we unearthed some (thank you gods of tonic). With the tonic, the coriander surfaces to produce that beautiful clean smell that I love in gin, the one that reminds you of stepping outside just after it has rained. The gin is well-balanced and has all the marks of a good quality gin. Imagine a classic Gordon's G&T with added flavour. Whilst it is fresh, it certainly has a lot more going on than a Gordon's. The floral notes come through to balance out the citrus zest.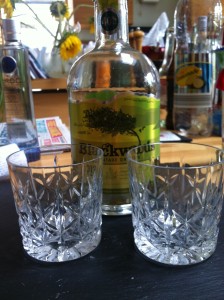 All in all, a wonderful gin. This is one that I wouldn't save for a special occasion as this is a lovely every day gin. Catriona's opinion: "I can picture drinking it on a summer's afternoon as lambs frolic in front of me accompanied with cold quiche and salad". I agree. If the sun had been shining, sitting out in the garden would have made this drink perfect. Alas, we live in England by the sea-side. In early September.
Selling on Masters of Malt for just £20.48 this is a good buy for someone looking to jazz up their daily G&T from the standard Gordon's or Greenall's. As this doesn't break the bank, I'd suggest that everyone give this a try.
You can find out more about Blackwoods from their website, Facebook, Instagram and Twitter.
For more musings on life, gin and the joys of Southern Rail you can follow me on Twitter or check out my snaps on Instagram.