I don't want to start this post with a lie so I'm going to be open and say it: I've had a few glasses of wine. I also forgot that I am now a 'blogger' so I have one photo of my food, and it's not the food-porn Instgrammed photo you're all hoping for. But more of that later.
So today was our work dinner. After trying and failing to get into Curry Leaf Cafe, we settled on Makara on Church Road, Hove. I walk past this place twice a day to get to and from work and every day I think "oh, that looks nice". And that is about as far as it went.
When it got suggested in the office I did as we all do, instantly googled it and read the menu every ten minutes throughout the day trying to decide what sounded best. After a cheeky glass of wine at Blind Busker, we trekked the 10 feet across the road and entered the restaurant. The first thing that hits you is a wall of heat. Then the smell. Oh my that smell. The smell of meat and spice and everything nice. We got seated at our table at the back and ordered some wine (white) and water for the table. The water arrived in the fashionable Kilner bottles that are super trendy and everywhere yet I still want desperately for my flat. Along with the water came some hummus and hot, greasy flatbread that was beautiful on an empty stomach and a glass of wine (I realise greasy sounds like a negative review but I actually mean this in the best way, it was delicious!)
We decided that the best idea for seven people would be to get two of the cold mezze to share plus hot starters. We (I) specifically requested the vine leaves to be included in the cold mezze (6 of the cold starters) but apart from that we left it to them. We got a selection of artichoke (which sadly got nommed before it got passed down to my end of the table), vine leaves, hummus, cacik (yogurt and cucumber), kisir (bulgur with onion and tomato) and more. The vine leaves were minty and fresh as hoped, and the bread went beautifully with the various forms of hummus/yogurt dip. Looking back now as I write this, I should have asked exactly what we were eating. Alas, it is too late. For hot starters we had falafel balls (crispy on the outside and yummy in the middle and served with more hummus), grilled halloumi (which is basically the food of the gods and so can never be wrong or bad with its squeaky goodness) and prawns with garlic and chili (which had a very good spicy kick to them, which when paired with one of the yogurt dressings was a delight).
Our waitress was really nice and attentive despite it being rammed with Christmas parties and couples and groups of friends, our water was always topped up and she was quick at delivering and clearing all of our plates.
About a minute after our starters were cleared, the mains arrived. Never in my life has a main appeared so quickly. As one plate was removed another was placed in front of me. And another basket of bread arrived. This is me at my happiest. After a lot of discussion I settled on Iskander (grilled minced lamb with yogurt and tomato sauce on pita bread cubes with rice and salad) only to be told that they no longer serve that. Instead of throwing a strop I went for my second choice of Ali Nazik (sautéed lamb with smoky aubergine purée with yogurt and garlic, with rice and salad on the side).
The salad was cold and fresh and was a welcome change after the richer sauces, the rice was nice and dry and worked brilliantly at soaking up my auberginey-yogurty sauce (which was also lovely and smokey and was a good combination of spicy and creamy). My one disappointment was my lamb. Whilst it was flavoured beautifully with various spices, I seemed to get the fattiest bits of lamb. It was helpfully already cut up into small pieces, but the lamb itself was quite tough and chewy. Which was a shame as it tasted great, but gnawing on bits of fat isn't my thing.
No one else seemed disappointed with their meal. Indeed someone else had the same dish as me and had no complaints so I am hoping that I just sadly got the short straw with the bits I was served. I was surrounded by lamb kofte, tavuk sis (chicken breast with pepper and garlic – one complaint here. Again beautifully flavoured but was a bit dry. A spoonful of my sauce helped) and lamb chop-esque meals.
Complaints aside, I managed to scoff my whole meal so I can't have hated it that much. And here comes the one photo that I took.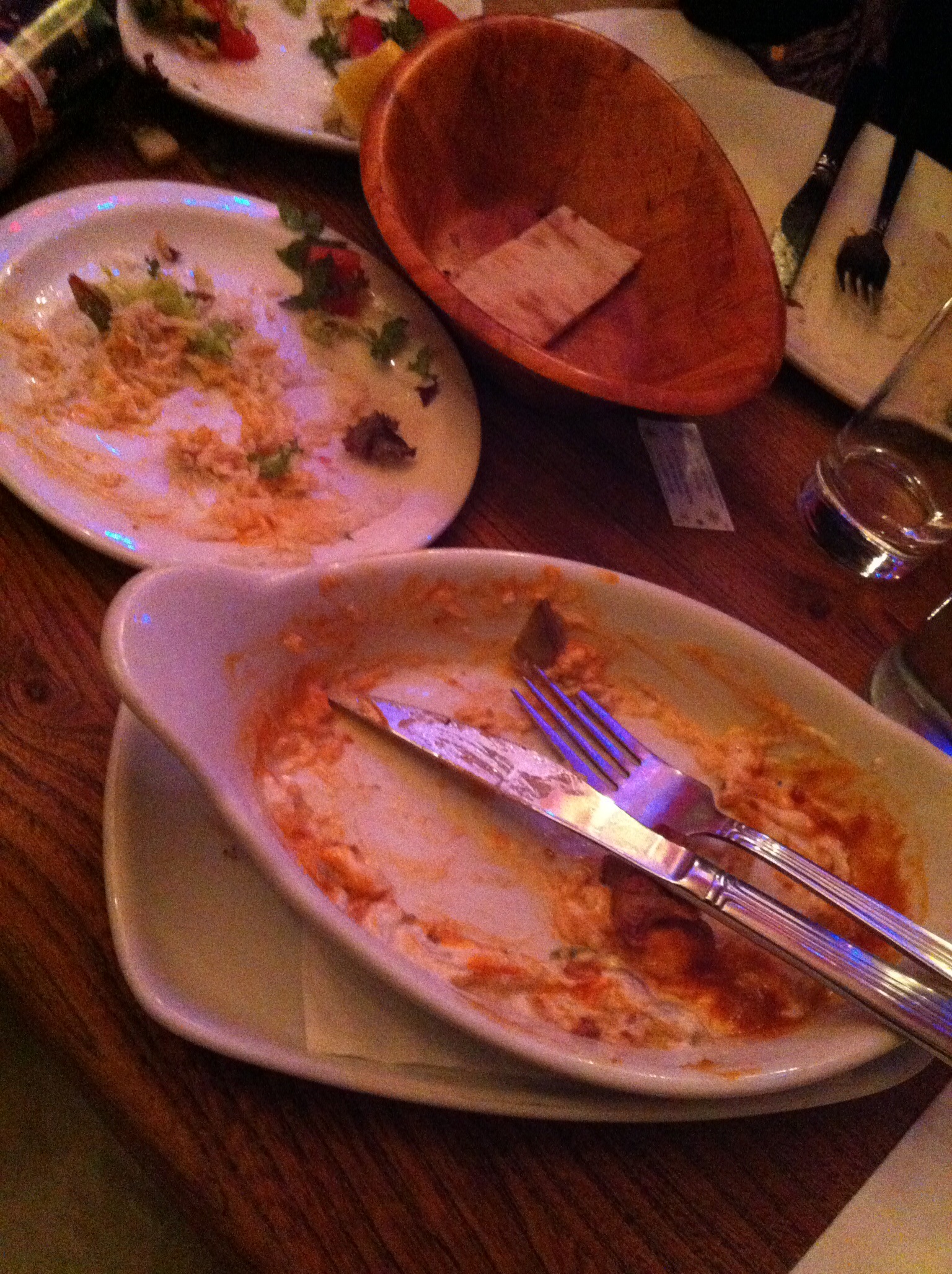 Whilst I wasn't 100% happy with my main meal, I enjoyed every other second of my meal and would happily go back again to try out the rest of their menu. The only reason I made a fairly quick decision about my main meal was because I had stared at the menu for most of the day. Particularly with the starters, I believe my remark was "I will happily eat every item on this menu. In fact, if you can bring me one of everything that will be great". This is my first experience of eating Turkish food in a restaurant and it certainly won't be my last.
I realise this is a fairly shoddy review, but I'm learning. Next time I will hold off filling my mouth just long enough to take a photo. And I will pay attention to what I am eating.
You can read Makara's menu here and you can follow them on Twitter here.
For more of my daily witterings you can follow me on Twitter and for some slightly better photos of food and gin, I am also on Instagram.