Note: This post contains affiliate links marked as [Ad], if you click on this and buy a bottle of gin then I will receive a small commission.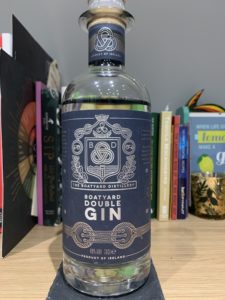 There's been a lot of talk in the recent months about the rise in Scottish gin, but today we head across the water to the north west coast of Ireland. Boatyard Distillery is based on the banks of Lough Erne in their farm-to-bottle distillery. Their vodka is made from home-grown wheat, the spent grains go back to the land as fertiliser and animal food, and they pick their signature gin botanical (Sweet Gale – a type of bog myrtle) is picked from the family bog. Today's drink is their flagship Double Gin, made by macerating eight botanicals for 18 hours in their wheat spirit and ensure the juniper flavour is front and centre using a filtration process which helps to highlight the beautiful pine notes. They keep their botanical list fairly traditional – alongside the juniper is coriander, liquorice root, angelica, orris, fresh lemon peel, grains of paradise and the aforementioned Sweet Gale. So, how does the banks of Lough Erne taste?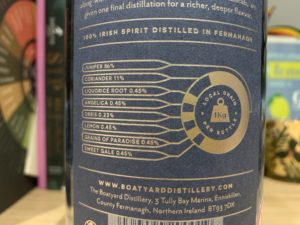 Popping out the large cork and it smells, unapologetically, like gin. Like proper gin. Juniper. Something slightly floral lurking in there, but it is definitely juniper. In the glass it takes on a more grassy aroma, but you can pick up some hints of pepper. Adding a splash of water allows the lemon peel to shine – this has changed a lot already and I haven't even sipped any yet! It's very gentle in the mouth at first, very clean before a wave of peppery heat comes through. It's not too intense though and sticks around for a long time. Repeat visits allow the citrus to appear, softly washing around your mouth and mellowing out the pepper.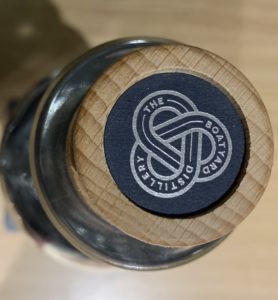 Mixed with an equal part light tonic and a bitterness from the quinine kicks in, but once you're through that you get the pepper and citrus and a lot of pine, followed by a little tingle in your nose at the end. I@m not sure where this comes from, but I don't hate it. There's almost something aniseed like in the mouthfeel, it leaves your mouth minty fresh wanting more.
You can get a 70cl bottle of the 46% ABV gin from Spirits Kiosk [Ad] for £31.95 (at time of writing). Is it near the top end of the price scale, yes, but this gin holds it own. I've been told it makes a stonking negroni and imagine it would also work well in any gin-heavy cocktails. It has so much flavour, it feels stronger than the 46% ABV. You can find Boatyard Distillery on Facebook, Twitter and Instagram.
Have you tried Boatyard Double gin? Let me know your thoughts on Twitter and Instagram.