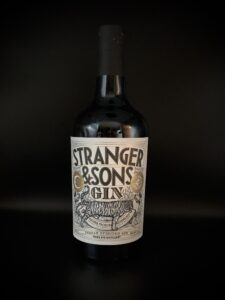 Note: Please note if you join Craft Gin Club using the links in this post, you will receive money off your first box and I will receive money off a future box via the referral link.
I'm going to be straight with you. I was considering cancelling my [affiliate] Craft Gin Club subscription this month, mostly because the pictures teasing this month's gin featured coconuts and mangoes and tropical fruits and I was really worried it was going to be a fruity/flavoured gin which is just not my thing. But I decided to give it a chance and make a decision after this box. Boy am I glad I didn't cancel. This month's gin is Stranger & Sons hailing from India – this was actually part of the 2019 Ginvent calendar and you can read a fairly in depth review of it here. Whilst a part of me it is sad that it is a gin I've already tried, I'm excited to have more than 30ml of it to play with.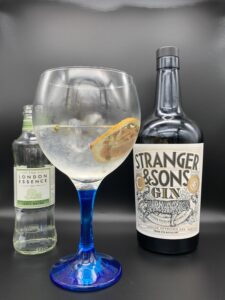 The first thing I did was make their signature G&T using the gin and London Essence Co. bitter orange and elderflower tonic. Now, we all know about my aversion to orange, so this isn't something I would usually pick up. They suggest making it 50ml gin to 200ml tonic but I fundamentally can't do that, so used 100ml tonic instead. I was surprised by how much I liked it; even on its own the orange in the tonic isn't too strong, and it works well with the various citrus' in the gin. The warm spiced notes contrast the lighter elderflower well. I garnished with the supplied dried lemon and green peppercorns which was a mistake, I hate tiny crap floating in my drink and I'm not convinced it added much. Whilst I wouldn't use the garnish again, I would definitely drink this combo again (and indeed did the next night).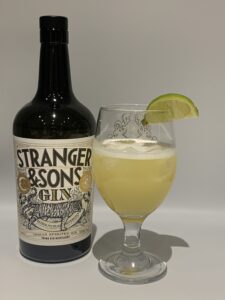 Their cocktail of the month is a gin-a-colada using 50ml gin, 25ml of the supplied cocktail syrup and 75ml Martin Frobisher's pineapple juice (also supplied). I was worried this would be too sweet, having tried their cocktails before, but actually it was very refreshing. In hindsight, I needed to shake it more to build a better foam, but it felt more naturally sweet than syrupy sweet. The pineapple juice is really light and it felt like the perfect summer cocktail…in September. I'm not sure how much the syrup adds, and will probably try making this just as the gin with pineapple juice, but I would be tempted to buy another bottle of this from their member's store.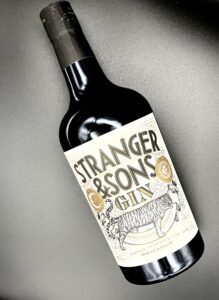 I know this post is a bit different, usually I focus on just the gin (which I would have done if I hadn't reviewed it before), but I've been having discussions with people about the value of these boxes. It got me thinking back to my second ever blog post back in March 2015 (yes, I've been a member for that long) which contained a bottle of Blackwater No.5 (still one of my favourite gins to this day), when I received my copy of Ginned! via email and no additional goodies. The boxes have come a long way since then as they have grown in popularity (and no doubt take some of the extras as paid marketing opportunities). But this box seemed like a bumper edition. The magazine now is not only printed, but long enough to not be stapled in the middle and on much glossier paper, plus this month we received two bottles of tonic, the juice and cocktail syrup, plus a mini Campari, the dried garnishes, some coffee bag samples, a bar of Tony's milk caramel sea salt chocolate (which, FYI, is so delicious I had to sit on the floor with my eyes closed), a bag of Mr Singh's spicy tandoori chicken chilli crisps (spicy is not a lie, they were delicious but I thought my tongue was about to burn off) and a bag of Howdah onion bhajis. And the price has never changed. I think as someone that has been a member for so long, you can see the value of each box increasing, and it's nice they haven't hiked the price up.
With so many subscription services out there, I do think they provide good value for money. My only wish is that they focus more on traditional gins, navy strength gins and old tom gins rather than exclusive releases which are usually sweeter and flavoured. But that's a personal preference and they aren't catering just for my taste buds unfortunately. What do you think? Are you a member of a gin subscription service? Let me know your thoughts on Twitter or Instagram (or feel free to email me jennyinbrightonblog@hotmail.com).
If you want to find out more about Stranger & Sons gin, you can find them on Facebook, Twitter and Instagram. You can check out Craft Gin Club on Facebook, Twitter and Instagram too.