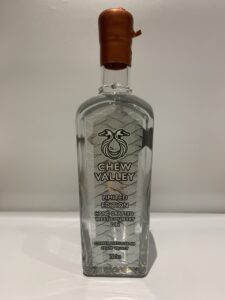 If anyone follows me on social media, you might have seen that I'm lucky enough to be friends with Ant (@BrimandTonic), who introduced me to Chew Valley Distillery via our gin swap in December. Through Ant we tried their navy strength, the clementine and cranberry, and the blush which raised money for the Pink Ribbon Foundation. Founder and distiller Joe had a crazy 2020. Pre-covid, he was sat with his Dad looking at the spirits range they stocked in his restaurant and decided they wanted to have a go at making their own gin. They conducted lots of research and reached out to others in the industry. One year on and they have a range of gins which have won a number of awards, including the 2021 Gin Guide Awards winner New Distillery of the Year. As well as producing three core gins (the original, the navy, and the clementine and cranberry) and the charity blush gin, Joe wanted to keep experimenting and decided to make a limited edition gin. By making a small run, he's able to be flexible with flavour combinations (without the extra expense of branding a new bottle) and try seasonal variations. He also distils on commission, and in doing one such run he came across the blend of pink grapefruit and rosemary. Whilst it wasn't fully intentional, he liked the result and a few tweaks and 11 botanicals later, here we are. 100 bottles were produced and the online stock sold out within a week.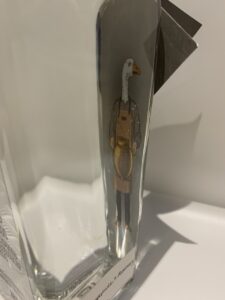 Peeling off the wax sealed tab is very satisfying and the cork pops out very easily. On the nose straight from the bottle, I'm not able to pick up too much citrus. Instead the savoury rosemary comes out, along with warming spices. In the glass you can pick up a little bit of sharp citrus, which massively increases with a splash of water. To sip you get the acidity of the grapefruit, which merges slowly to a herbal note. The finish is long and slow, with a touch of menthol at the very end.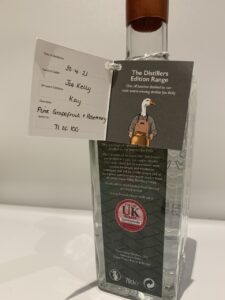 Mixed with equal amounts of Fever Tree tonic, the rosemary is the main flavour that comes through. For me, a little bit more tonic helps to bring the citrus out and make it a bit less intensely herbal. I think this would be an interesting gin to use in a martini – either amplifying the savoury side with an olive and sprig of rosemary, or adding a twist to dial up the citrus. Herbal gins aren't usually my thing (I ordered this on the basis of citrus AND rosemary), but as I keep sipping I'm warming to the flavours. It's the kind of gin that I think would pair well with food – which is interesting as I'm not a gin-with-dinner kinda gal.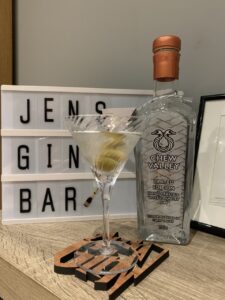 Because it's me, I've mixed up a martini using 60ml gin with 10ml Dolin vermouth, and garnished with some olives. It's very easy to drink, the olives work well with the herbs and adds a touch of salt. I haven't added any brine to make it dirty, but think leaning into the Mediterranean flavours would work really well. For me, it makes more sense in a martini than as a G&T, but I think if you used Mediterranean tonic it would help. Basically, even though rosemary is in the name, I wasn't expecting it and got confused. Moral of the story: pay more attention to what you're about to put in your mouth.
The limited edition gin is no longer available to buy online, but their core range is available on their website. You can find Chew Valley Distillery on Facebook, Twitter and Instagram.
Have you tried any of the Chew Valley gins? Let me know your thoughts on Twitter and Instagram.