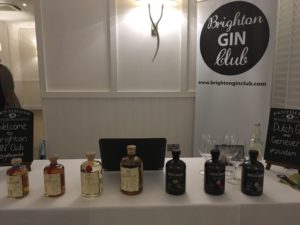 If you follow my Instagram stories you'll know that a little while ago I went to a gin and cheese night hosted by Brighton Gin Club at La Cave a Fromage. When I was there I got chatting to the team and mentioned that they were combining my two loves – gin and organising events (#eventsprof). They then told me about one of their upcoming events, a night of dutch genever and gin. They kindly invited me along, so I jumped at the chance (and dragged the boy along with me).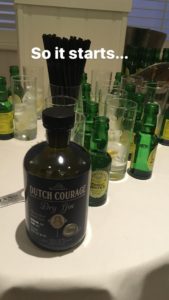 The gin we're drinking tonight comes from Zuidam Distillers, a father and son team which started back in 1975 with one copper still. Now they run a state of the art distillery which is 3,600 square meters with four copper stills and over 1,000 oak barrels. They have quite the collection of spirits – try eight genevers, seven whiskys, three gins, 17 liquers and two rums. I guess they've had a while to build things up. Tonight we're trying four genevers (Jonge, 3yr Oude, 1yr Korenwijn and Rogge), a Tom Collins cocktail then three gins (Old Tom, Dry and Aged). On a Wednesday…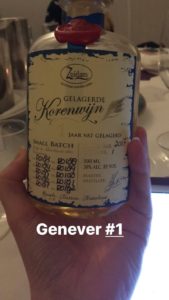 The Harbour Hotel at the end of West Street is a lovely setting – we're in an airy big room with high ceilings and about 15 other people. We're greeted by Jo and Jason who hand us a gin and tonic which I'm a fan of – a Dutch Courage dry gin which is quite citrusy and light matched well with a Fentimans Indian tonic. Accompanying it are some fried beef balls… really quite yummy despite sounding a bit grim once I've written it down.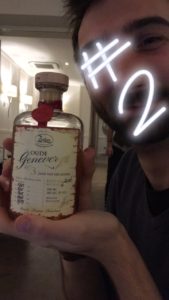 So, after a rather long chat about Dutch history from leading man JP [Note: JP got on my nerves so I tuned him out which probably means I missed some good facts about the gins below. But oh well.], we are poured a sample of the Korenwijn genever. In the glass it's quite oaky with a hint of stewed fruit – imagine a Christmas pudding full of raisins. It's a punchy genever, hints of liquorice and the anniseed on the tip of your tongue leaving it fresh and cool. Russ thinks "it tastes like there's a lot going on". So glad he is helping me tonight. This is a 100% malt wine base and the sense in the room is that it's like whisky, although it's not got any hints of smoke like a good whisky.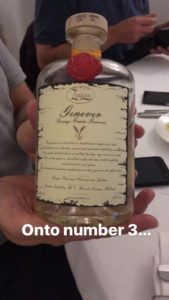 Number two – the Oude (or Old) genver smells more vanilla-esque but still like a Christmas cake. It's slightly sweeter to me, although Russ thinks it's "woodier and the raisins hit me in that one whereas it wasn't so obvious in the first one". I think I preferred the first one of the two, the heaviness appeals to my newfound whisky fan (thanks WSET training). This genever is distilled from equal parts corn, rye and malted barley for the base spirit and aged for three years in smaller casks.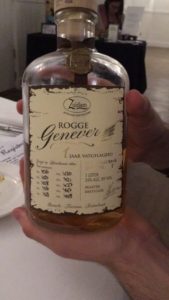 From old to new we move to the Jonge style; this one is a clearer liquid – or water white according to my WSET teacher. It smells harsher but adding a touch of water to it takes out the ethanol taste. It tastes much cleaner and clearer than the previous two but with a tiny hint of vanilla (so small that Russ that can't pick it out). The final genever to be tried is a 100% grain spirit – a mix of malted and unmalted rye and aged for just a year. Fun fact: the Rogge is only served in one litre bottles. It's quite creamy and heavier than the young version we just tried but with a medium finish. The pepper lingers on the tongue before slowly fading away to a vanilla aroma. 
Here we take a little break with some fried fish things (also yummy and my words are not doing it justice) and a little Tom Collins made with the Old Tom gin again. This. Is. Lovely. The right balance of bitter lemon and the sweetness from the sugar. The softness from the Old Tom gin helps make it incredibly quaffable and a tad dangerous for 8.30pm on a Wednesday…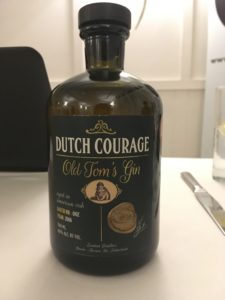 Moving back into the tasting from genever to gin, we went for the Old Tom; straight it has a maple syrup flavour to the nose and is slightly punchier on the tongue. Less juniper heavy, it works so very well as a Tom Collins but the opinion of the table with our new gin friends is that it's best neat. Russ looks unconvinced, screws up his face and says "I'm not a fan". So that's that.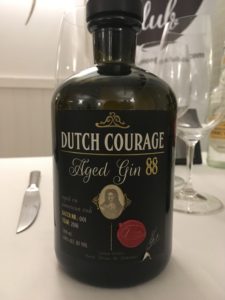 The fifth and penultimate gin is an aged gin, slightly yellow tinge to it from the American oak casks – it's the Dutch Courage gin (see below) but just aged in barrels. It smells quite closed and dense, not huge amounts of flavour coming through (I do have a slightly blocked nose) but it certainly packs a punch on the tongue. It's complex and spiced, but a strong spice that hits you then fades quite quickly with a surprisingly short finish. Russ is less thrilled with this one, as he disagrees and thinks it has a longer aftertaste – but not in a good way. I think this would go well with a dry ginger ale.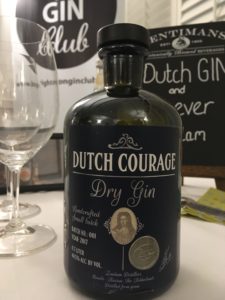 Our final gin of the night is the standard Dutch Courage which is the most traditional style gin that Zuidam make. It's quite dry and the juniper is more prominent but there's still a good streak of vanilla (which I guessed first in the competition obvs). The consensus is that the Old Tom is the favourite, easily sippable and nice and smooth (although as a big gin drinker I'm quite happy to drink this final gin straight too). Admittedly we haven't tried any with tonic or mixers but as straight drinks they were great.
And with a final cocktail that somehow mixes limoncello and gin and works perfectly, the night draws to an end. Except that obviously I don't win the prize draw but there we go. Lovely gin, lovely venue, lovely people and a slightly annoying host. What more could you want from a wet Wednesday night in Brighton?
You can find Zuidam on Facebook.
Make sure you check out Brighton Gin Club as they run lots of events – meet the maker, gin and curry, gin and cheese, local gin festivals… Basically, they're worth meeting. You can find them on Facebook, Twitter and Instagram.
Finally – what do you think of genever? A fan? Or do you prepare a traditional gin and tonic? Let me know your thoughts on Twitter and Instagram.