Note: I contacted the Generation Distillery team and they sent me a sample to try, as always, I'll let you know what I think.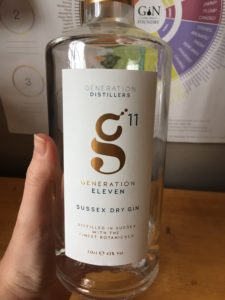 Generation 11 gin is another addition to the growing, and brilliant, Sussex gin scene. Based in Chailey (just outside of Lewes), Generation distillery comes from a husband and wife team with a passion for locally sourced, quality ingredients with great flavour. Their passion for sustainability is evident – the lavender comes from Kent, the coriander is grown two villages away and their botanical supplier is based down the road from them. They managed to re-commission a well which is used to draw up local ground water for their gin. Alongside the floral notes from the lavender, they add cardamom and pepper for some warmth and a twist of lemon for a hint of sweetness.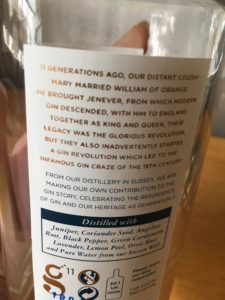 Opening the bottle and the citrus is obvious straight away along with a floral note at the back. In the glass, the lavender is more recognisable along with deeper characteristics from the cardamom. Adding a touch of water, the first thing on the tongue is a hint of spice – not fiery ginger, but warming cinnamon and cloves. Fairly Christmassy, my first thought is it will go well with a ginger beer. The lavender adds a touch of perfume to give a really rich mouth feel and a slow, lingering finish. The flavour is fairly simple and doesn't evolve, but that's not a bad thing. At 43%, it's surprisingly smooth and easy to drink.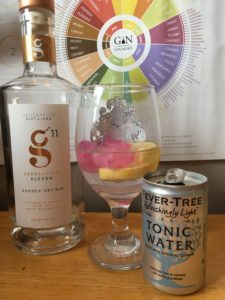 Mixing it with an equal amount of Fever Tree light, the smell is not 100% my favourite thing. Slightly musty. Which is strange. The spice is amped up with the tonic, as is the perfume. It's not necessarily the best balance and the citrus is lost. Adding a touch more tonic and the flavour mellows. But it just tastes and smells like something is not quite right. I think if you can get over the smell then the taste is definitely better. To distract me from this, I've added some lemon wedges and this helps a lot – the smell is dampened down and the flavour lightens on the tongue.
You can buy a 70cl bottle of the 43% gin from the Generation Distillery website for £36 (at time of writing). Personally, this one isn't for me, which is a shame as I really wanted to like this as I am completely biased towards local Sussex gins. But this doesn't quite do it for me. You can find them on Facebook, Twitter and Instagram.
Have you tried Generation 11 gin? Let me know your thoughts on Twitter and Instagram.