Y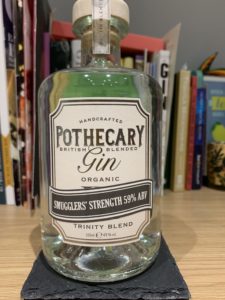 ou might have seen that last year, Martin kindly sent me a bottle of Pothecary gin's new blend – Trinity gin. This has quickly become a firm favourite of mine (and currently has about 50ml left in it *sobs*), this gin was created as a rebellion against the rise in flavoured and coloured gins. That gin has, as the name suggests, just three botanicals: juniper, coriander and bergamot. That edition is bottled at 49% ABV, and this month Martin has launched the Smugglers' Strength. Taking inspiration from the Dorset coastline history, this blend has been rebottled at 59% ABV. Sadly the official launch has been rather flattened due to the small global pandemic we are all currently living through, but bottles are available directly from Martin. In times like this it is important to remember to relax, I know the anxiety around the situation is grim, and I'm finding a well made gin and tonic is a good way to chill out (whilst drinking responsibly, the NHS don't need anyone in hospital with alcohol poisoning at the moment), so I'm excited to give this a try.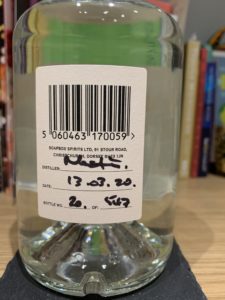 Opening up my bottle and the coriander is super obvious, and in the glass the citrus bergamot shines through. With a splash of water, the gin louches a little bit, turning ever so slightly cloudy. Neat it has quite the kick to it, with a lot of flavour for something made with three botanicals. At first you get the rich, heady bergamot which transforms to a bright mentholic flavour as you breathe in. There is a long lingering finish that makes you think of peppercorns and whole roasted spices. It's a very deep flavour, much less herbal than the 49% ABV version.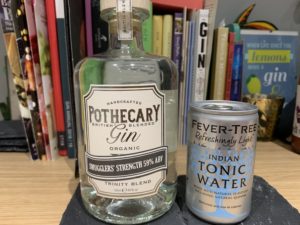 Mixed up 50/50 with Fever Tree tonic and it really has some oomph to it – it's interesting that you don't get a nasty ethanol kick, but it is very warming and intense compared to the standard Trinity Blend (which itself is 49% so not exactly a weak gin). With tonic a vanilla smoothness comes through in the mouthfeel, it's pungent and fiery, with a hint of herbs in the back. The increase in ABV has literally ramped up the flavour, I'm still surprised when a gin packs this much flavour in with so few botanicals. Makes you question why some brands cram so many in there…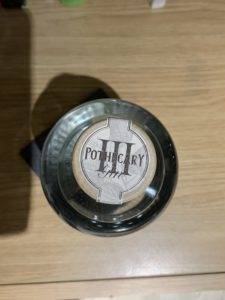 You can get a 50cl bottle of the Smugglers' Strength gin direct from Martin (email orders@pothecarygin.co.uk) for £49 including postage (at the moment, this might change when we are allowed outside again) For a smaller bottle it is definitely a bit more expensive – this would be nearly £70 for a 'full size' bottle. But it is a) navy strength and b) bloody good. I do not regret spending this money in the slightest, I am just sad that I won't get to enjoy it for longer. You can find Pothecary gin on Facebook, Twitter and Instagram.
Have you tried any of the Pothecary gin range? Let me know your favourite over on Twitter and Instagram.