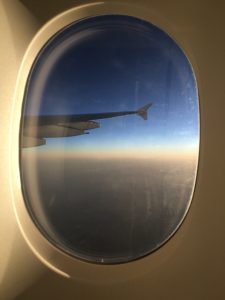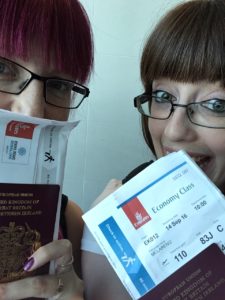 In August 2016, Lisa and I booked a trip to Malaysia. For September 2016. Nothing screams forward planning like panic booking. But we were very excited – until we realised we were getting six planes in 10 days (specifically three planes in 24 hours on the way home). Flying from Gatwick on 14 September we headed to our first destination – Kuala Lumpur. Can I just quickly shout out to Emirates, brilliant amounts of leg room and a good free bar – except they don't have prosecco. Food, not too shabby. Although incredibly slow service. We were sat at the back of the plane and it took FOREVER to get any food. It was also easier to walk to them to get another drink than to wait for them to answer the call button. They also have all the films – including a whole folder of Disney classics. We were in HEAVEN watching Tangled. We made friends with the boy next to us (not optional as I kept making him move so I could have a wee) who was moving to KL for six months for university, and he stuck with us on our way through Dubai airport security, when he promptly ditched us. 90 minutes later we were on plane number two. Plane 2 was less fun as we were tired, and we decided to watch How to be Single. I watched it so you don't have to. But I did get a very strong gin and tonic, so it wasn't all bad. Until some bint of a hostess poked me really hard to wake me up. She got a death stare and quickly moved on.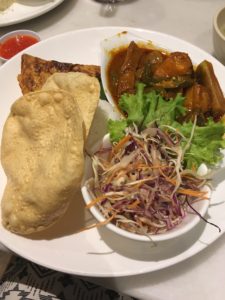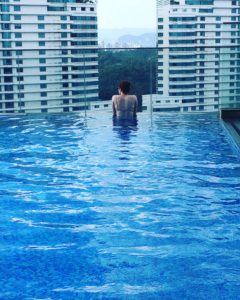 But finally, at 9am KL time (2am London time aka 16 hours after leaving London) we landed. After adding some stamps to our passports and getting our fingerprints scanned by immigration, we jumped in a taxi to our hotel. We love Aloft KL Sentral. Our room was instantly ready which was great as essentially our first day was a write off. We went to NuSentral, the shopping mall joined to our hotel, for some ramen to pick us up, then we slept all afternoon. Luckily, the imminent arrival of Jo meant we dragged our asses up to our rooftop pool. It was hard that first day, sitting by the infinity pool on the 33rd floor looking over the insane view getting drinks delivered to us. So after a good swim and a chill out (and an upgrade to a room with a free mini bar as our air-con didn't work) we popped round the corner to a restaurant outside the mall – PappaRich.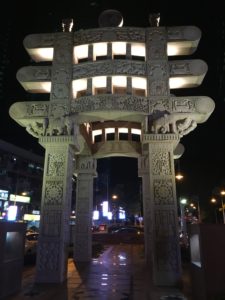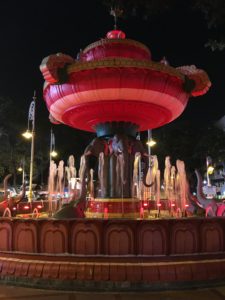 With a serving style similar to Argos (and used throughout Malaysia we later learnt), whilst perusing the menu you write your order numbers on a piece of paper and hand it to a waiter. Then you wait. As I learnt last year on my Asian Adventure, food comes when it comes. Doesn't matter if it's a starter or not. Two curries (one mutton and one fish) and a steamed chicken and rice later we were happy as can be. So after a little trip to 7-11 for some water, we ended up wandering around Little India, an area by our hotel. Incredible smells coming from all directions, we ended up at the Gateway to India – an archway given to Malaysia by India as a sign of their friendship and a pretty awesome fountain decorated with elephants and coloured lights. After quick rooftop mojito we were out for the count in our comfy comfy beds.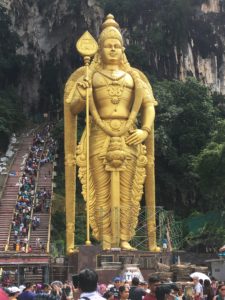 The next day bought an early start as we got up and headed out to the Batu Caves (train tickets £1 return each from Kl Sentral). Note: check the train times before you set off. We waited over 30 minutes for our train, but at least the platforms had air conditioning. After a slow trundle through the city, we arrived at the caves and walked through the avenue of vendors selling various tourist crap (and my first squat toilet experience of the trip).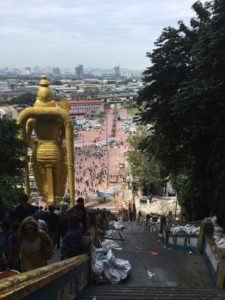 On arrival you're greeted by some very large statues, a lot of tourists and a helluva lot of monkeys. At the bottom of the steps stands the world's largest statute of Lord Murugan, and a lot of workmen asking everyone to carry either some gravel or bricks to the top – I like the mentality of everyone pitching in and helping, but I didn't enjoy adding a bucket of gravel to the walk up 272 steps in the heat. The Batu Caves are one of the holiest shrines for Hindus outside of India, so make sure you have your knees and shoulders covered (clothing is available at the bottom of the steps).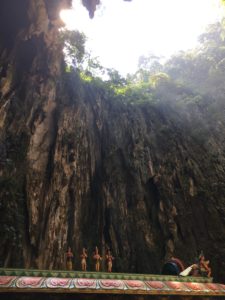 Do NOT open your bag on the way up the steps, the monkeys will take any chance they get to steal your food, drink or indeed anything they can put their hands on. It gets HOT here, so go early in the morning and prepare to be a sweaty mess. Once at the top you get a pretty good view and the caves are really incredible to see. The caves are open at the top so the natural daylight (and leftover rain water) come pouring in and there are mini temples within the caves.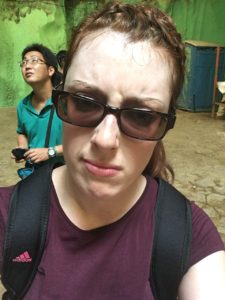 On our way down we took a detour into the government owned and maintained Dark Cave. This series of caves are used for education and research – with one cave reserved for the more adventurous (this requires pre-booking). Instead we opted for the 45 minute walk in the cave that is open to the public. Our guide taught us about the huge number of bats that live there and how to identify if bats are insect or fruit eaters and the trapdoor spider, one of the world's rarest – although we didn't see any of these. Or any snakes. But what we did get to do was wear a hard hat and carry a torch so we had a great time.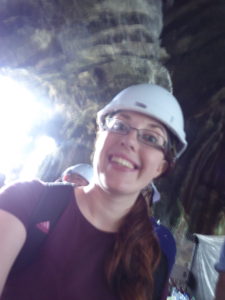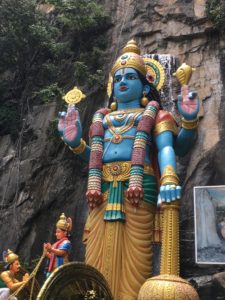 After descending the steps we paid a whole £1 to enter the Ramayana Cave. Totally worth it. This was insane. Not so much in the naturally beautiful way but because it it filled with dioramas of Hindu gods.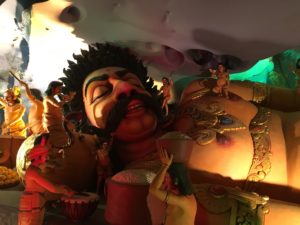 Although in this cave climbing the steep winding staircase takes you to a naturally occurring shrine (if you're not Hindu I'm going to go ahead and say it isn't worth the effort, it's a rock). So after Lisa got herself a new monkey friend, we decided to head back to the city (after waiting 30 minutes for the train and riding in a women only carriage). After our super long hot day, we gratefully plunged into our rooftop pool.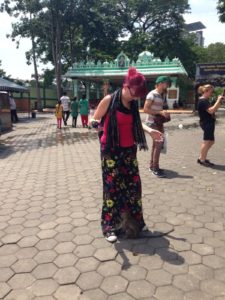 We had every intention of going out for dinner. Then we had a few drinks and decided bbq food on the roof in our bikinis was a better idea (one lemongrass and ginger quail, one Texas BBQ beef and one spicy chicken). All utterly delicious and washed down with numerous drinks. We LOVE rooftop bars. And so ended our first proper day.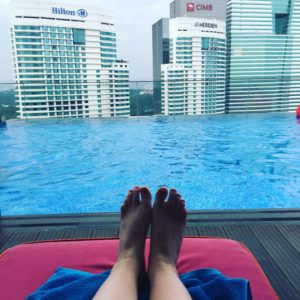 Coming next: failing to go to mosques, I <3 KL, China Town, Petronas Towers and being pooed on by a smug bird…