On Saturday I tried to go to Crafty Chooks for the third time. First time was just after it opened as my friend worked there, but we just had drinks outside on a sunny bank holiday. Secondly, we were hungry and wanted chicken, but it turns out 8pm on a Friday is a busy time and we couldn't get a table. Finally though. Saturday. We made it. After a long afternoon of chilling in the sunshine and ridiculous amount of Brighton seafront wind, we wanted some nom and as part of my long on going argument with Dan to prove that Hove is just as fun and cool as Kemptown we headed here.
Crafty Chooks does – you guessed it – rotisserie chicken and craft beers. Placed down on Second Avenue in the shell of the Tin Drum (and directly across the road from my friends former flat), I have the advantage that it's super close to my house. We booked a table this time and got seated in the bar next to a rather noisy table of drinkers (we were offered a table in the restaurant once a table had finished, but by that point we had our drinks and were too lazy to move) in the window so we could rudely stare at every person that walked past/in the door. The restaurant end is cosily decorated with soft lighting and wood panels, the bar end feels more open and conveniently has the word 'bar' in big red letters.
The drinks menu features five beers on tap, 10 craft bottles and another 12 ciders and beers. Plus sprits, cocktails and soft drinks (side note: there are only three gins). Not too shabby. One Sol and Old Mout later, we are tucking into one chicken burger (skinny fries substituted for chunky chips) and one steak burger (skinny fries substituted for sweet potato wedges).
The burgers were a good size (aka it just about fit in my mouth without having to cut it up) in a nice round brioche bun. The wedges and chips were big and plentiful, I think I ate an entire sweet potato. Slight crisp to the outside and a soft squishy middle, my wedges were perfect. With sweet potato fries being in abundance on menus across the city, it was nice to see a slight variance on this and the wedges were winning because they were basically mash in a nice shell. My steak burger was nicely cooked, I did ask for it pink in the middle which didn't happen but there we go. Served with emmental cheese, onion marmalade and dill pickle, the burger was juicy and soft. The addition of chilli sauce and sour cream helped a lot – but honestly chilli sauce and sour cream make everything better.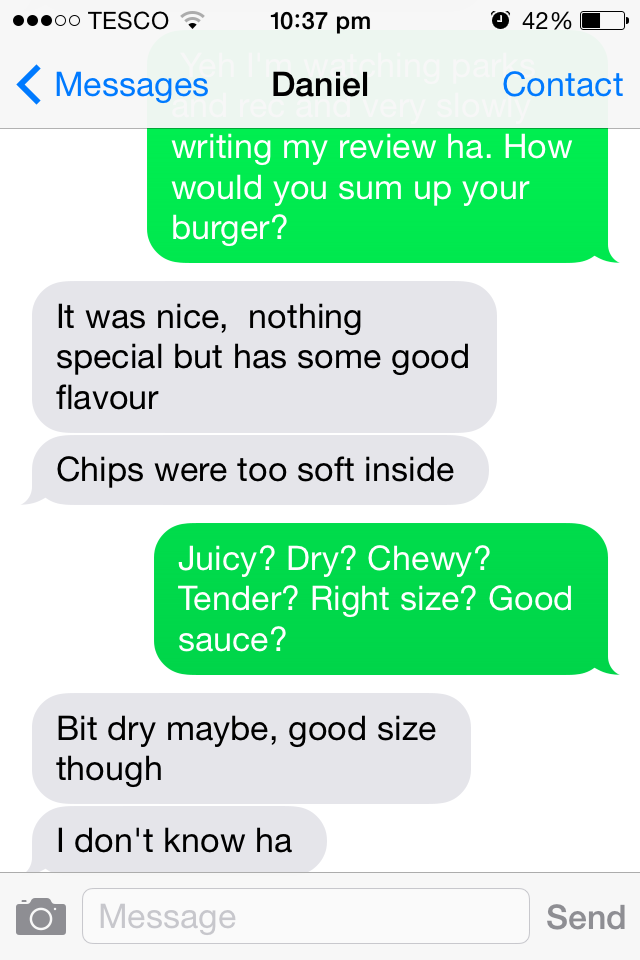 Terrible burger review aside, Dan was also unconvinced by the giant chips because "they're too soft in the middle and not crispy enough on the outside. I don't like big chips". This coming from the boy that deliberately ordered the thick cut chips instead of the French fries. I snaffled the last one and they are indeed very soft in the middle – but I think that's a good thing. Just me?
By this time it was 9pm on a Saturday, and like the cool kids we are, we headed home because our afternoon of sunshine was too much for us and we were tired. With the bill coming to around £30 (would have been less except we both substituted our fries) for a burger, chips and drink, I think it's pretty good value. Not the best burger I've ever eaten, but also certainly not the worst. If you're looking for an afternoon to evening place, I think this is a winner. The outside patio is good in the sunshine, and features heaters for when it gets colder. They also have a fairly extensive sandwich and salad board, along with the option to have half/a whole chicken so I think there is something for everyone.