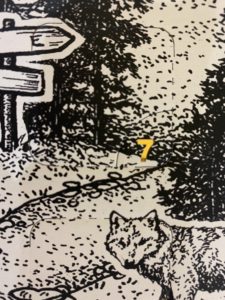 We've made it to the end of week one, hurrah! Just two and a bit left. Today's gin is from Rock Rose, a Scottish brand with some beautiful bottles. I've tried their original gin a few times out and about, and their Winter gin was included in the 2017 calendar. Made in Dunnet Bay Distillery (who also do a lot of contract distilling) they have three key flavours, plus four seasonal editions. In their main range they have their original gin, a navy strength gin, and today's drink: the pink grapefruit Old Tom gin. This excites me because I love pink grapefruit, and I love Old Tom gins. As you should know, an Old Tom style gin is traditionally sweeter than normal gin (legend has it that back in the illicit gin trade days, people would add turpentine and such to their mix so would throw in a load of sugar to hide the taste) and the Rock Rose team add muscovado sugar at the end of the process. Before this, they hand peel organic pink grapefruits which are hung in a basket and vapour infused during the distillation. This gin was originally a limited edition run in 2016 during a competition for artists to design them a new label. The demand for this was so high that they went on to tweak the recipe slightly and bring it back in the core offering in 2019. So, let's give it a try!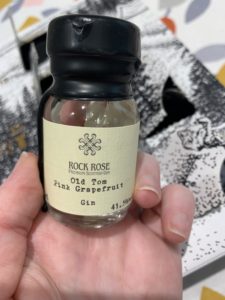 Opening the bottle and the citrus is obvious straight away. It is sweet and definitely grapefruit but not overwhelming, slightly tart but nice and gentle. In the glass, the ethanol comes out a bit (it is on the stronger side at 41.5%) but the grapefruit is still present. On second visit, the ethanol disappears and you just get that slight hint of sugar on the nose. On the tongue it isn't as sweet as I would expect an Old Tom to be, but you can feel that syrupyness at the back of the tongue. The citrus is still there, but not that powerful, but you get a really interesting hit of spice on the tongue. Here's where we have contrasting views (Russell being my helper today), I think it has quite a quick finish but he can sense the grapefruit for longer. We both agree it is a very simple gin, the flavours aren't changing as it lingers.
Adding in a drizzle of Fever Tree light, and I'm slightly surprised there isn't any louching from the grapefruit oils. On the nose, it now almost has a herbal quality to it and the tonic has dampened down the already weak grapefruit. Oh but it is very tasty to drink. Light and fresh, it coats your mouth in lovely rich citrus oils and leaves you wanting more, more more. Even Russell likes it and he barely drinks gin! This. Is. A. Winner.
You can get a bottle of the 41.5% gin from Gin Kiosk for £33.95 (at time of writing). Honestly, great value. Well made, well balanced. Lovely stuff. You can find Rock Rose on Facebook, Twitter and Instagram.
Have you tried Rock Rose gin? Let me know your thoughts on Twitter and Instagram. Keep up with the Ginvent fun here.