Note: I emailed Colombo 7 to ask for a sample for the blog and they kindly sent me a WHOLE BOTTLE. Big fan already, but as always I'll let you know if I don't like the taste.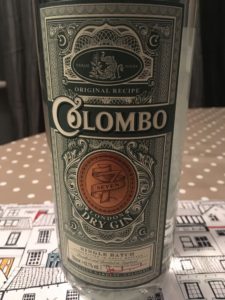 Colombo No.7 is a London Dry Gin with a Sri Lankan influence. Using seven botanicals – four of which are native to Sri Lanka (Cinnamon Bark, Curry Leaves, Ginger Root and Coriander Seeds) which combine with a base of juniper, liquorice and angelica to "create a beautifully balanced, subtly spiced gin". I'm hoping this is a good type of spiced gin, not a bad one. 70 years ago, this shocked British Export Officers into passing a law allowing gin to be made in South Asia, and now the recipe is being used to make small batch gin.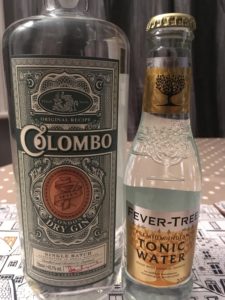 Cracking open the seal and popping open the cork it smells like cardamom – slightly spiced. As cardamom is not apparently a botanical, I imagine this is from the curry leaves and cinnamon. It smells warm and comforting. In the glass, the smell mellows slightly and mixed with water it has a good flavour to it. It is earthy but not too deep, quite refreshing. You know that feeling when you have a mint then breathe in and your tongue goes a bit tingly? Imagine that. But more cinnamony.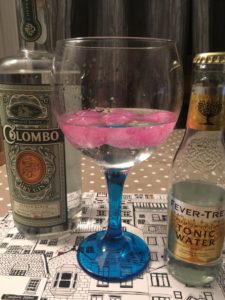 Mixing it up with some Fever Tree Indian Tonic (I've just run 5 miles so I'm allowed the full sugar version), the bitterness from the tonic helps bring out the juniper taste and it tones down the curry-like flavours. It has a slight sweetness at the back of the throat which helps to balance out the flavours. It was slightly jarring at first, but now I'm a few sips in I'm quite enjoying it. I'm not certain this would be my gin of choice on a gloomy evening in Hove, but this would go down a treat on a hot afternoon in the Asian sunshine.
A 43% bottle of Colombo gin is currently (sold out) £32.95 on Master of Malt. I'm not sure I'd pay over the £30 mark for this, but it's something a bit different for the gin cabinet. You can follow Colombo on Twitter, Facebook and Instagram.
Have you tried Colombo Gin? Let me know on Twitter and Instagram.