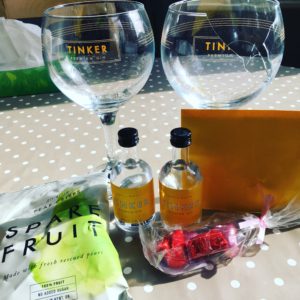 A bit of history about me: one of my first jobs was working in financial events. We were organising events about investment when crowdfunding came along. A game changer for small businesses, I actually helped to write one of the first books on crowdfunding (also an Amazon number one bestseller, available here if you're interested in seeing my name in print). How is this relevant to gin you ask? Well a few months ago I saw that a new gin was launching via a crowdfunding campaign. I had a nosy. I spent £20. And here we are. Two small bottles of gin, two copa glasses, some extra treats and a nice mini-certificate. I should point out that one of my glasses arrived smashed (see picture) but they have been very lovely and are sending me a new one as I type.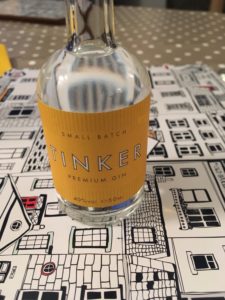 Tinker is a British made, Spanish style gin. After beating their target and raising over £17,000 in just 28 days, they have now launched with their non-juniper heavy gin. I'm worried slightly. I really like the dryness that comes with juniper. Filled with botanicals such as orange, lemon, cinnamon, nutmeg and elderberries, Tinker are aiming for a classic gin with a contemporary twist.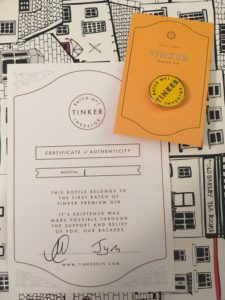 As I received two 5cl samples, I'm going for the Ginvent approach – sniffing it, having it straight then as a G&T. No watering it down. Cracking open my little bottle it smells almost like a perfume – citrusy but not in an overpowering way and slightly floral – or as the boy describes it "softly fruity". In the glass, it's sharper (again I imagine from the citrus) and very fresh. Sipping it neat it's certainly alcoholic, but the juniper isn't as pronounced as usual. It's very fresh and bold with the flavours, with a slight spiciness at the front of the tongue. Boy's verdict? "It doesn't taste as it smells but it's still quite easy to drink". Mixing it with tonic (Fever Tree Light) this is really good. I was worried as I know it's less focused on the juniper than a typical London Dry, but this is really light and fresh. Still feels like a gin, but it's very bright. It's light, but still drying (my favourite part of a gin). It's made the boy go for a second mouthful which is unusual. He seems to think it tastes smokey – it has a lingering taste. I don't quite agree but I LOVE this,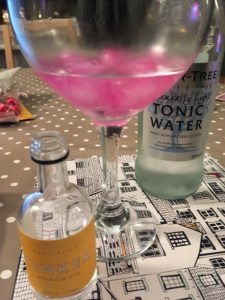 Tinker Gin are available exclusively at GinFestival, where a 40% bottle of gin is £35 (at time of writing) which I really think is a good price. Considering it is a new gin to the market who were bought to market by crowdfunding, this really is a cracking gin. You can find Tinker Gin on Twitter and Facebook.
Are you a fellow investor? Get in touch on Twitter and Instagram.