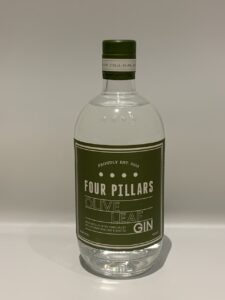 I have been excited to try this gin for a really long time. I've tried a number of the Four Pillars gins (notably their collab with Herno Dry Island and their Bloody Shiraz), so when I saw their Olive Leaf gin, I wanted to pop some in a martini. Sadly, they kept it exclusive to Australia for the last year before launching in Selfridges this month. In 2015, they collaborated with Santamanía Destileria Urbana in Madrid, which created their first savoury gin using fresh olives and rosemary. This became a firm favourite in the line up, and inspired them to experiment. Keeping the Mediterranean inspiration, they used three types of cold-pressed extra virgin olive oil, plus olive leaf tea, lemon, bay leaf, rosemary, lavender and grapefruit, plus Australian staples macadamia nut and lemon myrtle. It took a year of experimenting to get the right balance of flavours and textures to work in both a classic Spanish GinTonic, and the perfect martini.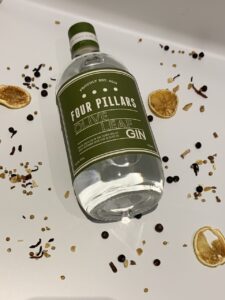 Opening the bottle and you pick up a salty olive note, alongside those deep herbal notes. In the glass you can start to pick out the fresh citrus notes, and the rosemary and bay settle down. A splash of water gives it an oily texture which carries through to the mouthfeel. It's very moreish. Gentle and easy to drink, herbaceous and aromatic. The salty olive flavour comes through at the end, just at the back of the mouth, to balance a wave of menthol coolness.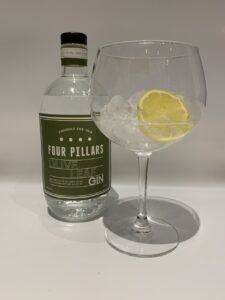 Mixed with an equal measure of Fever Tree light tonic and you can clearly see the thickness from the macadamia nuts. This creaminess is more obvious, hints of nutty vanilla washing over your tongue. The bitterness from the tonic overpowers some of the more subtle notes, but you're still able to sense the verdancy from the herbs and the tea. The gentle floral note from the lavender makes an appearance, but not enough to make it soapy. I've added some more tonic to emulate a proper Spanish GinTonic, and this allows the citrus to cut through.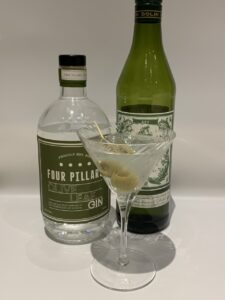 Time to make a martini, which is the entire reason I bought this gin. I mixed 60ml gin with 10ml Dolin vermouth over ice, and garnished with two olives. It's smooth, with a hint of salty umami that leans it towards a dirty martini, without any of the olive brine. It feels like a god way to have a dirty martini, without the effort of one (because adding a splash of brine is a lot of effort some days). Munching on a gin soaked olive is absolute heaven – the best part of a dirty martini is that it comes with a ready made snack. It feels like a good balance between a classic and dirty martini – perhaps a good way for martini newbies to get into the drink.
You can get your hands on a 70cl bottle of the 43.8% ABV gin from Selfridges for £46.99 (at time of writing). You can find Four Pillars on Facebook, Twitter and Instagram.
Have you tried the Olive Leaf gin? Let me know your thoughts on Twitter and Instagram.