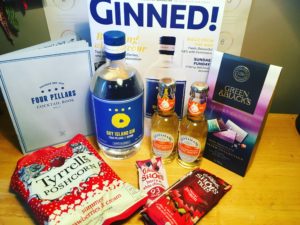 Today is exciting because it's an extra Craft Gin Club day (shout out to Lizzie for sorting my delivery problems)! I'm not meant to get my next subscription box until September, but when I saw what was in the box this month, I had to get one ASAP. Dry Island Gin is the lovechild of two great distilleries, Four Pillars in Australia and Herno in Sweden, and this is their Eurpoean exclusive launch! Being mutual fans of each other's work, they got chatting and after discovering they had a lot in common and throwing around some ideas, they decided to collaborate and work together. The first step sounded like a lot of hard work – tasting the whole Herno and Four Pillars range side by side to work out what characteristics from their current range should go into the collaboration. They decided to aim for a classic gin using Swedish meadowsweet and Australian river mint, strawberry gum and roasted wattleseed to bring together a range of flavours and textures. This is a Four Pillars gin, made in Australia using their base spirit and the pure water which is one of the aforementioned pillars, with Jon from Herno weighing in with the distillation. Removing Four Pillars' still plates, Jon recommended they distil at a lower temperature over a longer period to for higher purity. I've waited long enough, so let's crack this open.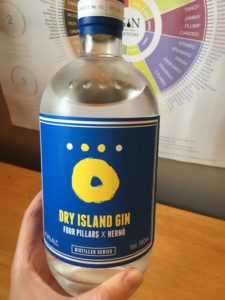 Opening my bottle, and it smells a touch smokey, juniper forward, citrusy and slightly herbaceous. Diluted with a touch of water and a sweetness comes through and it tastes stronger than the 42.8% listed on the bottle. Bone dry with lots of juniper, but a menthol note lifting the whole mouthfeel and that sweetness stays throughout. It has a very long, lingering finish leaving us puckering our mouths for a while. The flavour hits the tip of your tongue, then easily washes down but, if I had to guess, I would think this is navy strength.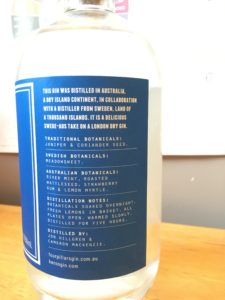 Mixed with some Fever Tree light and it is surprisingly spicy. There's a perfumed note to it that carries up through your nose and a sweetness that tickles your tongue. It's quite unique, I haven't tasted a gin like this for a while. Once you've had more than one mouthful, the flavour calms down and it is incredibly easy to drink, well balanced, dry on tongue but with a sweetness that carries through and makes for a lovely Sunday afternoon – even though it is pissing it down and I am failing at packing my life up.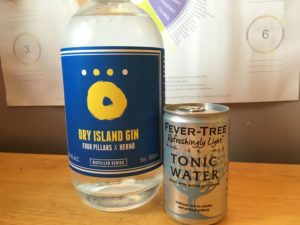 You can buy yourself a 70cl bottle of this gin through the Four Pillars website here for $90 (Australian dollars – at time of writing). Make sure you follow Four Pillars on Facebook, Twitter and Instagram. Whilst you're there, check out Herno on Facebook, Twitter and Instagram too.
Have you been lucky enough to get your hands on a bottle? Let me know what you think on Twitter and Instagram.