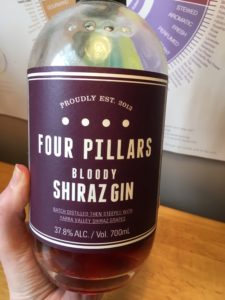 I have heard VERY good things about this gin. So when my housemate bought some of the 2017 vintage home, I was very excited. The Yarra Valley outside Melbourne, Australia, is home to a thriving wine growing community. Amongst the vineyards, you'll find the Four Pillars distillery. They say that they base their craft distilling on four pillars – stills, water, botanicals and love. After years of research and testing, they released their Rare Dry Gin in December 2013, followed by a Barrel Aged Gin on World Gin day, 14 June 2014. On a roll, in 2014 they also released their 58.8% Navy Strength gin. Since then they have released their Bloody Shiraz gin, a spiced negroni gin, the modern Australian gin, a cardonnay barrel gin and a sherry cask gin. The Bloody Shiraz gin is closely tied to the wine industry around it, changing with each year's vintage after the grapes are steeped in the gin for eight weeks. This gives it a rich red colour alongside notes of fresh pine, spice, and a touch of berry. Don't confuse this with a sloe gin through – this still packs a punch at 37.8% ABV.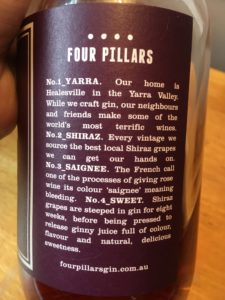 Twisting out the cork it is rich and jammy, a vanilla sweetness coming through like a sloe gin but with the richness of plums and dark fruits. Once it is in the glass, an oakiness comes forward to balance out the sweeter, fruity notes. This batch has a deep amber colour, more orange than red and on tasting, the first thing that comes to mind is the amount of spice on the tongue. If the colour and smell tricks you into thinking this is a sloe gin, then you are incredibly wrong. It reminds me more of a whiskey than a gin. Pepper at the front of the tongue mellows to a creamy, nutty thickness with a vanilla sweetness. The taste lingers long after your mouthful has finished and leaves a rich, warm flavour.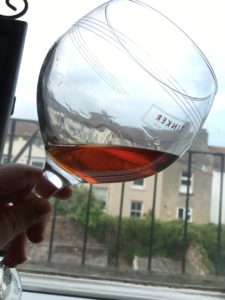 After checking out Four Pillers' recommendations on serves, I've decided to go for a straightforward gin and tonic after being reassured it works just as well with tonic as it does in a cocktail. So, cracking open a tin of Fever Tree, the oak heaviness fades slightly and allows the jammy scents to come to the front. Tasting it, the carbonation of the tonic lifts the drink and allows the flavours to dance more easily across your tongue. The fire dies down and isn't as intense as it is when neat. Adding a lime wedge (their garnish suggestion – well, their second after orange) and this takes on a more summery flavour, imagine a deeper Pimms. Fruity and sweet but well balanced with the bitterness of the quinine before a final lift of citrus.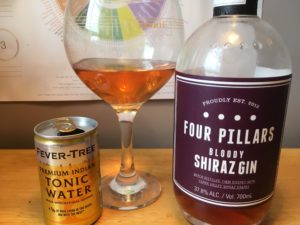 You could get a bottle of the Bloody Shiraz gin for £44.95 on Master of Malt – although it is sold out, but the 2018 vintage is released on 1 June so check out their website. It is kind of pricey, but as the vintage changes year on year, each year will taste slightly different and that is exciting. This isn't the gin to drink every day, but it is delicious and I would like to have a glass of this with a good book. You can find Four Pillars on Facebook, Twitter and Instagram.
Have you tried the any of Four Pillars' range? Let me know what you think on Twitter and Instagram.