For today's blog, we are travelling to Germany, specifically a town called Göttingen, to try Von Hallers gin. This town is known for their University – alumni include the Brothers Grimm – and the Old Botanical Garden. This was planted by Albrecht von Haller (aka the father of modern physiology) in 1736 and today contains over 14,000 species.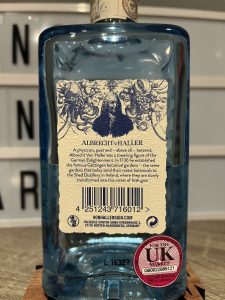 As you might have guessed from the name of the gin, the botanical gardens are the source of inspiration for the gin – they also are the only gin using hand picked botanicals from the garden. Despite being German in origin, the botanicals are shipped to the Shed Distillery in Drumshanbo, Ireland for distillation. These special botanicals include German ginger, lemon verbena and fuchsias. So, what does the end product taste like?
In the glass, nothing particularly stands out but you do get a hint of citrus on the nose. Water helps to open it up, the leafy lemon verbena and something fragrant waft out at you. To taste, this is super easy to drink (FYI it's 44% ABV) with hints of sweet and sour, and floral notes underpinned by lots of earthy juniper. I was distracted by the whole botanical garden element and was worried this would be like perfume, but so far, so good.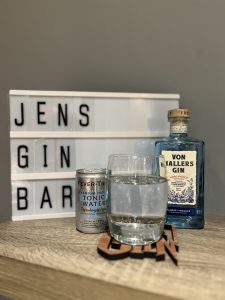 Starting with a 50/50 mix with tonic, this is a delightful gin and tonic. No need for extra tonic to rein this in or balance it out. This is a classic gin and tonic, hints of bitterness, a touch of citrus and a gentle fragrance that really fills you mouth. On the label, this just sounds like a gimmicky gin but is actually just well made. Do I know if I can pick out the ginger or the fuchsias? No. But I prefer the marketing angle of an old botanical garden to someone trying to justify a pink glittery drink.
All in all. I'm a fan. To the extent that I might well break my "no buying gin" rule to restock when this is done.
You can get your hands on a bottle of Von Hallers gin in a few places – Master of Malt lists it at £38.75 for a 50cl bottle, but Amazon lists it for £26.99 (prices correct at time of writing). You can find Von Hallers gin on Facebook and Instagram.
Have you tried Von Hallers gin? Let me know your thoughts on Twitter and Instagram.