Note: I was sent this vodka free of charge to review here, but as always my thoughts remain impartial.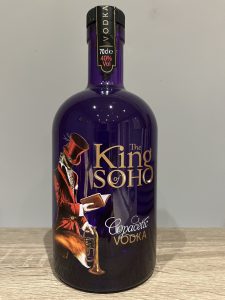 You might have seen my recent post about The King of Soho gin, and today we are trying their vodka.
But Jenny, this is a gin blog!
Ok yes, that's usually my vibe but isn't it good to branch out? Find new interests? I'm growing as a person so go with it.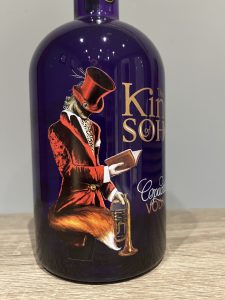 After launching their gin, they expanded the range to include this vodka inspired by London in the 70s and 80s. Vodka saw a surge in popularity in the 80s as the perfect addition to neon, OTT cocktails. To celebrate this, they replicated their gin bottle in a vibrant purple. But this vodka is more than just a gimmick – I mean, they set the bar high with the name meaning "mighty fine".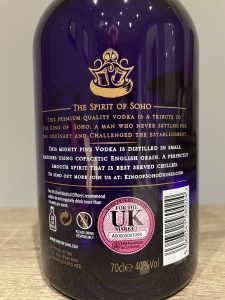 They use English wheat as their base ingredient, and distil in small batches here in the UK using recyclable and sustainable packaging. I mentioned a bit about their packaging when I tried the gin, and to expand on this – it's not just that their bottles use organic inks and water-based coating to ensure it's recyclable. Their glass supplier has committed to achieving carbon neutrality by 2025, and t hey use low-NOx burners to reduce nitrogen oxide emissions and electrostatic filters to reduce dust emissions up to 90%.
They say it has a toasted crumpet flavour and a rich buttery texture which is making me hungry intrigued. But not just that, they say it has tasting notes of apples, lemon zest and black pepper.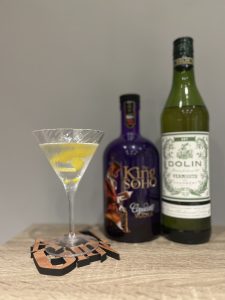 I'm the first to admit I'm not well versed in vodka tasting, but let's give it a go. On the nose you can pick up hints of green apple, and a splash of water takes off the edge of the ethanol and brings in some of those bread dough notes. To sip, it's surprisingly thick and viscous. It really coats your mouth. At the end there's a hint of black pepper to bring a bit of pizzazz.
Decided to pretend this is gin and pair this in a 50/50 vodka tonic, and quickly realise I'm not used to drinking vodka so up the tonic to a 2:1 ratio. This is now distinctly more palatable, and actually might convert me to a vodka drinker. There's no whiff of nail varnish remover (thank god, hello uni days of drinking Glen's vodka) and you can pick up some soft fruit notes. As a non-vodka drinker, I definitely prefer this mixed, and since they say this is perfect for a martini, it would be rude not to.
And just like that, a martini is in my hand. I've gone for 50ml vodka with 10ml Dolin vermouth and a lemon twist. It's not my usual serving, but felt right given the tasting notes. And you know what? It's very refreshing, the vodka brings a good flavour to the drink. It doesn't swamp the vermouth, it's well balanced. All in all, you could do worse.
You can get yourself a bottle of the 40% ABV The King of Soho vodka via Master of Malt for £34.95 (at time of writing). You can find The King of Soho on Facebook, Twitter, and Instagram.
Have you tried The King of Soho gin before? Let me know your thoughts on Twitter and Instagram.