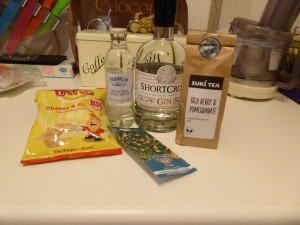 March's Craft Gin Club delivery comes all the way from Northern Ireland in the form of a special edition wild clover batch of Shortcross Gin. I've heard lots of good things about Shortcross Gin (mainly from my manager who has only had this gin and he thinks this makes him an expert. Ha.) so I've been interested in trying it for a while. This batch was made specially for us – because we're a well fancy group us craft ginners. It comes with a bottle of Franklin & Sons tonic, goji berry and pomegranate Suki Tea, cheese and onions Taytos and some viola seeds to make our own edible garnishes. Now the problem with our flat (after the mould and the damp and the general shabbiness) is that we have no garden, nor a windowsill large enough for plant pots, or indeed any sunshine. So the viola seeds will be sent to my mother for her garden and for me to use on trips back to the shire.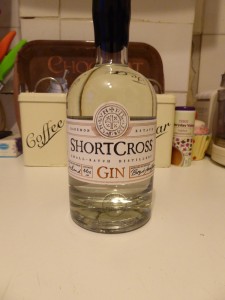 Now. The gin. The good bit. Each bottles is hand corked, waxed and sealed so it's time for everyone's favourite game: how long does it take Jenny to break into a waxed bottle? Seriously. If there's a trick for this which isn't attacking a bottle with a knife, please let me know. Luckily today I had some semblance of logic, cut straight down the bottle and it came off in one piece. On first sniff my reaction is "oh wow". Floral with hints of (what seems to me) cardamom (having just checked this, no. I was wrong). Slightly curryesque. In a good way.
Mixed with some water the smell is obvious even from standing away from the glass. The juniper notes come to the front and it's very palatable on the tongue. No harsh bitterness, no sickly sweet tanginess. Barely burns as it goes down the throat. It is well rounded in flavour, although at the moment I am not noticing the "uplifting aroma reminiscent of summer meadows, wild berries and Irish clover". Perhaps Hampshire's summer meadows taste different to the Irish ones. At 46% this is dangerous for me to be enjoying straight on a Sunday night.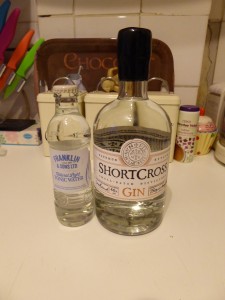 Time to be sensible and crack open the tonic. Oh my. I'm not a fan of tonic on its own (because what's the point of it without gin) but that's rather nice. No bitterness that comes through in cheap tonic, and has almost a sweet edge to it. I've never heard of Franklin & Sons but they seem to do an interesting range of soft drinks and mixers so I'm definitely going to start looking out for them! The 200ml size bottle is perfect for two drinks at Jenny strength (50ml gin to 100ml tonic).
With tonic the slightly sweeter berry notes come through, staying dry on the tongue and sweeter at the back of your throat. You know when you eat Tangfastics and the insides of your cheeks go a bit dry? It gives that kind of feeling. It definitely has a floral aroma to it, whilst it doesn't come through in taste, you can sense it while drinking it (that sentence makes no sense unless you understand me well). With some lemon chunks it adds a touch of bitterness to balance out the sweetness. Although, unusually for me, I think I prefer it without the lemon.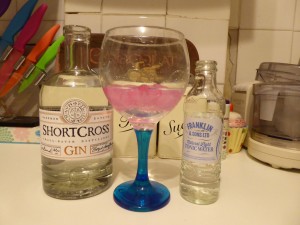 All in all this is different enough to feel special, but not so unique that it confuses you about what you're drinking. This months Ginned magazine suggests making a syrup with the tea to then add to a cocktail, so this will be done in the future when I have my long overdue cocktail night. Just need to get a tea infuser first.
Now this gin isn't available to buy, because we're special, but normal ordinary Shortcross gin is available on Masters of Malt for £39.95 for a 70ml bottle. If this was the Wild Clover gin, I'd be happy to pay that. Although my bank balance might not be. Because sadly I can't enjoy £40 bottles of gin as my every day drink…
You can find Shortcross gin on Facebook, Twitter and Instagram and don't forget to follow me for all the gin ramblings on Twitter and Instagram. You should also show the Craft Gin Club some love. Because they are wonderful on Facebook, Twitter and Instagram AND real life.
Now imma sit down and have my Taytos and plan some activities for my Dublin trip in a few weeks. Yes technically Dublin isn't in Northern Ireland, but they have Dublin City gin and I'm kind of near Blackwater No. 5 gin so basically it will be a gin (and Guinness) filled affair. But seriously, any tips for tags to do/see/eat/drink in Dublin are appreciated!