Thanks to working with Laura Evans, I find out about new restaurants because she gets invited to openings and to review them (check out Places I Eat). When she mentioned H.en – a nicer Nandos – I gave it a google. Never, I repeat NEVER, google 'hen Brighton'. All that comes up are photos and articles showcasing the worst of Brighton (take note potential hen parties: you are not welcome here. We [I] hate you). But I persevered and found their menu online and forced the boy to join me for dinner there on Friday evening. We arrived about 8.30pm and we rounded customer numbers up to 10. I was expecting it to be busier, but this always happens when we go out before pay day. The restaurant is decorated as most new restaurants in Brighton are – unfinished walls and tables, a less is more kinda thing.
So we took a table in the corner and one of the staff bought over their menus. The options are a quarter or half a chicken with two sides, or (as we went for) a chicken burger (plus a veggie burger option). We both went for sweet potato fries with our burgers (the other options: corn on the cob, salad or halloumi) because we, like the majority of Brighton, are pretty obsessed with sweet potato fries.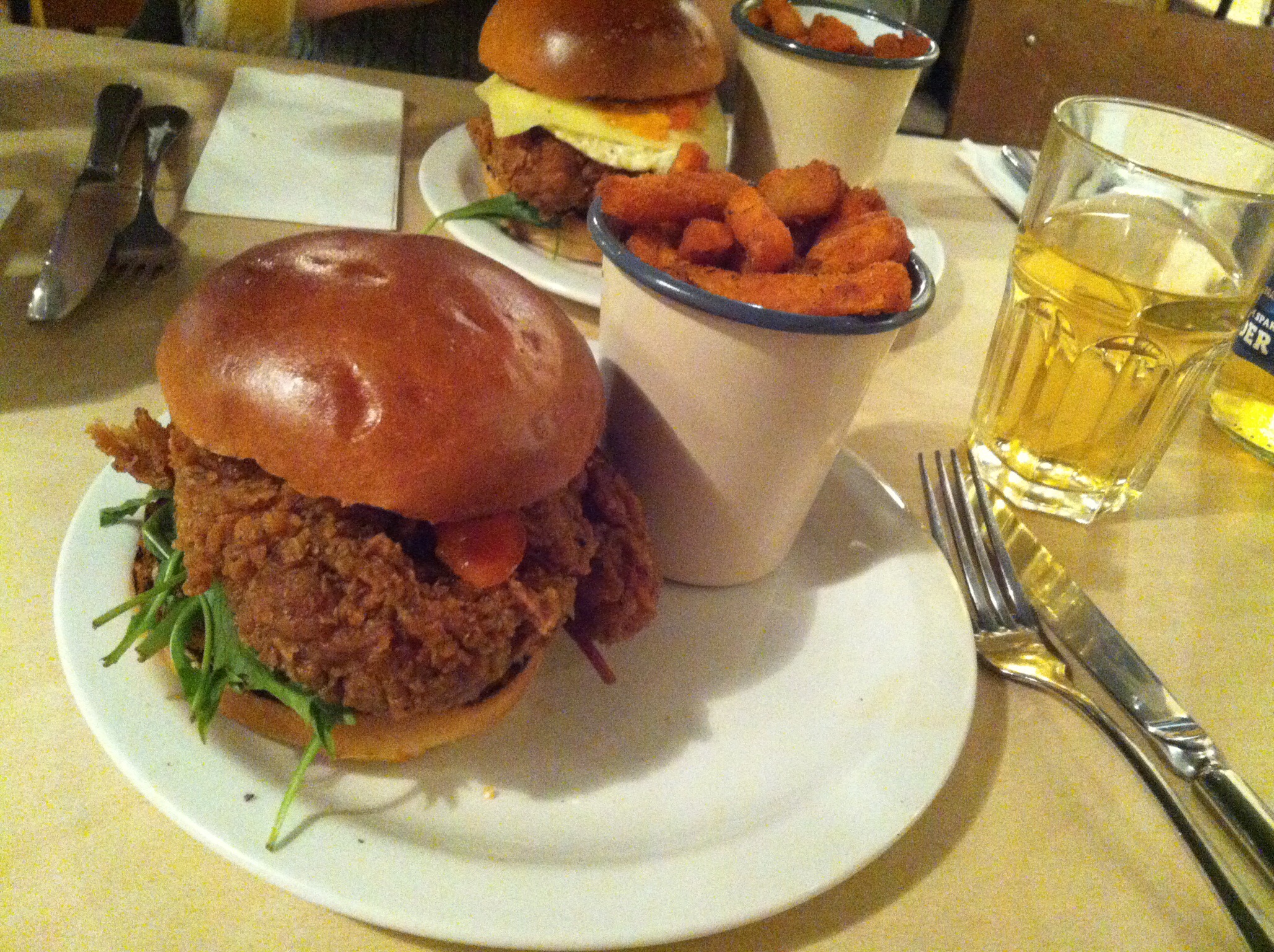 The burgers arrived and we were very excited. Sauces were delivered in three little bottles – the Herbie, the Miles and the Duke. Sadly, the teeny tiny nozzles get a bit blocked, and my childish impatience led to one of the most embarrassing things I've ever done. As I squeezed the bottle to try to get some sauce out, the lid popped off and sauce hit my plate with such force that it rebounded over the table, my fries, my face, my hair and my clothes. Obviously as this point I yelled quite loudly and Dan laughed at me. A lot. Luckily we had sat at the table nearest the toilet so I ran out and hid in the toilet to wipe my face and hair clean and slunk back in to eat my dinner.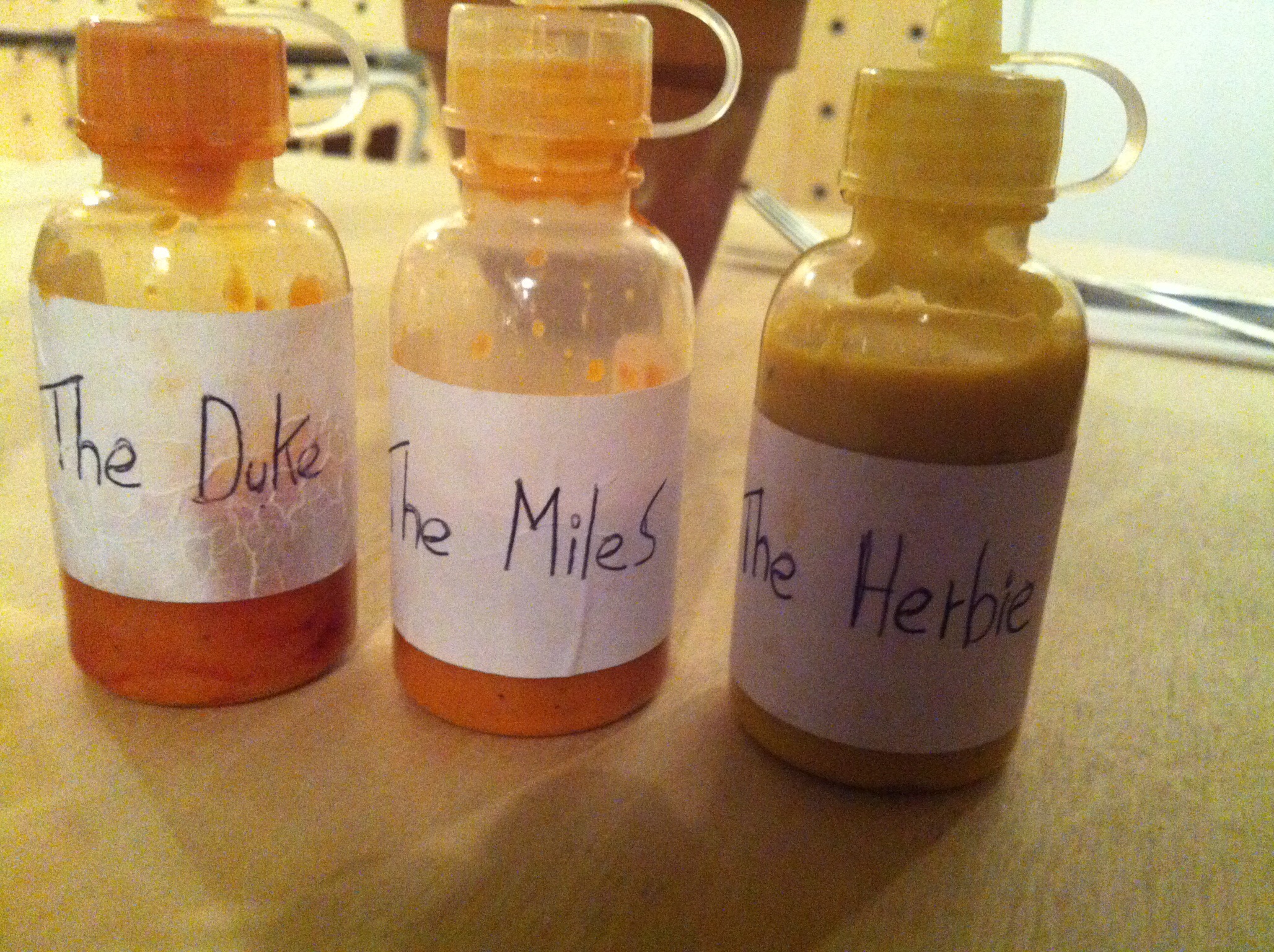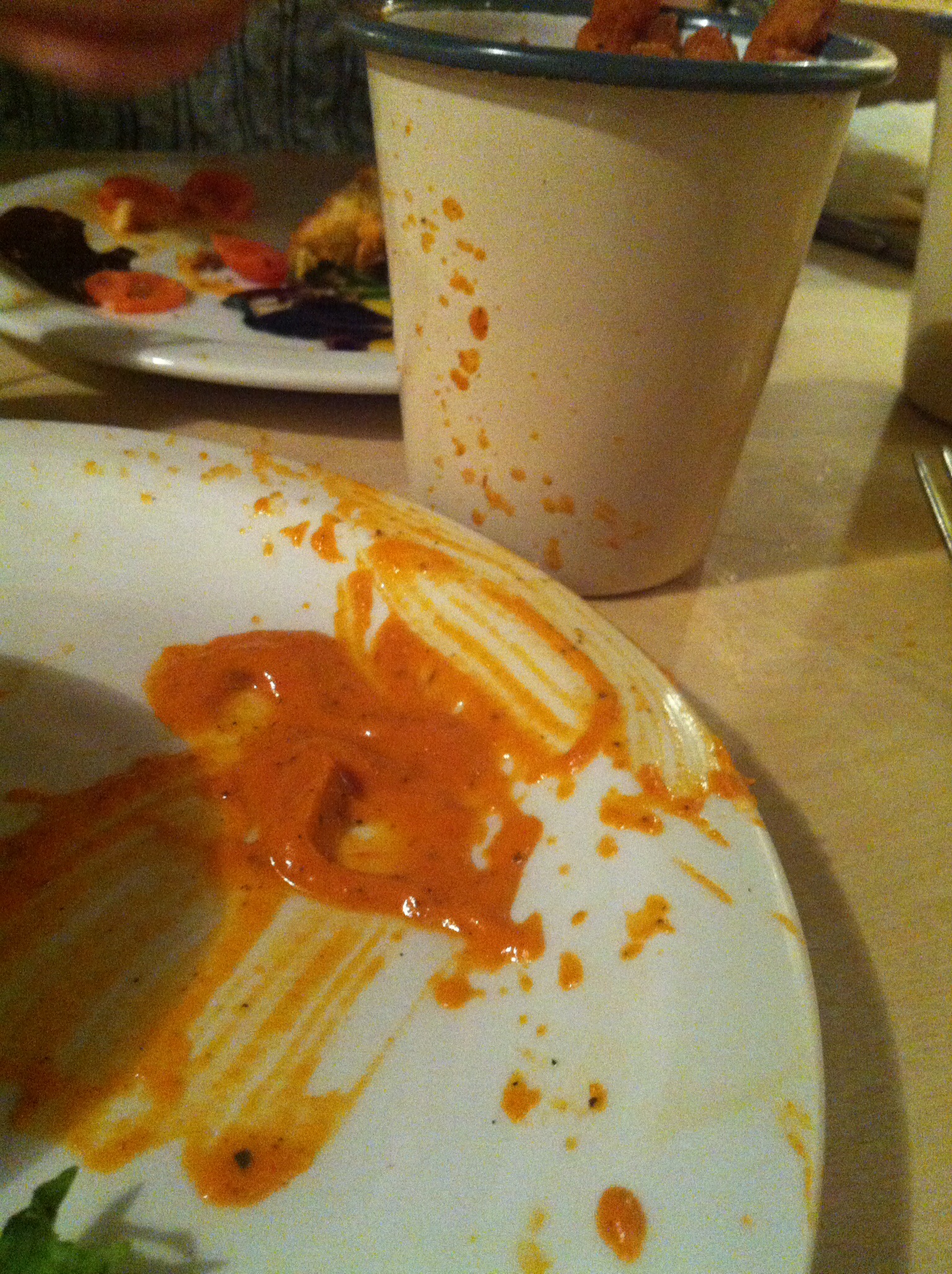 The photo of my plate is after I had cleaned up the table. Face not shown.
Sauce was literally everywhere. But anyway. The food. The burger was huge. It was basically half a fried chicken in a bun. A big pot of fries to go with it. I really enjoyed my meal (post sauce explosion) but I had two issues (other than the sauce bath). Firstly, bits of the chicken burger were quite dry which I can only assume is because parts of it were so thick (but I had lots of sauce in my plate so I managed with that easily enough) and secondly the fries were more like stumps. The fries themselves were probably some of the best sweet potato fries I've eaten in Brighton, but the average length of each chip was about 1cm.
But moving on to the good bits. The fried chicken was nice and crispy and not soggy and greasy. The sauces were delicious (what was left of them anyway). The Herbie was light and citrusy, the Miles had a nice tomato warmth to it and the Duke had a nice chili kick that I LOVE in a sauce. All worked brilliantly with the burger, and I imagine a grilled chicken portion would be delicious dunked in all three of these. The bottles were an issue, and as we left we heard another table suggesting they put them in pots instead so you can actually get them onto your plate. H.en say on their website that they are the first "local and happy (high welfare) chicken shop". I wasn't able to work out from the taste whether my chicken was free-range but there was certainly a lot of meat. And it made me happy so I'd like to think the chicken was happy as well.
I am definitely planning on going back to H.en. But next time, I'm going to unscrew the lids from the sauce bottles.
To save yourself the horrors of drunk women stumbling around Brighton, you can check out H.en's website here: www.henrestaurant.com/ and they are on Twitter here.
If you like my ramblings then I too am on Twitter and for more food and gin photos, check out my Instagram