Happy New Year!
Yes I know I'm a little late but two weeks of gin and junk food have left me a bit poorly and rubbish so I'm only just getting round to writing this post, despite being in Sweden nearly a month ago. Also, spoiler alert: this will be quite a long post. I don't blame you if you get bored but I'd recommend sticking it out until the end. Then read part two.
Back in mid-December I naffed off work for a few days and travelled to Stockholm with the boy for a few days of sunshine. Well. By sunshine I mean about 3 hours of daylight and temperatures around 1 degree. Take it as a given that for four days I was colder than I've ever been, despite wearing three pairs of tights, extra socks, long sleeved top, t-shirt, cardigan, jumper, jacket, coat AND hat AND scarf AND mittens. Dan however, survived four days with an unbuttoned coat and no hat. Freak.
So, at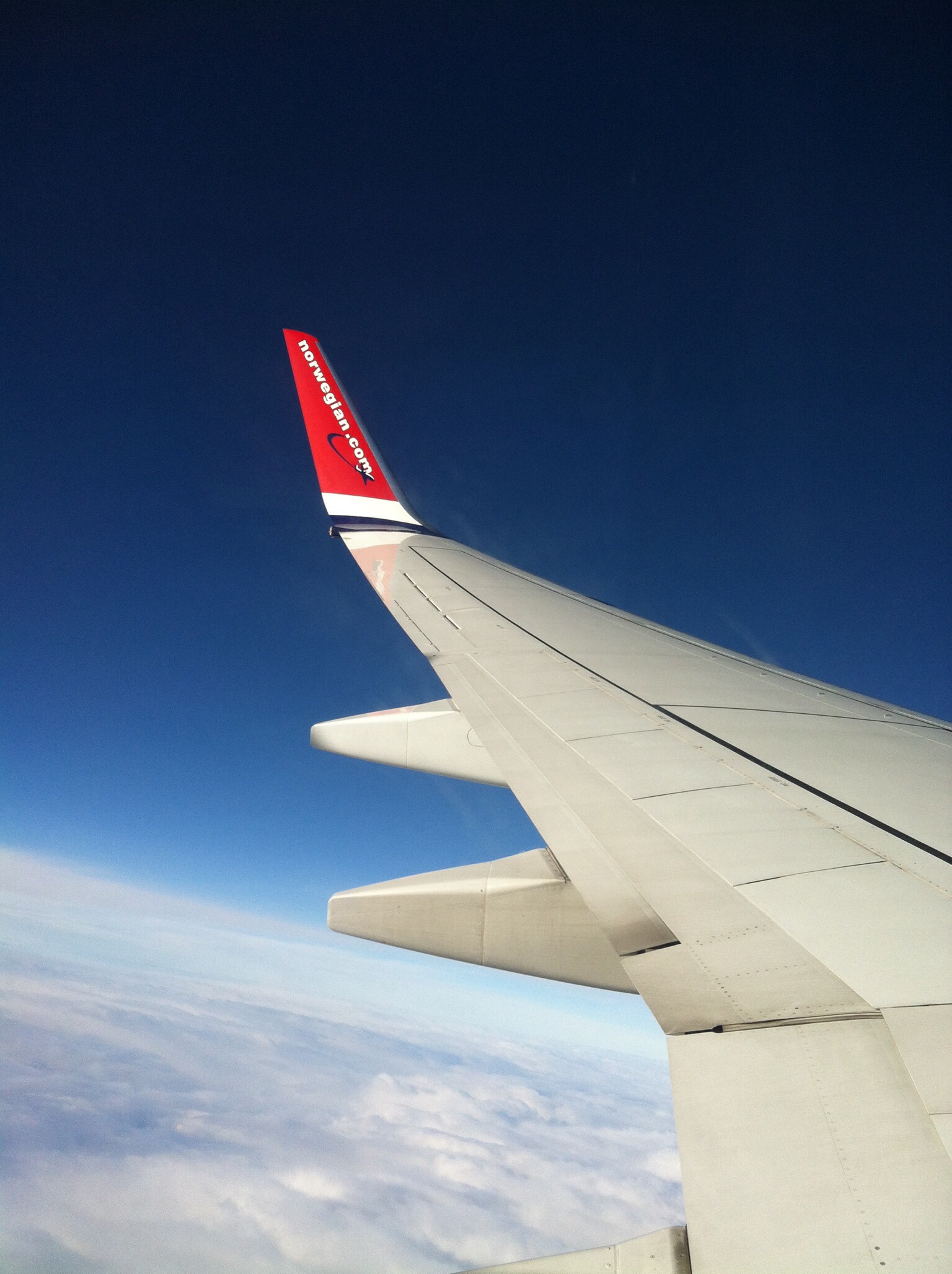 5.30am we awoke ready for our adventure. Brighton to London Gatwick courtesy of National Express. Gatwick to Arlanda airport with Norweigan Air (standard bottle of Prosecco in the air was £6).
First impression of Stockholm at the airport – clean, empty and efficient. The bus to the city stops right outside the airport exit and was distinctly easier to find and get on to than when I went to Barcelona in October. The bus ride into Stockholm takes around 45 minutes and is, quite frankly, a little lacking in beautiful scenery. I'm not sure what we were expecting (the Northern Lights appearing at lunch time perhaps) but we were uninspired by the buildings and trees that lined the motorway (basically, Swedish motorways are the same as British ones). Anyway, after an easy ride we arrived at the central bus/train terminal and made our way to our hotel.
We had chosen to stay at HTL Kungsgatan after lots of positive reviews on TripAdvisor and a basic google map search of attractions seemed to put it in a good location. Their website said they were a 5 minute walk from the bus terminal which we took to mean it would be a 15 minute walk but we were wrong, this was literally two minutes around the corner. We walked into the warm and welcoming entrance and checked in easily with the iPads at the entrance and registered my iPhone app to work as a key (I was incredibly excited by the fact I could open our door with my phone). Now, all of the reviews (and their own website) say that the rooms are small but functional and are basically just a bed in a room with all storage space above and under the beds. I don't know what kind of prize we won, but somehow we ended up in the wheelchair accessible room and it was HUGE. We had tons of space. Most excitingly (because we are basically children) was that our beds (two single beds pushed together with two single sheets and two single duvets) had remote controls so we could tilt our heads/feet up. Whether this was purely an advantage of a wheelchair accessible room or if it is in all rooms I do to know, but I do know that we enjoyed playing with them. Our TV had a few English channels (playing a mixture of Phil Spencer: Secret Agent, The Great British Bake Off series 1 and Harry Potter and the Prisoner of Azkaban) and featured AirDrop so we could stream things on my iPad and play them through the TV. Seriously – if you're easily impressed by technology this hotel is the place to stay.
That evening, we set off to explore. By evening, I mean around 3pm but it was already dark so I'm sticking with the term 'evening'. We wandered back towards the bus station and headed over the river onto Kungsholmen (for those that don't know, Stockholm is made up of an archipelago of various islands) and found the city hall and a tribute to Alfred Nobel which led to a discussion about whether the Nobel Prizes are Swedish (they are, and more about that later). That night we tried to eat at Flippin' Burger only to be told there was an hour and a half wait, so we ended up at a frankly unmemorable Italian place which served alright pizzas (I'd say where we ate but I can't remember, and I wouldn't recommend going). We did find some illuminated reindeer though so it wasn't a waste of an evening.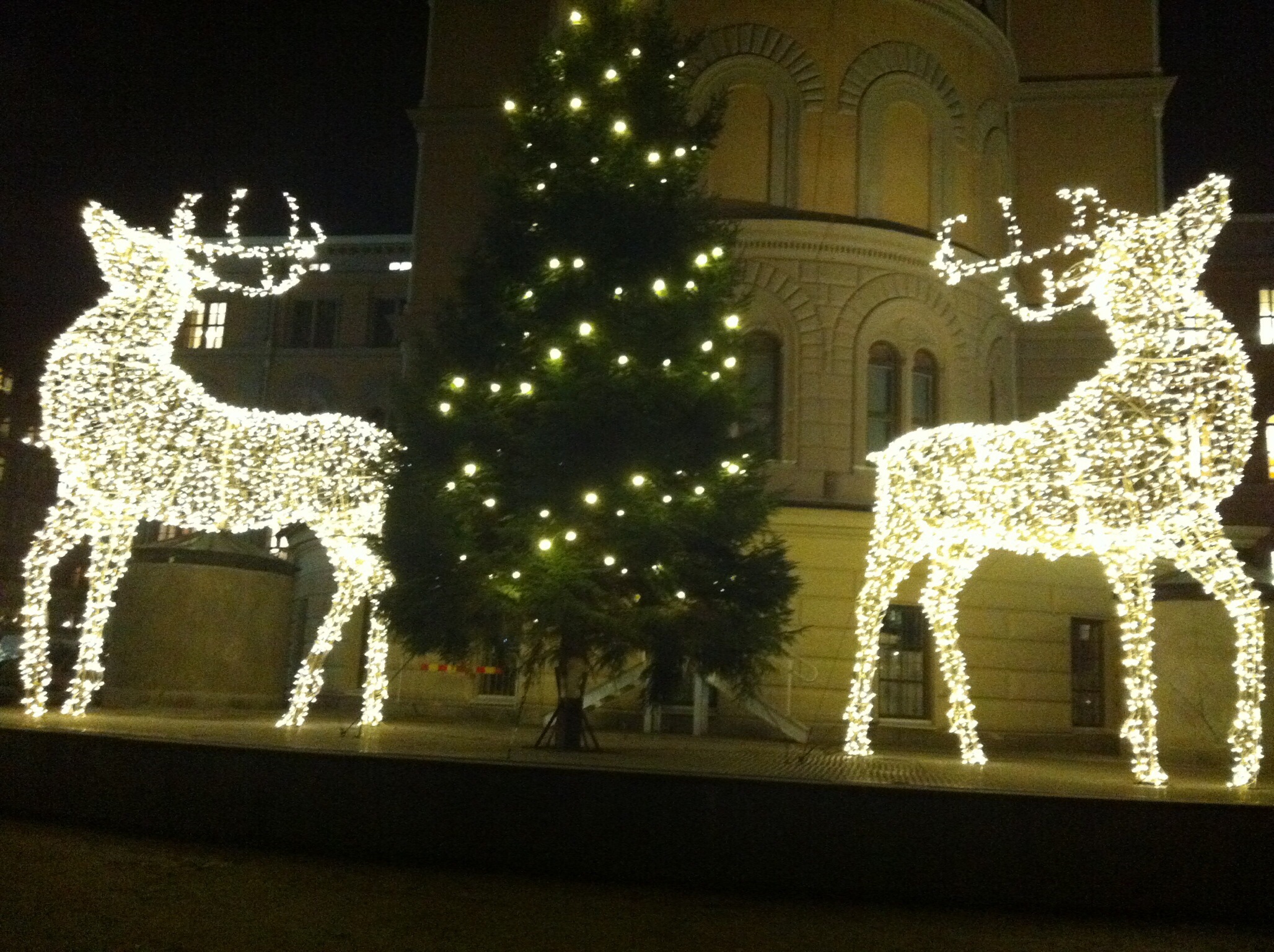 We ended back at our hotel and stayed in the bar for cocktails. Now this I would recommend. We might have spent £36 on four cocktails but they were lovely. The boy went for 'Orange Vanilla' which, unsurprisingly, contained orange juice, vanilla liqueur and rum. If you like orange, it's the thing to go for. Mine, the 'Lemon Elderflower', was much more to my taste and was made up of cava, lemoncello and elderflower liqueur (the yumminess makes up for the unimaginative names). Dry but fizzy, it was exactly what I wanted after a day of travelling and exploring in the cold and dark. Bonus: you could actually taste the lemon AND the elderflower.
Day two we awake refreshed and ready for a day of exploring (breakfast: yogurt, muesli, croissants, bread, meat and cheese. Plus a fresh smoothie every morning. Genuinely worth staying here just for the breakfast). We originally were going to do a walking tour to get us started, but wanted a bit more of a lie in so decided to go for a walk along to Djurgarden to see the Vasa and the Abba museum. We went what can only be described as the 'scenic route' and what Google said would be a 45 minute walk took us nearly two hours but it was worth it. Stockholm in the (sort of) daylight is utterly lovely. It looks a bit like they decided to build a city and let one person design it all so it all matches. It is also incredibly clean and, like nothing I have experienced before, was devoid of people. I was in HEAVEN.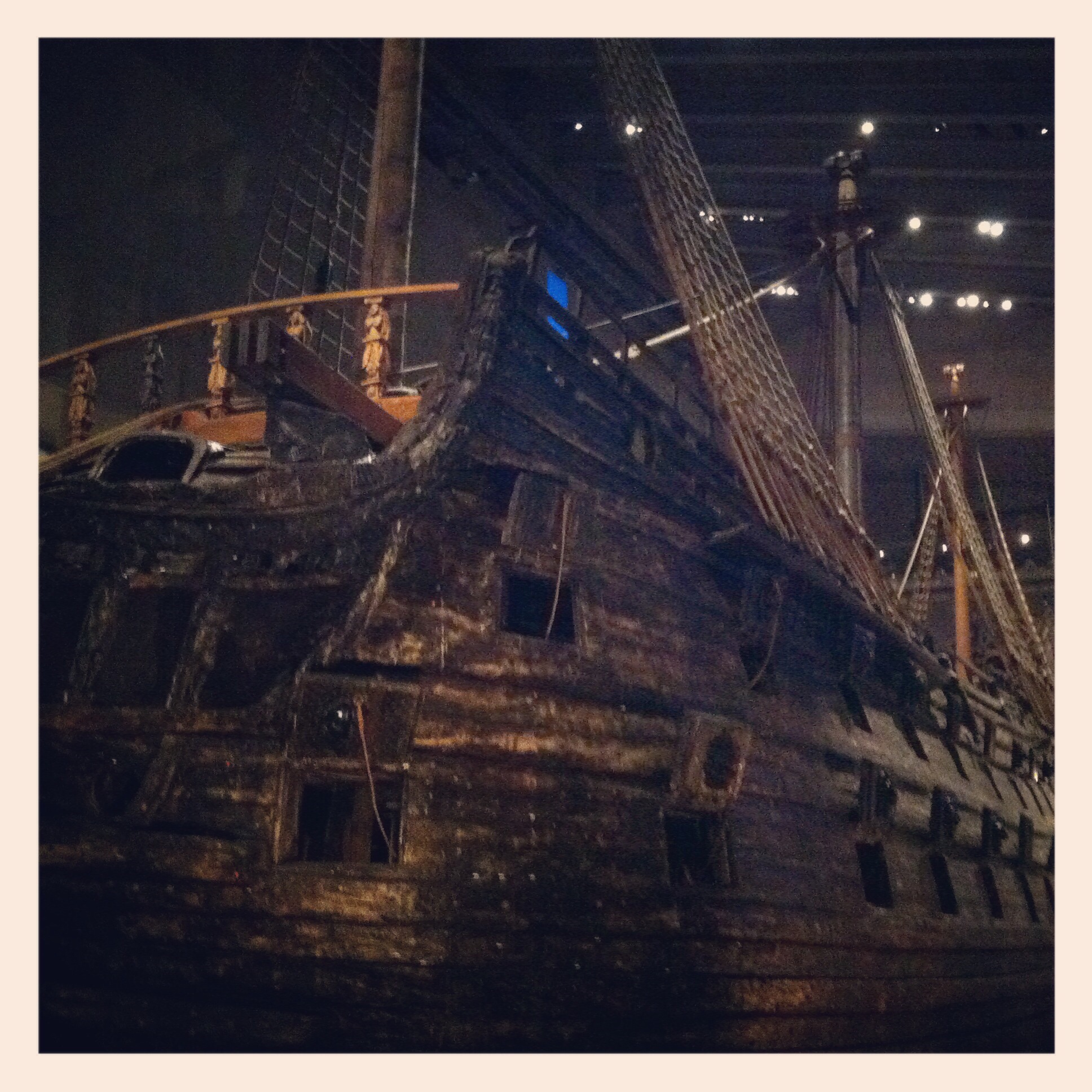 After a walk past the opera house, the skating rink and the National Museum, we finally made it onto Djurgarden. We decided to get a little lost walking around the Nordic Museum before finding our way into the Vasa Museum. Long story short: One of the King Karl Gustafs decided that he needed the biggest war ship because he was at war with Poland. He wanted two gun decks. The builders said that was a stupid idea. He insisted and so the boat was built. The boat had to sit high in the water to ensure no water would come in through the cannon holes. The day came for the boat to launch, it sailed a total of 1,500m from the shore before a light wind tipped it over (remember, there's no weight in it because it has to sit so high). As it tips, water comes in the cannon holes. It tips more in the wind. More water comes on board and so it sinks. Bye bye Vasa you lovely war ship. After 333 years under the sea, the wreck was salvaged in 1961 and now sits, pretty much as it was, in a rather lovely building. The museum itself is fairly basic, the ship stands in the middle of the building and as you walk around it you learn about the building of the ship and life in Sweden in 1628, what life was like on a warship and how the boat was built, salvaged and repaired. It's not incredibly interactive and there were a few bored looking children, but we enjoyed it.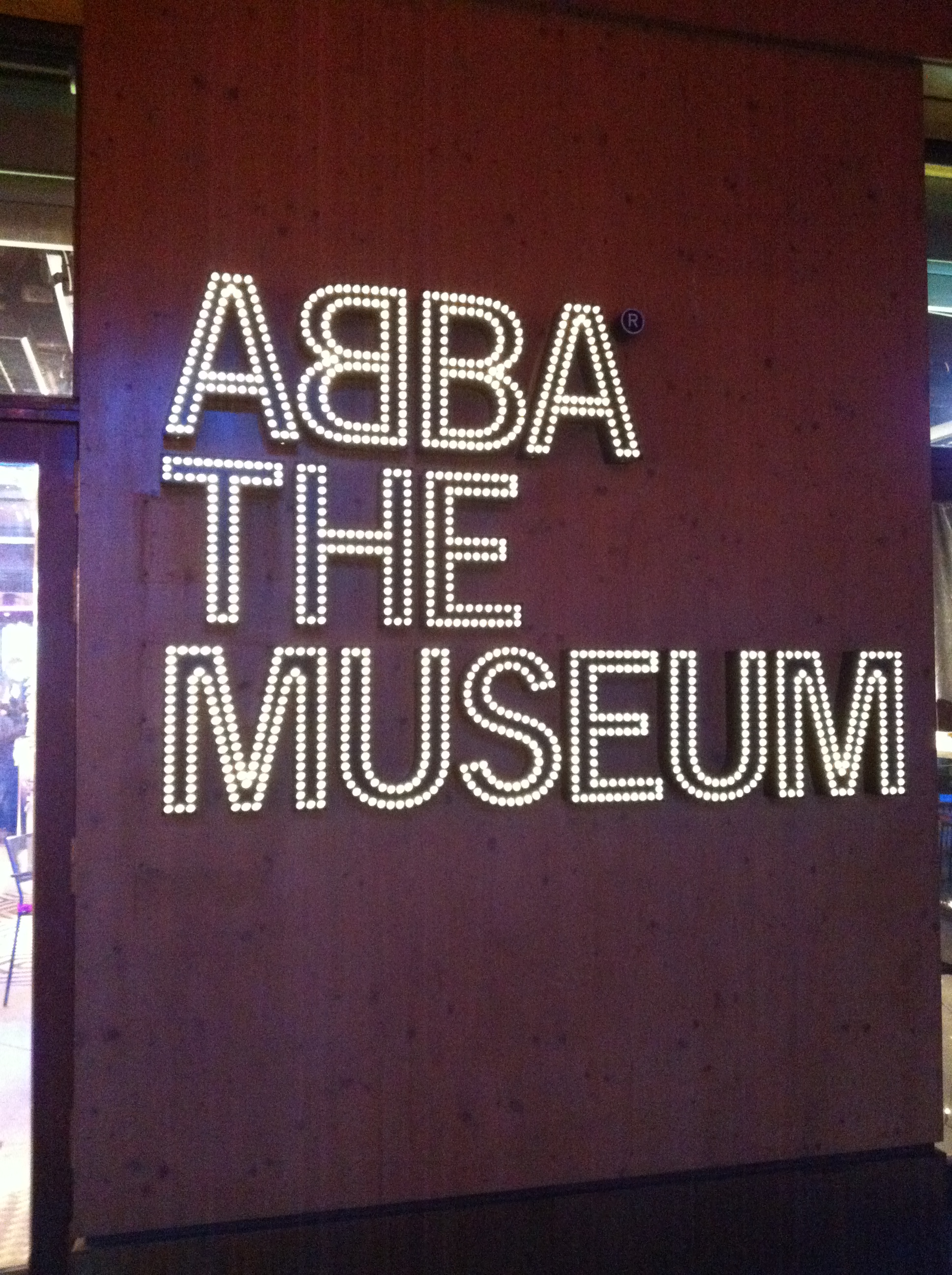 Just down the road from the Vasa is the Abba Museum. I cannot recommend this place highly enough. As a Mamma Mia addict, I forced Dan to go here. He isn't Abba's biggest fan (as I said earlier, freak) but even he admitted by the end that it was awesome. Book your tickets in advance because they charge you a fee if you buy them on the door from a real person, but they also have a computer in the entrance which allows you to book them online and collect them from the machine next to it. As you pass through the turnstile and head downstairs, the sound of Abba reaches you. You walk into a room which shows a montage of interviews, performances and photos from Abbas humble beginnings to the peak of their fame before heading through to a mock festival with bios about each member and how they met and formed their fabulous foursome. There's a small mention of their first single Ring-Ring before a rather large area dedicated to my favourite city: Brighton. The Swedes LOVE Brighton because it was there, in 1974, that Abba were launched to international fame with Waterloo at the Dome. My favourite part of this room is an excerpt from their diary which states their love of Brighton and how they wish they didn't have to leave.
The museum is super interactive and designed for us crazy Abba folk. There are points throughout the museum which allow you to scan your ticket and take part in various things: test your memory skills and mix a track to the right levels, record yourself singing one of the hits, get your face scanned and dance on screen as Abba (slightly terrifying when it doesn't recognise your face and you are a pair of floating glasses on a body) and appear on stage with them. By scanning your ticket, all of your activities are uploaded to the website so you can log in when you are home and relive the joyous moments. It has to be said, I didn't really know a lot about Abba other than their top hits so it was fascinating learning more about their lives (they live next door to each other) and the costume gallery is something special. They also then have a general history of music part at the end with small pods with video playlists from 1920 to modern day featuring Swedish acts and a room full of instruments that you can play with.
We ended our second day in Stockholm at the rather generically named 'Barbeque' restaurant which, whilst the menu isn't the most exciting, it is cheap(ish) and was opposite our hotel. We were hungry and tired. We managed to get the last table, squeezed in next to three businessmen who seemed to drink a bottle of whiskey each over the course of the evening. I picked the salmon with chili and ginger which came with chips AND corn on the cob AND salad. It was huge. And surprisingly good. The salmon was nice and pink in the middle and cooked perfectly so the flesh fell apart when I put my fork in. The salad was a welcome fresh relief from the chips and corn on the cob, and the marinade on the salmon wasn't too overwhelming. The boy had a burger (standard) which was about a foot high and whilst I didn't try any, his clear plate implied a good meal. This was washed down with a double gin and tonic (obviously) and finished with a banana sundae. It was basically the least Swedish meal we could have eaten but it really hit the spot. The meal – the salmon, the burger, dessert, two gin and tonics and a beer came to around £50 which we felt wasn't bad for the sheer amount of food we had and the surprising quality of the food. Before we went, everyone told us that Stockholm was ridiculously expensive, but we thought that it was no more expensive then you would pay in a Central London restaurant. I'm sure we could have spent a lot more, but as we were budget conscious we did some research and made sure we didn't eat anywhere too extravagant.
That's the first half of my trip done, second lot of rambling here.
Don't forget to follow me on Twitter for more ramblings, and for more photos of Stockholm you can find me on Instagram.
For better photos, you can follow Dan on Instagram