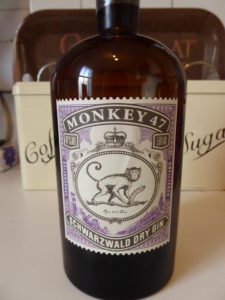 This week was historic. It's the week that Britain threw a strop and voted itself out of the EU. I'm having post-Brexit Blues which coincided with pay day which ended up with me in Grape and Grain after work buying myself a bottle of gin. Monkey 47 to be precise. I've tried it before but a long time ago, so after an extensive discussion with the shop owner and staff I decided to give it another go. Also it's German so prices will clearly rocket if we actually leave so thought I'd get it for a good price while I can!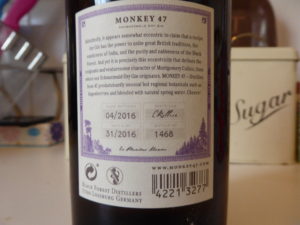 Monkey 47 hails from the Black Forests of Germany and was first produced in 2008. It went on to win Best Gin in the World Gin catagory in 2011 at the IWSC and Gold in the World Spirit Awards. So it comes highly recommended. The name hails from the 47 botanicals used to make the gin, and it is handily bottled at 47% as well (they sure know how to create a strong brand – speaking of which I highly recommend their website). Some of their botanicals are listed on their website's Encyclopaedia Botanica. Each batch is hand bottled and they list their batch number on the bottle – apparently each batch is subtly different, I guess I'll just have to buy another bottle to see!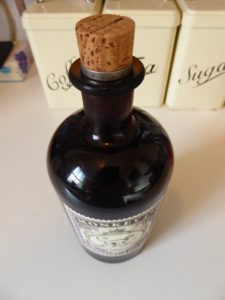 The bottle isn't sealed with wax, but has a cork edged with a metal ring, going for an old pharmaceutical look. The cork comes out easily and the smell is quite fruity. Nothing overpowering. Mixed with water and the juniper comes to the front. Super smooth and easy to drink, it again has no overpowering taste to it or a chemical burn that some gins have, leaving just a fragrant taste in your mouth. The 47% abv gives it a warmth that isn't as overpowering as a navy strength gin.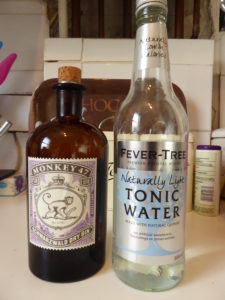 Mixing up a G&T with some light Fevertree tonic it really comes alive. A variety of flavours swill across your tongue. It has that exciting sherbert quality that Cornelius Ampleforths Bathtub Gin has. It's sweet but not cloying. Tart but not sour. Hints of pepper. I add a lemon wedge which brings out a citrus tone and makes it very refreshing. Wowzers. I'm super sad I haven't embraced this earlier.
I paid £39 for this at Grape and Grain. Worth. Every. Damn. Penny. Even if it hadn't been pay day. Get this now and add it to your collection. Yes it's pricier than Gordon's but my god it's more exciting. Masters of Malt stocks it for £36.46 (plus delivery) – and if you need more convincing then check out some of it's reviews!
You can follow Monkey 47 on Facebook, Twitter and Instagram.
If you're ever in Haywards Heath, head to Grape and Grain and speak to Ed. He loves gin and will happily chat to you about it for as long as you want (until you have to run off and catch a train home in my case) – or they're on Facebook.
Finally, if you like what you read and see then give me a follow on Twitter and Instagram.