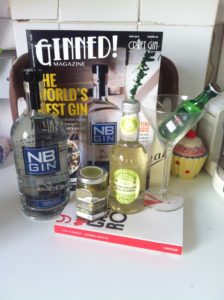 First of all – Happy World Gin Day! My favourite day of the year. This also coincides nicely with this month's Craft Gin Club delivery (well, actually it arrived last week but I went on holiday so I've only just got round to opening it). June's parcel arrived with a bottle of NB Gin Navy Strength (57% ABV), a bottle of Fentimans Sparkling Lime and Jasmine, a small bottle of extra dry Martini and some NB Gin Alco Olives. Yup, olives soaked in gin. Didn't realise I needed these in my life until now.
In case you couldn't guess from the box contents, this gin apparently makes a very good Martini, and much of this month's Ginned talks about Martinis in history, and one of my favourite pieces of writing ever – canapés inspired by James Bond (Quantum of Scallops anyone? No? How about Diamonds are Bruschetta?). I'll be making my first ever Martini at a later date and will report back.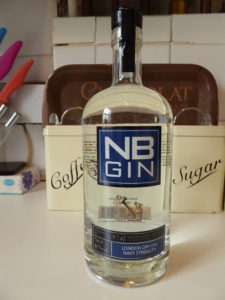 NB Gin hails from Scotland (so I can claim to be getting in touch with my heritage as I drink it) and their regular London Dry Gin won the title of "Best London Dry Gin in the World, 2015". I've been following them on Twitter for a while and they have quite the famous following: Johnny Roxburgh, party planner for the royal family loves it and lists it on his menus and they have been the official gin of the Brits after party in 2015 and 2016. Swanky stuff. Navy strength gin is so called as the Royal Navy required gins from the early 1800's to be bottled at a higher abv as gin was often stored below deck adjacent to the gunpowder. They then noticed that if the gin spilt on the gunpowder, it wouldn't light, so gin had to be a higher proof to make sure that the gunpowder would still light. Why they couldn't store the gin somewhere else, I don't know. But there we go, small history lesson for you. NB Gin's makers say that the extra alcohol content increases the concentration of the flavours – key botanicals include juniper, coriander seed, angelica root, grains of paradise and ground cardamom. I'm expecting something rather intense.
The bottle has no wax seal so it is nice and easy to get into (it's always embarrassing when you have to hack the bottle apart). It is very botanical heavy, considering how strong it is you don't get any nasty gin smell, just fragrant and citrusy. Measured out with some cold water the juniper comes forward and you can sense the strength a bit more. Holding it on the tongue and it has a bit of a kick to it but it's smooth at the back of the throat. I was expecting that gin burn but it's easy to drink. There's definitely a warmth in my chest once I've drunk it. It feels thick, it's certainly not a light and flowery gin, but the flavours are well balanced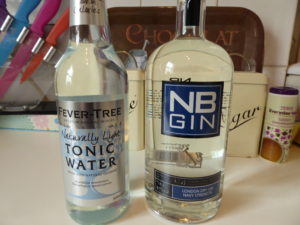 Mixed as a G&T with 50ml of the gin with 100ml of Fevertree's light tonic water (I was fancy and treated myself) and some of my wonderful plastic ice cubes (people seriously need to invest in these) it's now starting to smell a bit more dangerous. The smell packed more of a punch than I was expected and nearly recoiled from my glass. It certainly tastes stronger as well. The bitterness of the tonic plays up to the botanicals and the sheer strength of the gin and whilst it remains smooth on the tongue, it's flavours are much more obvious as you drink it. The producers are correct, the flavour is more intense than I am used to. I believe this is actually my first navy strength gin – even Burleigh's which made me strangely emotional is is only 47%. Sailors are certainly a hardy bunch. I think it's safe to say you don't need many of these in an evening. The intensity of the flavours also make it less "gluggable" (drink responsibly) which is a good thing at this strength! As they recommend the lime and jasmine Fentimans, I add a lime wedge which adds a slightly lighter note and certainly lifts the flavour a bit to make it less heavy.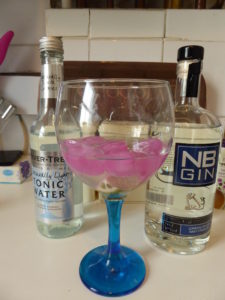 All in all, this is different. If you like your gin strong then this is the one for you. I am very interested in trying the normal strength NB Gin to see how the flavours compare. Over on Masters of Malt the Navy Strength gin is £41.95 – slightly more expensive than I think I would pay, but this also isn't a gin that's going to disappear quickly!
You can find NB Gin on Facebook, Twitter and Instagram. Craft Gin Club are there as well (Facebook, Twitter and Instagram) and if you enjoy my ramblings then give me a follow on Twitter and Instagram.