This month's package from Craft Gin Club was rather exciting. One full sized bottle of Burleigh's Distiller's Cut gin, one sample bottle of their Signature Edition gin, a bottle of Fever Tree Indian tonic, a teeny tiny bottle of Angostura bitters AND a bag of jalapeño crisps. That made for a very exciting Wednesday evening.
Burleigh's Distillers Cut is the child of Jamie Baxter at the 45 West Distillery t'up north in Leicestershire. The bottle is a beautiful matt black with very little to distract from the simplicity of it. Admittedly this won't be one that I can fill with fairy lights, but I'm sure I will find it a home on my bookcase regardless. 45 West Distillery uses some unusual botanicals that I haven't come across in other gins – dandelion and burdock roots alongside silver birch. Yes, silver birch. As in the tree. He steeps silver birch chips, along with his other botanicals, in the neutral spirit which, he says, "gives off a beautiful eucalyptus menthol note".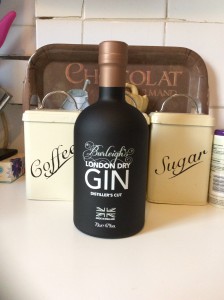 After peeling away the brown paper seal and listening the satisfying pop as you ease a cork out of a bottle for the first time, it hits you. The smell is like walking in a woods. Floral. Juniper. Almost herby. Measured with water the juniper becomes more noticeable, it smells nice and clean. The first tastes leaves it warm in the mouth, on the tongue it has an edge of bitterness about it but this mellows nicely as you drink it. I'm not cultured/hardcore enough to drink straight gin as my standard drink but I can imagine that this with water and a mammoth ice ball to make it super chilled would be lovely. It makes me think I need to be in a log cabin overlooking a lake. The floral notes start to come out once it has mixed with the water but it isn't cloying as I expected once I read it had elderberries as a botanical. I instantly felt a warming sensation through my body, but this is probably due to it being bottled at 47% – a bit higher than my usual gins of choice around 38-40%.
I did as recommended and mixed it with my Fever Tree Indian tonic and ice. The only way I can really describe the taste is like you have stepped into the middle of a forest and taken a really deep breath in. The taste lingers in the mouth and the chest. This isn't something I thought I would ever say, and I guess this comes from the silver birch, dandelion and burdock. A slightly woody earthy taste settles on the tongue whilst the back of the throat picks up the floral notes.
Orange is the recommended garnish, but my aversion to oranges is so strong that I can't bring myself to do this (sorry gin world). I plump for lemon instead. The lemon accentuates the floral notes and brings a new bitterness to the back of the throat (not in a bad way). It's the taste I would associate with a proper gin and tonic. Quite dry at the back of the throat which makes you take another mouthful. It's a powerful gin. It doesn't feel like one I can glug back quickly (not that I do that Mum or Dad, that would be irresponsible). It's an all encompassing flavour . I'm definitely back at my log cabin, looking over the lake, probably listening to jazz music. This feels like a gin to tell stories to. Despite the fact that I am new to this gin game, it feels like a proper drink. Like how men used to come home and have a stiff whiskey at the end of the working day. This gin makes me want to come home, snuggle up in a large brown leather arm chair, get out a good book and relax.
This gin reminds me of home. I grew up in a little town called Fleet (yes, Fleet services on the M3) and we were lucky enough to grow up near the pond and walk around there and the canal and various parks and woods. Halfway through this G&T I have a craving to go home. To sit in my garden as the sun fades away and only hear the occasional car go past.
The back of the bottle simply says "Spirits of adventure" and never have I agreed with a tag line so clearly. This makes me want to be outside. Which is something my pale Scottish skin and bookworm-introvert-people-hating personality do not like doing.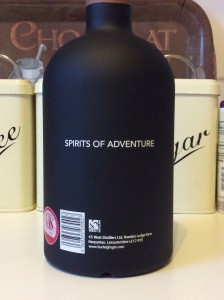 Masters of Malt list this at £33.95 for a 70cl bottle. I am not convinced that everyone will love this gin. I think it will divide opinions. It is a gin for martinis and negronis aka proper grown up cocktails. It certainly packs a punch with their flavours. As is fairly obvious from the above, this gin had a real impact on me in a strange emotional way so I for one am a big fan.

You can find out more about Burleigh's gin on their website, Facebook page and Twitter feed.
For more ramblings about gin and life in Brighton, you can follow me on Twitter and Instagram.