-Vang Vieng, 11pm-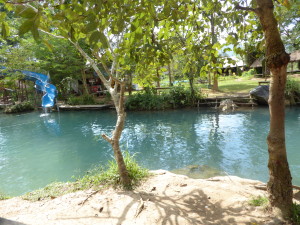 I'm getting worse at filling in my diary. It's too hot. Today was nice and quiet which is just what I needed. I woke up this morning feeling good – probably because I'd had more than three hours sleep! Less good when we realised we had slept through breakfast, so instead we went to a cafe a few doors down from our guest house for french toast and pancakes. With full bellies, and hangovers for some, we jumped into our tuk tuk for a bone shattering 20 minute drive to the lagoon.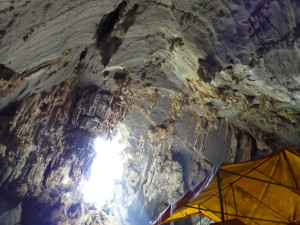 It was lovely. Swimming in the natural pool (with some massive fish), chilling in a wooden hut and climbing up the side of a mountain to see a cave [current Jenny: in hindsight, we didn't realise how high we were climbing, and we might have at least taken a bottle of water if we had known]. Minus the 40 minute round climb, it was a really nice relaxing day before tomorrow's seven hour drive through the mountains to Luang Prabang. Seven more hours of bumpy, uneven, potholed roads. Joy. Already looking forward to getting a massage in Bangkok in a week!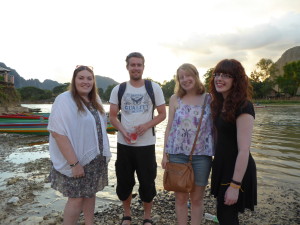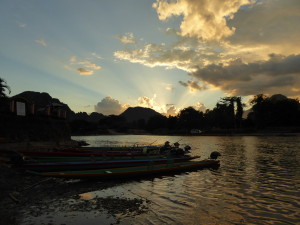 After surviving the tuk tuk home, we headed down to the river to watch the sun set over the mountains. Sadly it was a bit cloudy but it was still spectacular. Another couple of Beerlaos later (and some pizza), we somehow ended up back in the night club playing beer pong. Turns out Korean boys are pretty good. But they also like drinking the beer they paid for so aren't too unhappy when you turn down their leftover cups.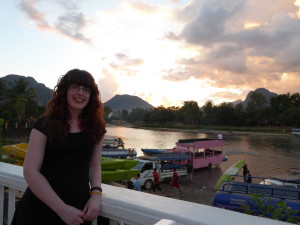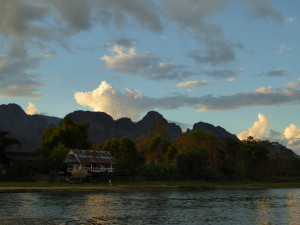 Vang Vieng is lovely. It is a tiny town in a mountain in Laos but it is buzzing and full of young people – locals and tourists a like. It lacks a beach but has a happy, laid back beach feel to it. Whilst I admit getting there is hell due to the roads, it's worth the journey.