-Vientiane, 12:3pm-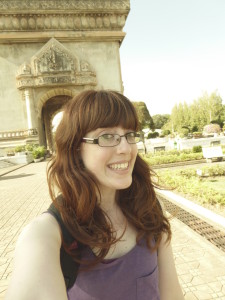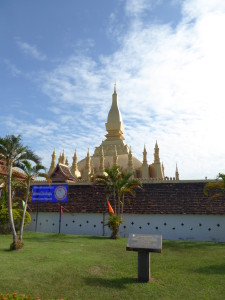 This morning (after no more grasshoppers appeared in my room) we went out in a tuk tuk and visited Wat Si Saket, the oldest temple in Vientiane dedicated to the war veterans; Patuxal, the victory memorial aka the Laos Arc De Triomphe; Pha That Luang, a gold temple and a rehabilitation centre with a small exhibition dedicated to Laos people that have lost limbs due to unexploded bombs and how the charity helps people with fitting prosthetics. Then we did the Western things and found a bakery and had milkshakes and cheesecake. So good. Totally worth it.
-Vang Vieng, 12.30am-
Wow Laos is beautiful. After our snacks in  Vientiane we got into our buses and spent four hours driving to Vang Vieng. The first two hours were fairly uninspiring – suburbs of the city, some fields and a bumpy road. The second two hours continued with the bumpy road but we started to wind our way up into the mountains and through thick forests. Occasionally there were some houses and farms, but mostly some breath taking scenery of the mountains.
We arrived into Vang Vieng just after sunset so off we went to arrange activities for the next day. Half the group wanted to go boozy tubing down the river. Whilst I was interested, it was pointed out to us that two people had died doing it THIS WEEK! So, instead, a group of us hired a tuk tuk to take us to a lagoon.
Activities booked, we headed to a really cool restaurant/bar for larb (traditional Laos cuisine). Then we decided to go for another drink and Channy took us to an 'Irish' bar. Great music, beer and a pool table. We then, for some unknown reason, headed across the road to a club/bar. I've never been in anywhere that sells balloons of laughing gas at the bar. After an hour of awkward dancing, we were told to leave at 12am. Turns out that in a communist country, the fun stops at midnight. We convinced a barman to let us play a quick game of beer pong (obviously). With that, we headed to bed [current Jenny: that was the first night I slept straight through until morning since being away].