If you missed part one, here it is.
So, when you left me I had stuffed my face with Salmon after a day of excitement with an old boat and the Abba Museum. So it was with full stomachs that we retired to hotel to pass out.
We awoke, refreshed, early the next morning and once again breakfasted on some of the best granola I've ever eaten and headed out for a free walking tour of Stockholm (thought we should try to learn something whilst we were there!). We went with Free Tour Stockholm and had the wonderful Australian Ryan as our guide. He was really nice and remembered where we all came from and had spare hats and gloves in case anyone was cold. The week before we went (remember, we went in December) some Australian girls had been there in flip flops. Fools. Note: whilst this tour is definitely worth going on, if you go in winter make sure you wear warm socks. I couldn't feel my feet by the end of it. But back to the tour, fun facts I learnt:
1) Stockholm means 'log island' – back in the day a tribe got invaded and they carved out the biggest tree they could find and filled it with their gold. They pushed it out to sea and said "wherever this lands will be our new settlement" and it (conveniently) wove it's way through 60km or something of archipelago and landed on what is called Gamla Stan (old town). And so Stockholm began
2) The H&M global headquarters are a very boring looking set of offices. Also, there are 8 H&M's in one square.
3) The story behind Stockholm Syndrome is awesome but fairly long but basically inept bank robbers held people hostage for a few days with wire around their necks that could have killed them, when they got out the hostages formed a human shield around the robbers to prevent the snipers from killing them. Swedes are good folk.
4) The architect that designed and built half of the Royal Palace burnt down the other half before fleeing the city. He then returned with plans to rebuild it and got the job.
5) According to our tour guide, so I'm not 100% certain how true this is, Alfred Nobel's wife cheated on him with a mathematician so there will NEVER be a Nobel Prize for mathematics. Physics, Chemistry, Medicine and Peace (and Economic Sciences), yes. Maths, no.
And many more. I don't feel I do Ryan justice. He was much better. Trust me.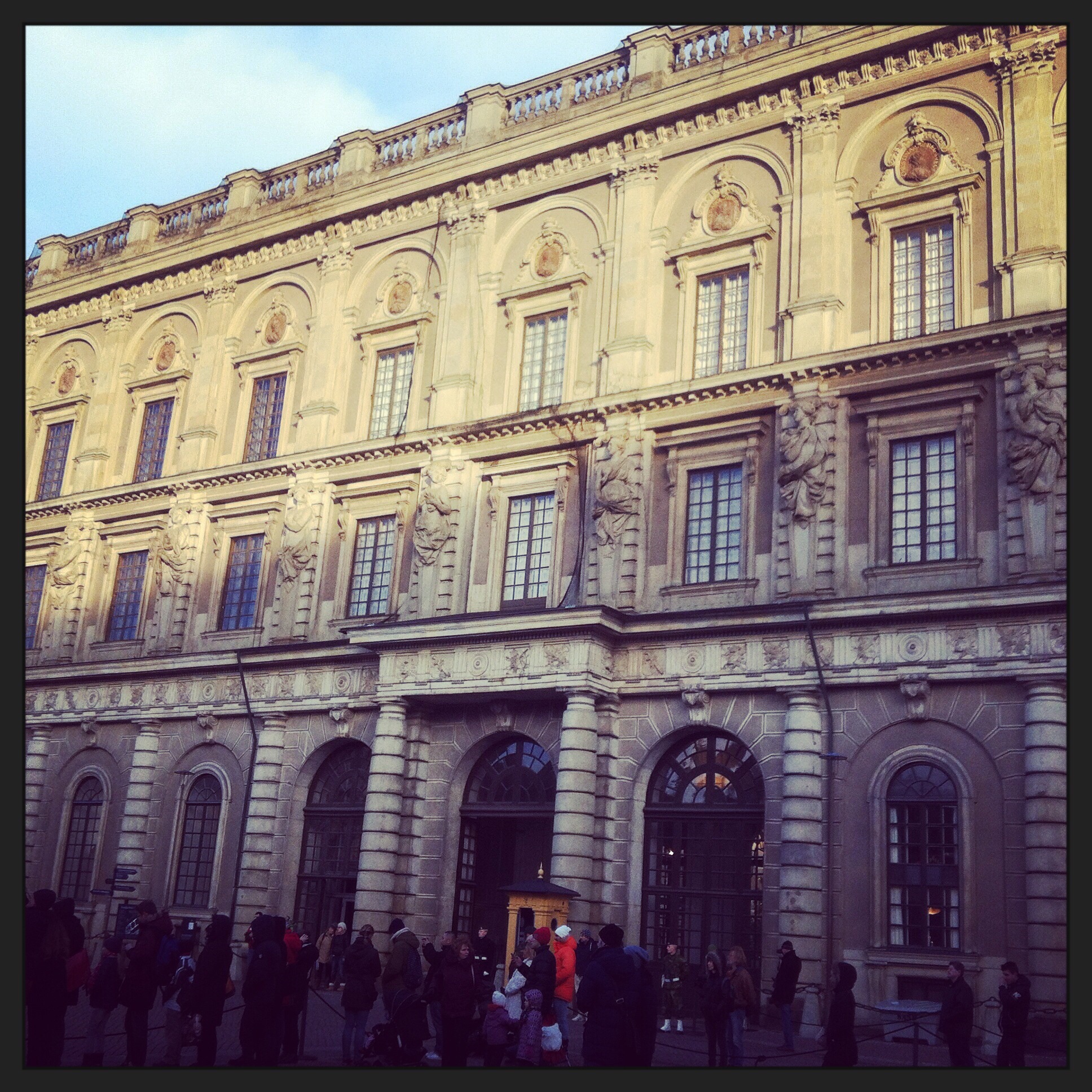 Speaking of the palace, the tour conveniently finishes across the bridge from the Palace so across we meandered and wandered into the changing of the guards. Swedish guards have very snazzy white boots. And do NOT like people standing too close to them. Entry to the palace is 150 SEK which is about £12.50 and you get to see the Palace, the Treasury and a museum that we didn't go into (oops). The Palace itself is an odd combination of cold, stone staircases and luxuriously decorated state rooms. Whilst it was interesting to look around, you don't see as much as I seemed to in Buckingham Palace or in Prague Castle. The Treasury was nice as it is deep underground (note: lots of spiral stairs) so it was lovely and cosy warm. The Swedish version of the Crown Jewels are basically lots of swords and crowns, good for the Game of Thrones fans.
After the castle we wandered around Gamla Stan and stumbled upon a small Christmas market selling sweets, waffles, sausages, Glögg, wooden horses and more. Sadly, we couldn't find the Garlic bar that I was so desperate to go to, but we had a nice walk as the sun set through the streets. I finally felt rather Christmassy.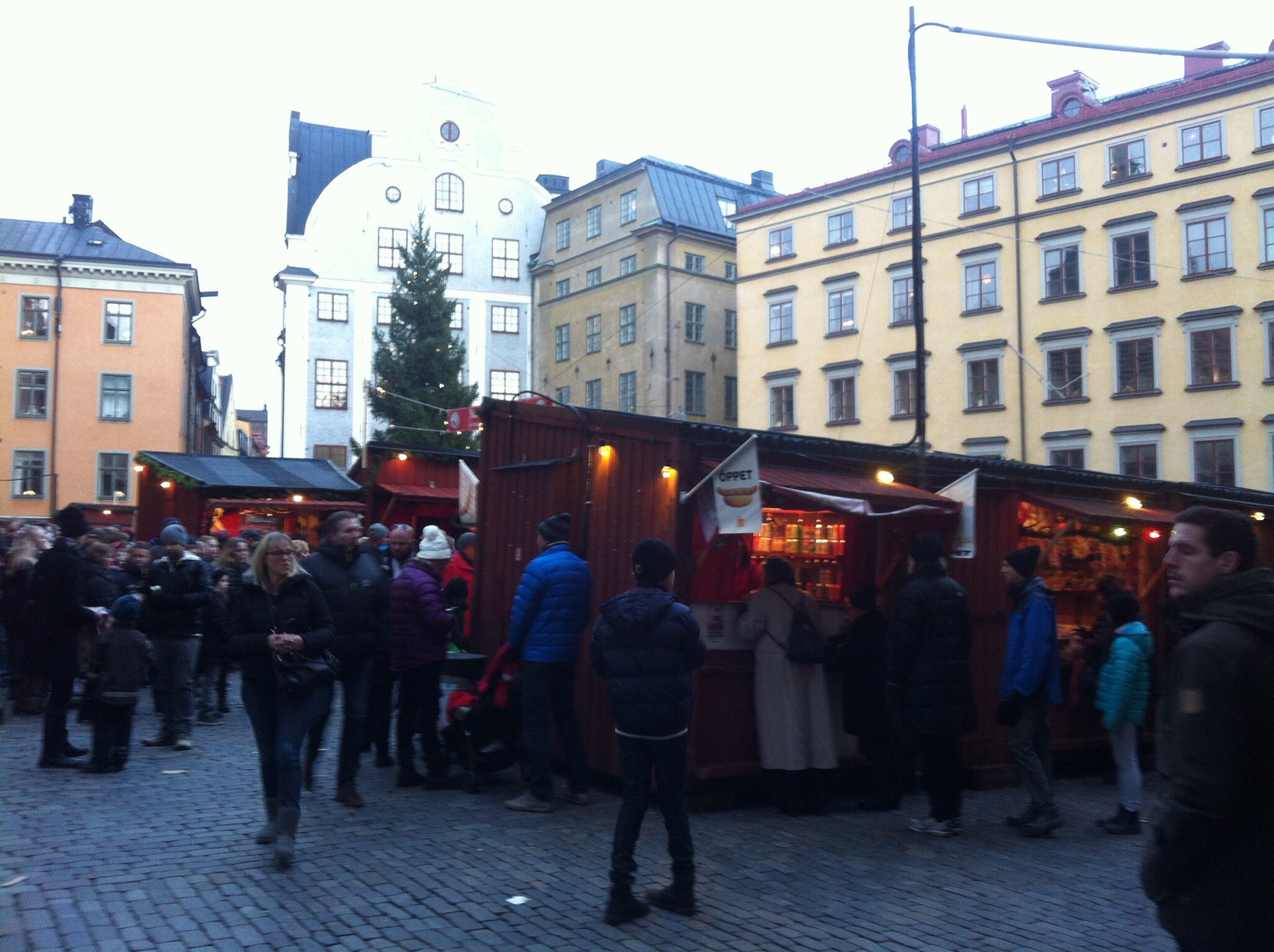 Now to dinner. Oh my. We were recommended Rolfs Kök (yes it is pronounced how you think it is and no that's not what it means, it means kitchen), and Trip Advisor reviews cemented this. We booked a table (good thing we did as we got the last table at 9pm) and headed to The Flying Dog for a pre dinner drink. We had walked past this pub a few times and they claim to be a part of the craft beer revolution. Dan, ever adventurous, went on the barman's recommendation of one of the beers on tap, I asked for a cider and got a Somersbys. Apparently that's a good cider in Sweden. The bar itself was nice and had a huge range of beers on taps. Were I a beer drinker, I'd be able to give a better review, but alas I am not so I shall skip to what I know. Dinner.
First off, their wine list is huge. I would go as far as to say ridiculously huge. Pages upon pages list wines by country and grape variety. I ignored this and went for a Pamplemousse Royale aka champagne bitters and grapefruit liquor. Much like my lemon elderflower earlier in the holiday it was beautiful and in a glass so clean that there was just one stream of bubbles floating up from the very centre of the glass above the stem. The bitters and the grapefruit meant it was dry and sour but the champagne evened it out to a wonderful drink. I would recommend this place just on that cocktail.
We wanted some 'traditional' Swedish food so shared a starter of brawn of reindeer with cheese and lingonberries. Reindeer, both a beloved Christmas animal and a tasty tasty meat. I've never been so happy to eat a symbol of my childhood. The creamy cheese with the lingonberries offered different textures and flavours with the meaty reindeer. The waitress was really nice and helped us with recommendations, bought us bread (four little rolls on a skewer with a bowl of salty butter and a little wooden knife) and checked if we wanted drink top ups and if we were enjoying the food. The layout of the restaurant is rather clever, the walls are covered in hooks for coats, hats and scarves and the tables are designed so an extra piece of wood can be inserted to make the tables suitable for groups of four or, as the couple next to us did, those ordering the sharing platter.
Our mains arrived promptly after our starter plate was cleared. Mine: red wine braised ox cheek with truffle and puréed potato, his: pork sausage with fried potatoes and vegetables in a creamy sauce. I had never had ox cheek before, I was being brave and trying new things, and it didn't disappoint. I tentatively put my fork in, with images of a lump of fatty chewy meat ahead of me only for it to fall apart on impact. It was tender and juicy, the sauce was rich and the puréed potatoes with truffle were so good I nearly cried.
I nearly cried in a restaurant.
Boy had no complaints about his meal (although I have rarely heard him complain about any food). His sausage (excuse the innuendo) was huge, spreading the length of the plate and more. The potatoes and veg were plentiful and – a very important fact – the vegetables were no mushy. Nothing irritates me more in a restaurant than over cooked vegetables. The meal, with the cocktail and drink, came to about £80 but I think it was worth every penny. Even now, nearly a month later, I am still dreaming about that reindeer and ox cheek. Stuffed t'brim, we staggered back to the hotel to fall into very happy food comas.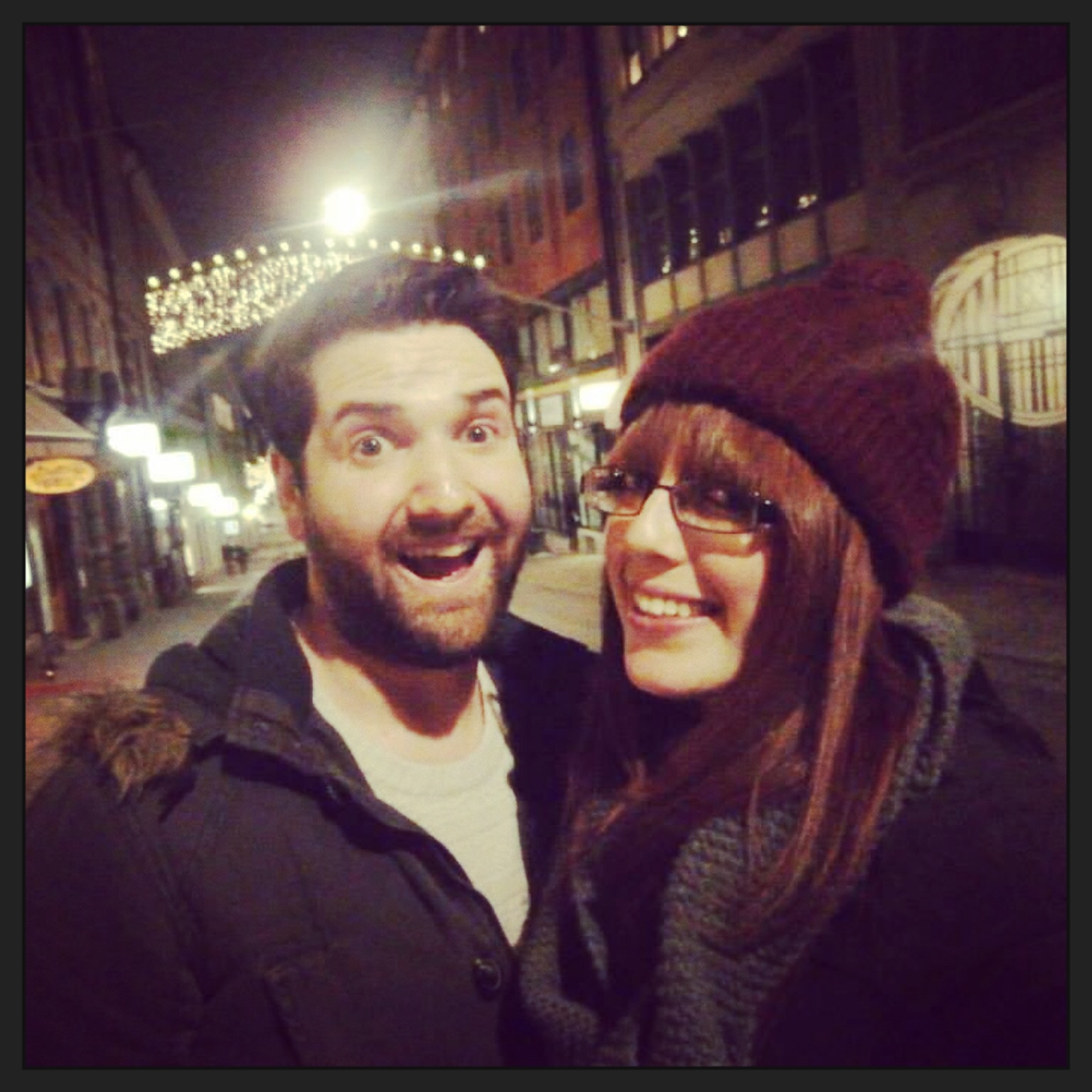 Day four. Final day. We're nearly done I promise. Our flight wasn't until 8pm so we went down for breakfast as late as we could and left our bags in the left luggage room. They offer lockers, but sadly everyone else had been more prepared than us and filled them up earlier. Check out consisted of throwing a key into a box. Done. And we wandered. Long story short, I threw a strop because it was cold so we walked across to Södermalm to a photography gallery. Despite my bad mood, it was really good. 'In Full Light' by Herb Ritts featured famous models, actors and singers, 'Daughters' by Lisen Stibeck showed women aged between 16 and 25 from around the world and Adi Nes' exhibition on narratives looks at men in contexts of recreated biblical scenes and the army. Well worth the walk (only about 20 minutes but by this point it was around -1 degrees so it felt a lot longer). We decided to brave the public transport getting home (because of my strop) which was super easy. Self service ticket machine at the entrance to the station, show your ticket to a man at the gate and get on train. Lots of seats even on a weekend and really fast. I feel you've mastered a holiday when you've mastered the public transport. We got the train up through the city and got off next to Flippin' Burger. This time, we only had a 10 minute wait (much better). The Swedes have really nailed customer service, we were given English menus when we sat down and the staff all spoke to us in their fluent English (seriously, everyone speaks really good English). Two burgers (one flippin and one cricket) with fries, a cider, a coke and a milkshake came to 480 SEK so £40. Which, yes, is expensive, but a Byron burger with fries will set you back £11, and this was better than Byron. They cook their meat so it's still nice and pink and juicy (correct) and the chips were salty and moreish. I've never had a burger with jalapeños and cream cheese before and I was again dubious about my choice, but once again was pleasantly surprised. Cream cheese should just be on everything. Go here. Maybe book ahead or go at 5pm on a Sunday, but go here.
With our final meal in our bellies, we made the last trek back to our hotel to collect our luggage, got on the bus and trundled back to the airport. Fare thee well Stockholm you were lovely. I will definitely be going back. But maybe in the summer.
My that was long. Thanks for sticking with me. If you would like shorter bursts of chat, follow me on Twitter and for more of my wonderful photography, I'm also on Instagram.
Once again, Dan takes better photos than I do and his Instagram is here