Note: Symphonia kindly sent me a sample to try and ramble about, but as always I'll let you know if I'm not a fan.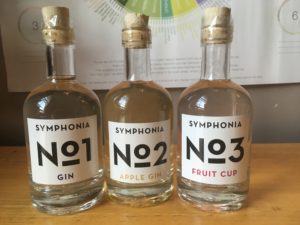 Did you read about Symphonia No.1 gin? If not, shame on you and you can read it here. The second gin in their range is a bit more unusual as it is an apple gin. This isn't a flavoured gin liqueur, this is a full on 40% gin made with crisp Bramley apples from Ireland which pairs with the juniper to create what they say is a gin filled with floral and herbal notes. Did you know that the apples grown in County Armagh have protected geographical status as the growing conditions out there are pretty unique? Apparently this creates the apple with the lowest sugar content but the highest acidity content, which Symphonia use to their advantage to flavour their gin. They counteract the sweetness of the apple with spice from ginger root and coriander.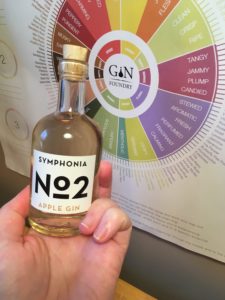 In the bottle, it doesn't smell that strongly of apples. There's a hint of crisp, green apple lurking there, but it's predominantly juniper. In the glass with a bit more space, the notes all mellow out and I can't pick out distinct botanicals. With a splash of water, and the apple is discernible, but there are also perfumed, lavender-esque notes and some cinnamon spice. It's like cooking an apple pie and all the flavours and smells melding together beautifully.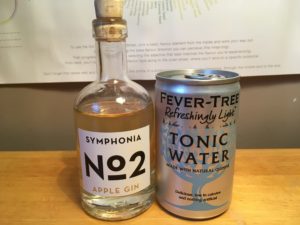 Mixed with an equal measure of Fever Tree light tonic and the apple is there, but only a hint. Whenever I hear something is apple flavoured, my mind automatically transports me to my university days and the sugary sourness of Apple Sourz (don't judge me). I was worried this would be reminiscent of that, but the flavour is much more subtle and brings a good hit of fire from the ginger root. Without the ginger, I worry this would be quite plain but the ginger hits your tongue right at the start and balances the sweetness of the apple to provide a long, lingering finish that is thoroughly enjoyable.
You can buy a 70cl bottle of the apple gin from Gin Kiosk for £39.80 (at time of writing). Much like their previous bottle, I do like this and would recommend buying it, I'm just not sure if this is the price I would be happy to pay. You can find Symphonia on Facebook and Twitter.
Have you tried Symphonia's apple gin? Let me know your thoughts on Twitter and Instagram.