Note: I met the Symphonia team at Junipalooza and they sent me home with some samples to try properly. As usual, I'll let you know what I think.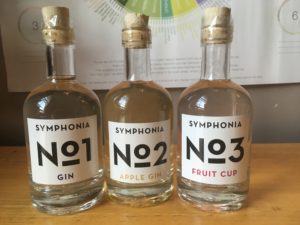 Symphonia gin is a fairly nerdy brand. Founded by Ric Dyer (who has a PhD in organic chemistry) in 2016, he decided to use his skills and experience to create innovative spirits with a focus on local flavours and ingredients. In the heart of rural Ireland, Symphonia is distilled using a knowledge of flavour molecules to create their balanced compositions. This 'composition' carries through to their branding with the musical notation on the label – which FYI is the notation of the makeup of the gin. Symphonia No.1 is a mix of citrus, local herbs and flowers and ending with spice.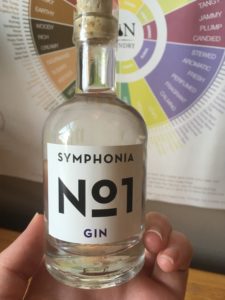 Opening the bottle and it smells almost chemically, but I think this the mix of herbs and spices funnelling through the bottle neck. In the glass, the botanicals are allowed a bit more space to even out and become less intense – something a splash of water helps even further. FYI – the first sniff you take will send you reeling with a nose full of pepper, but after the first sniff that goes away. But if you're not expecting it, it can be a bit much. With the water, there's a hint of vanilla softness coming through on the nose, which doesn't quite translate to the taste. It's fairly easy going, no one botanical is standing out. There's definitely hints of flowers and spice, but nothing that I could identify specifically. I'm glad that the herbal notes aren't coming through too strong as those gins can be a bit much for me, but this seems well balanced.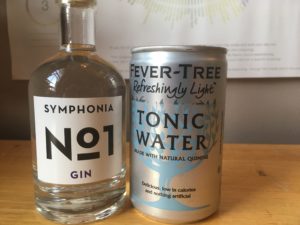 Mixed into a 50/50 g&t with some Fever Tree light and it is surprisingly sweet, like a squeeze of melted honey has been added for thickness and richness. As before, I cannot (due to my inept tastebuds) pick out specific botanicals and define the flavours, but there is a lightness to it that I tend to see with floral gins, there's an earthiness which grounds it in the mouth from the spice and then there is a little zing at the end. It is incredibly inoffensive and very moreish. If you're looking for a gin bursting with flavour then this won't be the one for you, but the sweetness and acidity at the end intrigues me and leaves me wanting more.
A 70cl bottle of the 40% No.1 gin is available from Gin Kiosk for £38.80 (at time of writing). Perhaps for me this is a touch too expensive, but they are in the very early stages so hopefully once they have produced a few more batches the price will come down a touch. You can find Symphonia on Facebook and Twitter.
Have you tried Symphonia No.1? Let me know your thoughts on Twitter and Instagram.