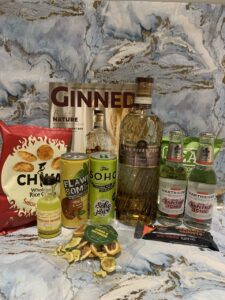 This month's Craft Gin Club is another special addition – luckily not a flavoured gin, but instead an award winning gin featuring a heritage botanical. Sarah and Jon set up The River Test distillery after attending a distilling course in 2017. On this course, they learnt about iStill, an innovative and fully automated still which uses less power than a traditional copper still. The team are based on a site of special scientific interest in Hampshire which means they are responsible for conserving the flora and fauna on their land.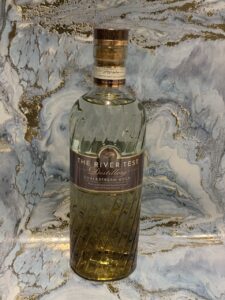 Their commitment to the environment doesn't end there. Their bottles are made of 55% recycled glass, and are made here in the UK to reduce their carbon footprint. They also invested in an electric van to carry out their local deliveries! Their original gin uses botanicals from their land – rosemary and bay grow in abundance, alongside their key ingredient: meadowsweet. Their original gin ended up winning Best London Dry Gin in England at the 2020 World Gin Awards, and when Craft Gin Club got in touch, they were up for a new challenge. For this version, they teamed up with a local farmer who introduced them to Maris Otter barley, a variety bred specifically for brewers and distillers. So, how does it taste?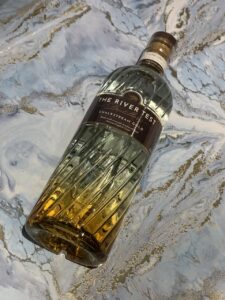 Opening the bottle you can pick up the grapefruit and a good amount of citrus. In the glass you start to notice some vanilla notes and a touch of oakiness. A splash of water shows how oily it is and helps the grapefruit to open up on the nose. To taste, you are greeted with a rich, oily mouthfeel, the gin really coats your tongue. It's very simple to taste, just a wash of juniper then along your tongue you pick up a splash of citrus, a touch of herbs, then a tingle of peppercorn. There's no alcohol burn, even when neat, as it's very smooth and easy to drink. It leaves your mouth warm, almost reminiscent of a honeyed whisky.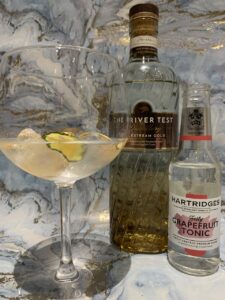 Mixed into their recommended serve using Hartridges zesty grapefruit tonic (solo tasting: very bubbly but not too aggressive, doesn't taste as artificial as it smells, overall pretty pleasant) and garnished with dried lemon and cucumber it's a bit sad. I don't know if it's because the gin itself is a classic gin and so is drowning in the flavoured tonic, or if it just doesn't pair well. So. Experiment one: remove the dried garnish. This has helped as now all you're getting is the grapefruit from the tonic but you can also pick up those warmer woody notes subtlety underneath.
Test two: mixing it with regular tonic. This is much better. I think it's just the flavoured tonic I'm not fully on board with. Whilst the gin has citrus notes, adding the grapefruit tonic is too much for my tastes. For me, drinking this as a 1:2 ratio with Fevertree light tonic is my preferred serve. It's interesting that they have supplied cucumber as a dried garnish as this features nowhere on the botanical list, plus cucumber is generally rubbish. Sadly I'm not picking up any herbal notes, for me it's that caramel sweetness from the barley with brighter zest layered on top.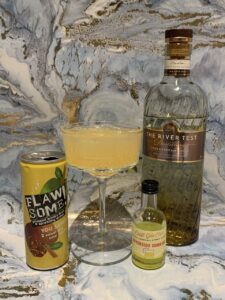 I decided to whip up their cocktail of the month, a Riverside Sunrise, using 50ml of the gin, 25ml of their shimmering syrup and 100ml Flawsome! sweet and sour apple juice. Whilst overall it's nice, because I like apple juice, the subtlety of the gin just gets completely drowned out. I think the citrus and herbal notes of this gin would lend them self perfectly to a dry martini, giving the gin nowhere to hide and letting the flavours shine.
The Chalkstone Gold gin is exclusive to Craft Gin Club members but you can find The River Test on Facebook, Twitter and Instagram.
Have you tried The River Test gin? Let me know your thoughts on Twitter and Instagram.