I emailed Persie Gin to ask for a sample for then blog and Tim kindly sent me a sample of their Herby and Aromatic Gin – as always you'll know if I don't like it. What I do really like are their postcards that come with their gin.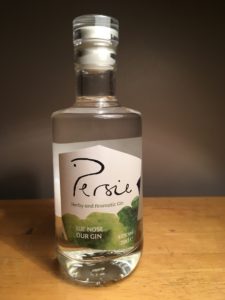 Persie Gin hails from Glenshee in the highlands of Perthshire (in the huge Cairngorms National Park right in the middle of Scotland). Persie's leaflet that I received states that 70% of the gin consumed in the UK is made in Scotland – and I'm not surprised. More and more distilleries are opening in Scotland (I refer you once more to the WSTA gin trail of Scotland) with Persie opening just one year ago in March 2016. They already have three gins to their name: 42% Zesty Citrus full of limes and blood orange; 43% Sweet and Nutty with hints of vanilla, butterscotch and almonds; and the one I'm trying today, Herby and Aromatic (40%) with bay, rosemary and basil. I'm noticing a trend in gins towards a more savoury serve, many gins are now recommending rosemary as a garnish so I'm intrigued to see how this gin stands up. Persie focus on the aroma of the gin – with 75% of flavour coming from the smell they placed an emphasis on creating gins that smell and taste good. They say "a simple sniff of Persie Gin can cause a flood of warm and fuzzy feelings". We'll see about that. But then they do say "We nose our gin" and I bloody love a terrible pun so I'm on board.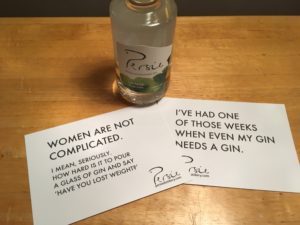 Opening the bottle it certainly smells savoury, my amateur gin nose can certainly sense that it uses herbs as a botanical – a smell that opens up in the glass. Mixed with a touch of water, the aromatic-ness of the gin comes to life. That is a MIGHTY smell to it. The smell is stronger than the taste when you first get it on your tongue, but once you've swallowed it and taken a breath your mouth comes alive. It tastes slightly like when you aren't paying attention when cooking and throw in a lot more herbs than intended. Not unpleasant, but something is a little out of balance. At 40% it has a fair bit of bite to it as well.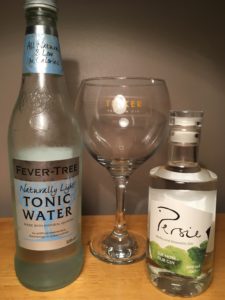 Mixed with some light Fever Tree (having just been for a 5k run I'm being healthy and all that…) the overpowering herbyness tones down and mixes well with the dry tonic. They suggest garnishing it with some basil leaves. I obviously do not have this in my kitchen as I am an underprepared gin blogger. However, I do have (dried) bay leaves, and as this is a botanical I gave it a google and am being experimental. I will not hold this against the gin if this doesn't work. As it turns out, a dried bay leaf doesn't make much difference.
A bottle of the Herby and Aromatic gin is currently on sale for £26.65 on Master of Malt. This is not my favourite gin, but I should have guessed this as I know I like dry, citrusy gins. Whilst I don't hate it, I'm not certain I'd want more than one of them, so I'm glad it's not up in the £40 price bracket. It does definitely deliver on their promise of a big smell – the smell, particularly when straight, really emphasises the herbs and adds another dimension to the taste. You can find Persie on Facebook and Twitter.
Have you tried Persie Gin? Or their other flavours? Let me know what you think on Twitter and Instagram.