Note: I emailed McQueen Gin for a sample for the blog and Dale McQueen kindly sent one. As always, if I don't like it I will say so.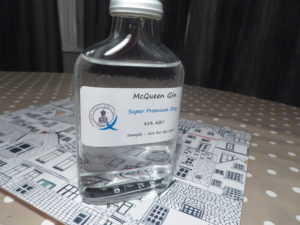 McQueen Gin is another new Scottish Gin (because I'm Scottish and hate whiskey much to my Dad's disappointment so I'm drinking lots of Scottish gin to make up for it) made at Trossachs Distillery in Callander. The distillery opened in July 2015, with four gins launching in June 2016: Mint Chocolate Gin, Sweet Citrus Gin, Smokey Chilli and Dry Gin – the version I have today. They launched the new Spiced Chocolate Orange gin earlier this year. Now to be clear, these are not flavoured gin liqueurs, these are proper 42% clear gins. Each batch is hand made and bottled from their distillery – in beautiful bottles may I add, the full size bottles are hand poured cobalt blue ceramic bottles. Sadly my taster bottle isn't quite as pretty.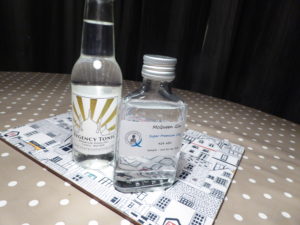 Smelling it from the bottle it certainly smells dry and predominately juniper – we're off to a good start. In the glass it smells a bit stronger, with a definite kick to it and mixed with water it tastes like a good strong gin. Juniper heavy with a hint of citrus, this feels like a classic gin. Slightly perfumed, the taste lingers for a while.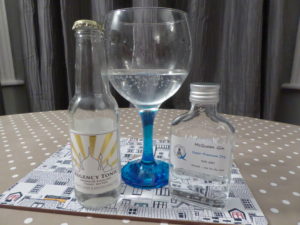 Mixing it into a G&T with Regency Tonic (which, coincidentally is produced three roads away from my flat and is utterly light and delicious), this surprised me (I admit, this might be the introduction of a new tonic or the gin or both). It is very light on the tongue, with the juniper toned down but still at the forefront of the flavour on the back of the tongue. The edges are laced with citrus and spice (and everything nice). This gin has surprised me. Imagine a classic gin and tonic, with a whole load of new surprises to it. Not cloying enough to not want another, and certainly surprising enough to come back for a second.
A 50cl bottle of the signature Dry Gin is currently £29.95 on Master of Malt. I think you should grab a bottle. And find some Regency Tonic while you're at it. You can find McQueen on Facebook, Twitter and Instagram.
Have you tried McQueen gins? What do you think? Let me know on Twitter and Instagram.