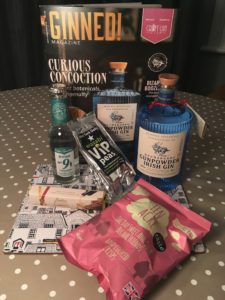 It's the best time of year again – my Craft Gin Club delivery arrived! Another bumper box includes a full bottle of Drumshanbo Gunpowder Irish Gin, a bottle of Peter Spanton No. 9 Cardamom Tonic, New York Delhi Wasabi Peas, Butler's Milk Chocolate Irish Cream Truffle Bar and, if there's any room left, Ten Acres Sweet and Sour Crisps. After my tumble down the stairs the other week, this was finally a ray of sunshine. Can we also take a moment to talk about how beautifully designed this month's copy of Ginned is? Mostly just for the cracking travel photos. Which leads nicely into the gin – based in Ireland with botanicals from around the world, this gin is the brainchild of Patrick J. Rigney. Whilst travelling in Morocco, he discovered Chinese Gunpowder green tea. Blended with grapefruits from Indonesia, kaffir limes from Cambodia, juniper from Macedonia, and caraway seed and cardamom from India, this gin's botanical list is basically my travel bucket list. I'm fully expecting a big, bold gin with this one – anything that crams so many flavours in to one bottle is never going to be dull.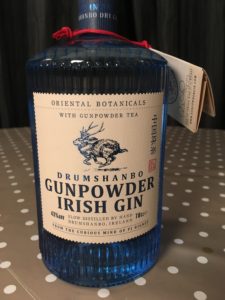 Opening the bottle and pulling out the branded cork, it smells gentler than I anticipated, but opened up in the glass it hits you. Big, bold and zesty it hits your nostrils with a bam. Loosened up with some water, it is more savoury than I anticipated. It's quite deep in flavour and heavy but not too oaky. A hint of spice at the edges but with a lightness at the front of the tongue.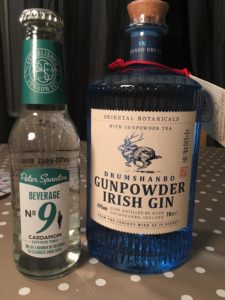 I decided it would be rude to not try it with the tonic provided (which on its own is very yummy and exciting, slight hints of curry from the cardamom but the lightness of the tonic, I wouldn't normally drink tonic on its own but this tastes really exciting) and the cardamom from the tonic highlights the more exotic flavours and it tastes absolutely nothing like a normal gin and tonic. I'm suddenly really gutted that I was too lazy to go buy a lime to garnish this with. It's not too heavy, but also not too "strange" – we know from ginvent I'm not a massive fan of overly flavoured gins but this one has a good balance to it. It's different to your usual tipple, and I imagine will work well with normal tonic, ginger beer or in a cocktail to add some depth of flavour. At first taste I wasn't sure of this, but the more I drink the more I'm used to the flavour. I really like the little hit of citrus at the back of your throat which helps to lighten the drink.
You can find a bottle of the 43% gin on Master of Malt for £31.50 (at time of writing). My opinion – invest in a bottle. It will spice up your evenings without being too wacky. You can get in touch with Drumshanbo on Twitter, Instagram and Facebook.