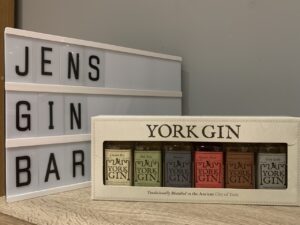 The Old Tom gin from the York Gin tasting pack uses the same botanical list as the London Dry and Outlaw gins. On top of that, they add a sugar syrup flavoured with white alba rose (the White Rose of Yorkshire), bronze fennel, star anise and pink peppercorns. The rose and herbs are grown at Michelin-starred restaurant, the Star Inn at Harome. This gin is another award winner – winning the Best English Old Tom at the World Gin Awards in 2020 and 2021.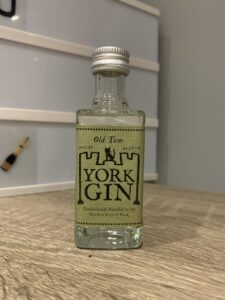 To smell, I get the juniper and cardamom that I've learnt to expect from this range, alongside something a little sweeter. In the glass, a hint of cooling menthol from the fennel starts to come through, but this changes to a bright citrus note with mixed with a splash of water. To taste you pick up the peppercorns, and it's not as sweet as I anticipated. Old Tom gins are known for being a sweeter style, but I wouldn't have guessed this was an Old Tom from a blind taste. It has a lot of character, the soft fennel balancing the tingle of pepper, with that woody unpinning.
They recommend serving this as a G&T with Fever Tree Mediterranean tonic – normally with an Old Tom gin I wouldn't bother with a G&T and move straight to a Tom Collins but I'm sticking to their tasting guide. This is less bitter than the previous two G&T combos – I imagine this is partly due to the sugar syrup and partly due to the tonic being more aromatic. However I have topped this up a little bit – I'm finding recently that I've moved from favouring a 1:1 ratio to more of a 2:1 ratio. This is rather tasty. It's not as intense as the Outlaw gin, less spiced than the London Dry, slightly sweet but not cloying.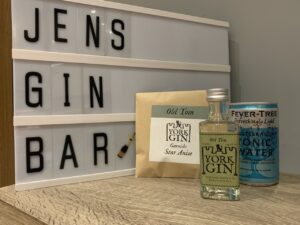 The recommended garnish here is star anise – I worry this might amp up the mentholic side too much but in the name of science (science? sure, let's go with that) I'm giving it a go. It's definitely adding some oomph to it, which I don't love (but I don't really like star anise that much generally) so I've fished it out and am going to just enjoy my G&T as is.
A 70cl bottle of the 42.5% gin is currently £39 from the York Gin website (at time of writing).