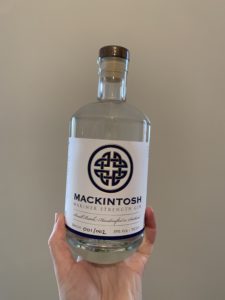 If anyone follows me on social media, you'll probably notice I have a little love affair with the Mackintosh gin family. I mean, I'm ginger and half-Scottish so I'm practically part of the family. I am a big fan of their London Dy gin which was launched last year, and so when they announced two new releases, I got very excited. The first is an Old Tom style gin with pineapple and grapefruit (the pineapple inclusion here worried me but I have been informed it is actually rather yummy), and the one we are trying today, the 59% ABV Mariner Strength gin. Made using the same botanicals as their London dry, but cut at the higher ABV (previously 42%), they say this is juniper led, with notes of elderflower, soft citrus and a hint of pepper. I'm a fan of Mackintosh gin, and I'm a fan of navy strength gins, so I have high hopes going into this one, so let's see how it tastes.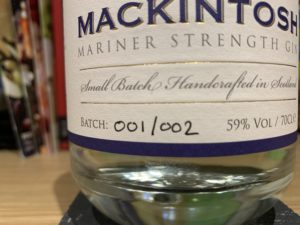 Opening my bottle (bottle two of batch number one, which is basically the first bottle sold as number one has stayed with the family) with a satisfying pop of the cork, the first thing you get is juniper, followed by that fresh rain smell of coriander and a tiny hint of flowers. In the glass, the sharp citrus starts to cut through the softer notes plus you get just a hint of peppercorn. Adding in a splash of water, it comes into balance and on the tongue it is very vibrant, full of peppercorn and spice straight away on your tongue. It lingers for a long time, which allows some of the grapefruit to shine through at the back of your mouth. It has a lot of flavour, certainly one to enjoy sipping neat as you can linger over this for a while.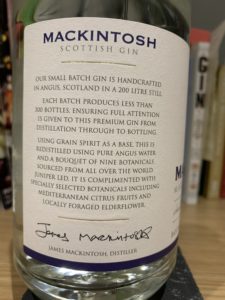 Mixed with Fever Tree tonic, it louches ever so slightly gaining a milky hue and the mountain of flavour is still there. Normally adding tonic drowns out some flavour but this is like a punch in the mouth (in a good way). It's certainly boozy and pungent, you get the sharpness of the grapefruit on the roof of your mouth and I personally get a big hit of pepper throughout. It is bold. I like it. There's so much flavour you don't want to glug it down (obviously never do that, always drink responsibly), it's a gin to be savoured and enjoyed.
You can get a bottle of the Mariner Strength gin direct from their website for £45 (at the time of writing). Go buy it. And some of their London Dry. Eugh, just buy the six pack of all three gins. You won't regret it. You can find Mackintosh on Facebook, Twitter and Instagram. I highly recommend doing this, they genuinely are some of the nicest people I've met so please go say hello to them. Not even being paid to say that.
Have you tried any of the Mackintosh gin range? Let me know your thoughts on Twitter and Instagram.