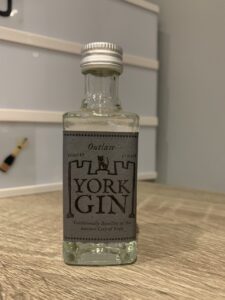 The Outlaw edition from York Gin is the strongest gin in their range. They took inspiration from York's infamous villains – highwayman Dick Turpin, Yorkshire witch Mary Bateman, and Guy Fawkes. It has the same botanical make up to the London dry featuring juniper, coriander seeds, angelica root, cardamom, cinnamon bark, dried lemon peel, orris root, black pepper and grains of paradise. However, it ramps up the ABV from 42.5% to 57% – in 2021 this won the Best English Navy strength gin at the World Gin Awards, and in 2019 won Double Gold at the San Francisco World Spirits Competition which is quite the achievement.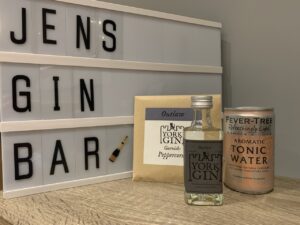 Opening my little bottle and it's recognisable as the London Dry, but definitely has a twist to it. Those same warming notes drift up but the juniper is slightly more prominent this time. In the glass the juniper comes through – with the London Dry I couldn't pick up much juniper at all but here the woody notes are noticeable. A splash of water makes it smell slightly Christmassy – pine, citrus and cinnamon. To taste it's drastically different to the London Dry – with that all I could taste was the pepper, but here it's more balanced. The pepper plays its part, but it comes in just at the end after the juniper and lemon. I think personally, this is more to my tastes than the London Dry. And no, that's not just because I like navy strength gin.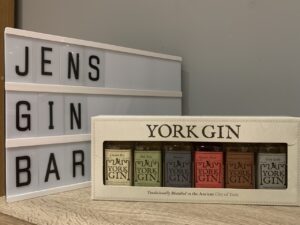 The tasting pack recommends serving this with Fever Tree aromatic tonic – a tonic designed for more juniper forward gins. Starting with equal measures and it is a proper strong gin and tonic. The tonic amps up the juniper and really hits you with the pine. Increasing the tonic helps dial down the bitterness and make it slightly softer to taste. I think if you aren't a hardcore juniper fan then this is one to lengthen out – but it still has so much flavour you can get away with it.
The recommended garnish is dried peppercorns – as you might have seen from my last post, I think dried garnishes are mostly a waste of time and are purely there to get stuck in your teeth. But I am a good blogger so have dropped a few in. Strangely, some are floating and some drifted to the bottom and have started effervescing. I'm still not convinced they add anything to the flavour, but the added bubbles make it a bit fun.
You can buy a 70cl bottle of Outlaw gin from the York Gin website for £45 (at time of writing).