Note: Siân kindly sent me a bottle of their new gin to try, but as always I will let you know what I really think.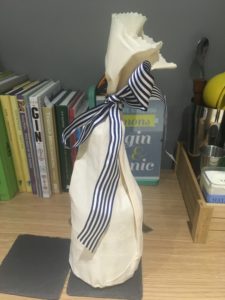 You might have seen my post about Gŵyr's first gin (if not, you can catch up here) and today we try their new seasonal offering. What does Pinwydd mean I hear you ask? Well, luckily my Welsh is brilliant (and Siân translated it for me) and I can tell you it means "pine trees". If you're as smart as I hope you are, you might have guessed that this gin features pine tips as the new flavour. The pine tips are foraged from North Gower – a very different region to South Gower where the team live and distill. They gathered their ingredients and made up their first batch, which they quickly discovered was "too piney" and after some experimenting they found that pink peppercorns were the answer to balancing the flavours. This gin is the first in what they hope will be a seasonal range showcasing what the region has to offer , and this is the 'winter' edition. Other seasonal botanicals include orange pulp, zest and cranberry, on top of their original recipe of juniper, angelica, coriander, orris and lemon zest. So, how piney does this gin really taste?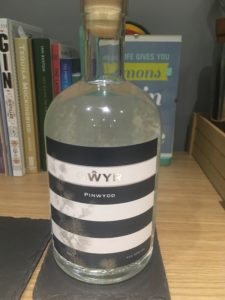 Opening up my bottle (which takes a while if you a) don't notice the plastic seal and then b) can't break said seal) and even with my blocked nose, I can smell the pine needles. It isn't over powering through, sometimes when a gin uses a featured botanical like that, it can knock everything else out of kilter. In the glass, the smell changes and it really fills your headspace, but with a touch of sweetness just at the back of the nose. With a splash of water, the fresh orange is really obvious, and for once, I think this smells quite enticing. I didn't recoil at the smell of orange! Maybe it's the remnants of the cold. Anyway. It is very refreshing on the tongue, the orange is there but not over powering. I don't pick up the pine notes that strongly, although there's definitely something more herbal in the mix.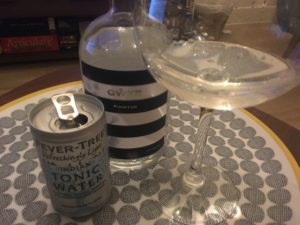 Mixing it with Fever Tree light (they recommend a light tonic) in a 50/50 ratio and the pine needles become more prominent and balance out the sweetness of the orange. It's quite simple on the tongue in that the flavours don't change or develop, but a lot do hit you at once. You get the juiciness of the orange pulp, the herbal notes from the pine needles and then a little fire on the centre of your tongue from the peppercorns. Once you're used to the variety of flavours, it works really rather well. Because the flavours are quite intense, I've added a splash more tonic and this just tones down the flavours a bit and brings a sweeter note to the front. This is rare, but I prefer this with 100ml tonic to 50ml gin as it just makes it slightly more palatable, but if you want the flavours to explode in your mouth, you'll want to go for a more even ratio.
You can get your hands on a 50cl bottle of Pinwydd from Cheers for £29.95 (at time of writing). Frankly, a bargain. It is hard to find a craft gin under £30 these days and this is unique enough to feel you have something special, but affordable enough to not feel like you have to put it on a shelf and only bring it out for a special occasion. You can find them on Facebook, Twitter and Instagram.
Have you tried Pinwydd gin? Let me know your thoughts on Twitter and Instagram.