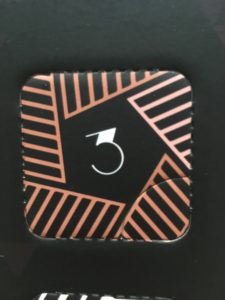 Anyone that knows anything about the Gin Foundry calendars knows that Tarquin's is ingrained into everything they do. One of the first to be involved with Junipalooza, they have also been featured in every Ginvent calendar since the beginning (you can read about their Cornish Dry, Seadog and British Blackberry). This year is no exception and we get to try a brand new and exclusive gin, the Tan Ha Mor. So what makes this gin unique? Working in collaboration with our favourite Gin Foundry folk, they built two firepits on their local beach and smoked English oak chips with coriander, juniper, pink grapefruit and oranges which had previously been smoked in seawater. These were then left to macerate in their Seadog gin before being bottled at 50.5% ABV – the co-ordinates of the beach they roasted the botanicals on.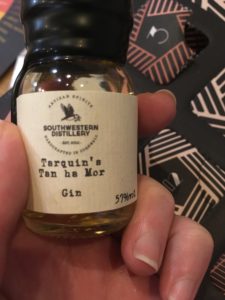 Opening the bottle and it doesn't smell smokey. It smells deep and rich and piney, although giving it a second or two to breathe now allows those smokier elements to come through. In the glass, the orange notes come through – and I'm not hating it. Every so often you get a whiff of smoke – reminiscent of evenings down Brighton beach with various BBQs on the go, or when you stand too close to the bonfire on fireworks night.
On the tongue, this is a lot of flavours. The smoke is definitely there in the flavour, actually make me cough a bit. Almost whiskey like with the warmth and the lingering smoke on the tongue. To counter this, the initial flavour is a juicy sweetness and a touch of saltiness. There is a lot going on. The second sip, when you know what to expect, is much better than the first. Adding some Fentimans premium Indian tonic water and it calms down a bit, but retains a lot of character (unlike yesterday's gin which lost every ounce of flavour). With tonic it is easier to drink, it no longer feels like you're inhaling smoke but the woody notes are still there, along with a squeeze of citrus to bring it alive. Adding their recommended grapefruit peel really lifts the flavours and to me this is now at it's best. The smokey quality can be too much for me, but with tonic and grapefruit this is really rather nice, but neat it would work brilliantly in a cocktail.
They only made 505 bottles of this, so if you want to get your hands on one, head to Gin Kiosk to grab a bottle for £39.80 (at time of writing). You can find Tarquin's on Facebook, Twitter and Instagram.
Let me know what you think on Twitter and Instagram, and don't forget to keep up with all things Ginvent here.