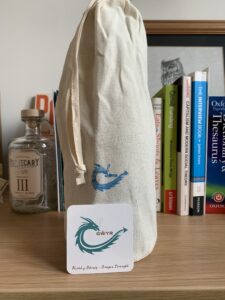 Regular readers might have realised by now that I am a big fan of the Gower gin team. Not only are they lovely people, but they manage to smash out great gin after great gin (case in point: Gwyr gin, Pinwydd, Rhosili, Rhamanta and Bara Brith). Today's gin is one that I have been looking forward to for a long time, their first foray into the world of navy strength gin which comes with layers and layers of wrapping. Based on their Rhosili gin which uses sea buckthorn, lime, gorse and linden flowers to commemorate Dylan Thomas, this gin isn't just the minimum 57% ABV needed for navy strength gins. Nope, we are going all the way to 60% ABV. As well as the amped up ABV, they have also added grains of paradise and cubeb pepper for heat, and bringing in a smokiness from lapsang souchong tea. If you head to Rhossilli on the western end of Gower, you'll find Worms Head, a tidal island shaped like a dragon drinking from the sea which inspired the name and botanicals for this gin.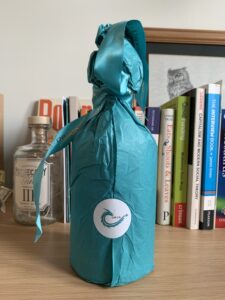 From the bottle you can instantly pick up the earthy juniper alongside a gentle smokiness, I'm surprised this doesn't hit you in the face like some higher ABV gins do. In the glass, the smoke is still present, but it's more like the smell of a burnt out bonfire, that deeper ashy tone. There's a hint of caramelised citrus around the edges, like the limes have been singed around the edges and have taken on a sweeter note. Adding a splash of water and it is worryingly easy to drink neat, I would never guess this is 60% ABV. The flavours develop and change in your mouth; on the tip of your tongue you get a lovely vanilla smoothness, then the pepper kicks in, and just before it hits the back of your throat you get the heavy, perfumed smoke from the tea. It reminds me of the Treth Ha Mog gin that literally cooks the botanicals on a BBQ to evoke the sense of a bonfire. Different methods, but a similar and lovely result.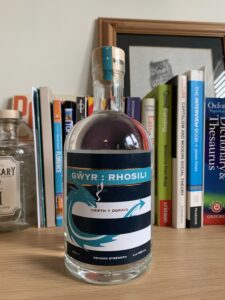 Mixing it with some Fever Tree tonic (they recommend this neat, in a gimlet or a negroni but keeping things consistent) and the flavour profiles changes slightly. The smokiness becomes more obvious throughout but the pine from the juniper and a slightly bitterness from the gorse starts to shine through. It is so incredibly smooth to drink, there's no kickback from the ethanol, there's no recoil in horror from the taste. I think personally a tad more tonic is better here than my usual 50/50 to help lower the dryness and make it a little more sippable. I'm already excited to drink this in a negroni.
You can get a 70cl bottle of the Dragon Strength gin from Gower Gin's website for £45 (at time of writing) and it is worth every penny. I would expect a navy strength gin to be around the £40 mark (unless it's Hayman's) and this brings something different to the table. You can get in touch with team Gower on Facebook, Twitter and Instagram.
Which Gower gin is your favourite? Let me know on Twitter and Instagram.