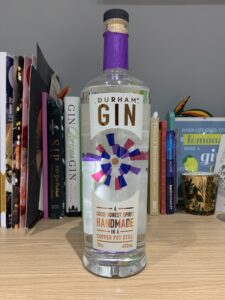 As part of Gin Foundry's clear out, I received a bottle of Durham gin in my box of goodies. Founded in 2014 after Jon Chadwick had drunk his way through the craft spirits of the East Coast of America, he returned to his hometown of Durham and decided to set up the first distillery in the city. He wanted to make a classic gin, true to the spirit's roots, whilst weaving in elements of the city he loved. He mixed traditional juniper with Northern botanicals elderflower, angelica and celery seed. He wanted to give his gin a modern twist alongside this, so added in pink pepper and cardamom (two of my favourite flavours, just sayin) and ended up with their signature gin. Ensuring the city's history was firmly included in the brand, the bottle was designed as a modern interpretation of the Cathedral's Rose Window – fractured at first, but bought back to it's original form when viewed though the bottle of gin. Since 2014 the company has grown and they also now produce a vodka, a cask aged gin, two gin liqueurs (strawberry & pink pepper and damson, blackberry and ginger), and in 2018 started work on their first whisky – a first for the North East. So, how does their flagship gin taste?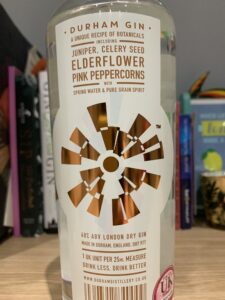 Sticking my nose straight in the bottle and the juniper is obvious straight away alongside a gentle floral note which I'm guessing is the elderflower. Giving it a chance to breathe in the glass you start to be able to pick out more flavours, getting slight peppery notes alongside that earthy juniper. Drizzling in some water and it's incredibly gentle on the tongue. You get the dryness from the juniper with a tickle of peppercorns as it washes through your mouth, it's not overwhelming. There's a slight mentholic effect to it that makes it very refreshing, it's dangerously easy to drink neat.
Mixing it into a G&T with equal amounts Fever Tree tonic and I'm happy to say none of the flavour is drowned out. It's such a classic gin that showcases the juniper, whilst keeping you interested with the sweetness hitting the roof of the mouth and a kick of warm spices at the back of the throat. I think they have achieved their goal of creating a modern but classic gin.
You can get a 70cl bottle of the 40% ABV gin from their website for £28.50 (at time of writing). You can find Durham Distillery on Facebook, Twitter and Instagram.
Have you tried Durham gin? Let me know your thoughts on Twitter and Instagram.