Note: This post contains affiliate links marked as [Ad], if you click on this and buy a bottle of gin then I will receive a small commission.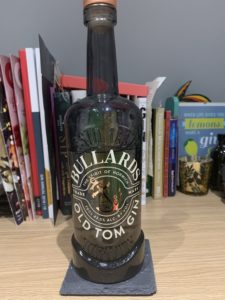 I met the team from Bullards gin at Junipalooza and was able to give their range a try (I would like to give a shout out to their strawberry and black pepper gin which I thought I would hate but actually quite enjoyed). I've now got myself a bottle of their Old Tom gin – a style of gin you should all know I enjoy – which also won best Old Tom style gin at the 2019 Gin Guide Awards (as a distillery they won five awards plus Distillery of the Year). They use ten botanicals in their Old Tom gin including honey which is contrasted by mango and pink peppercorns. That's a lot of flavour for a gin that is usually defined by it's sweetness; by the sounds of it, the sweetness will be less synthetic than some sugary gins. Bullards were (that I've seen) one of the first brands to introduce refill packs, theirs fit through a normal letterbox and are 70cl so you can reuse your bottle then pop the empty pouch into a postbox and the distillery recycle them. This saves you money and is a much greener option – we all know bottles are recyclable but they also take a lot of energy to make and transport around.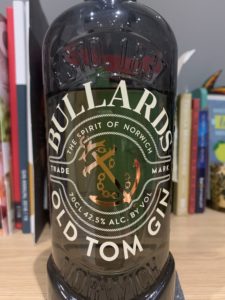 Opening my bottle from the wonderfully shaped bottle, and you definitely pick out the juniper. After a few sniffs you can start to sense the bright pink peppercorn and spiced notes. In the glass, there are rich vanilla tones coming through. Currently not picking up too much sweetness or fruit, but with a splash of water it smells cleaner. To taste, it is very smooth and those peppery tones are definitely the most prominent. It isn't what I would expect from an Old Tom gin. There is a hint of sweetness at the end from the honey, but for the most part it tastes like a regular gin.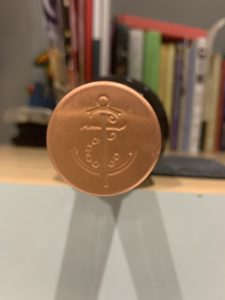 Mixed as a Tom Collins (50ml gin, half lemon juiced, splash of sugar syrup, stir, add ice, stir, top with soda and lemon wedge) it is delightfully refreshing (as per usual). The pepper dials right down and it tastes exactly as I would expect it to. Which is interesting. I don't think I used more sugar or soda than I would normally and the character of this gin has changed completely. I really like it served neat, and in a cocktail, but for completely different reasons. Neat it is a pungent gin you can sip away on, and I think would work as a short g&t to allow those flavours to shine. As a Tom Collins the sweetness is heightened (obviously) and you start to get just a hint of the tropical mango on the tips of your taste buds. Very interesting.
You can get a 70cl bottle of the 42.5% Bullards Old Tom gin from Spirits Kiosk [Ad] for £37.45 (at time of writing). Towards the top end of the scale, maybe, but I think that now the weather is getting warmer everyone needs to invest in a good Old Tom style gin for long pitchers of Tom Collins. Not that we are allowed out to drink them with friends. But isolation is hard. Feel free to drink the pitcher yourself. Responsibly though. You can find Bullards on Facebook, Twitter and Instagram.
Have you tried any of the Bullards gin range? Let me know your thoughts on Twitter and Instagram.