Note: This post contains affiliate links marked as [Ad], if you click on this and buy a bottle of gin then I will receive a small commission.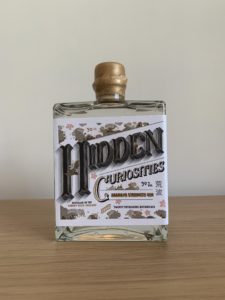 If you follow me on social media, you'll know that I am the #modelofrestraint. Because of this, and being bored at home, I decided this month's treat would be a bottle of Hidden Curiosities Aranami strength gin. I've met founder Jenny a few times and tried it at Junipalooza, plus everyone RAVES about it on social so to get rid of my FOMO, I ordered a bottle on Friday and it arrived on Tuesday (note: the Monday was a bank holiday). Super speedy. Hidden Curisosities started in a slightly unusual way; Jenny runs Cravat Club, a place to design and sell modern, beautiful cravats. After five years living in Japan and many years of sampling gins, Jenny pursued her entrepreneurial streak and decided to launch her own gin. She found that she was getting tired of the same flavours coming through again and again so wanted to create something unique that would last the test of time. She worked with the team at Silent Pool gin (30 mins drive from my home town, just saying) to develop her recipe and launched Hidden Curiosities in 2017. Since then, she has launched today's gin, the Aranami Strength, bottled at 59% ABV. Using 20 botanicals (seven of which come specifically from Japan), Aranami means "raging waves" in Japanese and this is how Jenny sees this gin – like a burst of flavour. It actually won Best English Navy strength gin at the 2020 World Gin Awards and won the Industry Choice award at the 2020 Gin Guide awards so the love for this gin is surging forward like the name suggests. They say it is "overflowing with citrus, pepper and floral notes", so let's see how this tastes.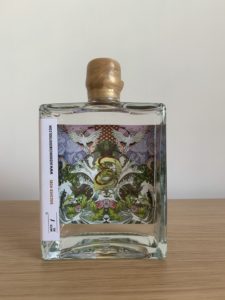 Peeling off the wax seal and you get such a fresh aroma coming out the bottle neck. There is plenty of citrus crammed in there, and in the glass you can pick up some soft juniper. Leaving it to sit for a minute brings out the peppered tones giving it something bright and vibrant. Adding a splash of water brings hints of the Furano lavender and Sansho pepper on the nose, and on the tongue you get a big hit of warmth and spice on the tip of the tongue with juicy citrus (yuzu and kabosu amongst others) filling the rest of your mouth. It's complex, and you get a lot of flavour coming through without being overwhelmed by the alcohol content.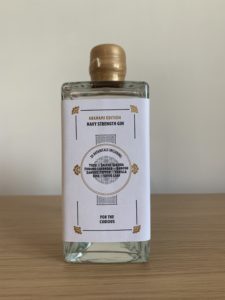 Mixed with an equal part of Fever Tree light and the flavour profile changes. The pepper now hits at the back of the throat rather than the tip of the tongue, the citrus blends with the floral notes to bring out the lavender whilst not tasting of soap. It has a tartness to it, but also a sweetness. The finish is long and slow and leaves your mouth tingling for a good minutes or so as it fades away. Every sip seems to highlight a different aspect of this gin, it keeps you guessing. Jenny did a good job at creating something that doesn't taste the same, time after time.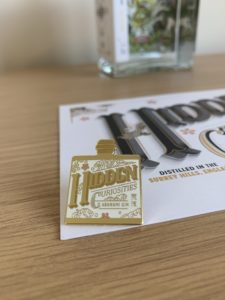 You can get a 500ml bottle of the Aranami Strength gin from Spirits Kiosk [Ad] for £52.45 (at time of writing). Does it make this one of my more expensive gins? Sure. But does it give you something very different? Yes. Personally I really like this, but I appreciate the price point makes it slightly unrealistic for your every day gin. But it's lockdown, we are saving money on commuting and I think this is a lovely luxury. Treat yo self! But drink responsibly. You can find Hidden Curiosities on Facebook, Twitter and Instagram.
Have you tried either of Hidden Curiosities gins? Let me know your thoughts on Twitter and Instagram.
In all seriousness, being locked down can have a serious effect on your mental health. I'm all about indulging in a drink if it helps, but please drink responsibly. You can find more information and support about looking after yourself on the Drink Aware website. If you're struggling, reach out. I'm happy to chat.