Note: The team at Artisan Drinks Co sent me some samples to try, but as always I'll let you know what I think.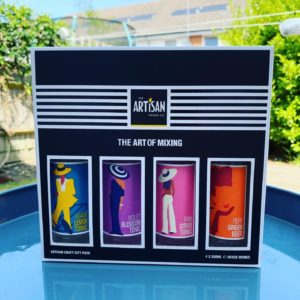 Back in June 2019, I tried some new tonics and mixers from the Artisan Drinks Co. Since then, the range has grown and I have some new drinks to play with. Alongside the Indian tonics, Violet Blossom tonic and Barrel Smoked cola we now get to try three new flavours: Agave Lemon tonic, Pink Citrus tonic, and Fiery Ginger Beer.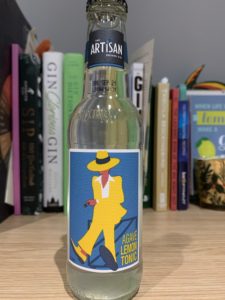 Agave Lemon tonic
This tonic has been designed with two uses in mind – either to pair with tequila or to bring a sharper edge to a gin. Mixing lemon and agave syrup (a naturally occurring sweetener from the agave plant) with a hint of chilli and, surprisingly, rock salt means this isn't your usual lemon drink. I love drinking bitter lemon with my gin (because I have the soul of an old lady), so I have high hopes for this twist on the classic.
This is an interesting mix, you get a sherbet sweetness alongside a dry, bitterness. It's about halfway between a bitter lemon and a lemonade. On the nose you get a burst of fresh citrus that's really juicy and enticing. I'm not picking up much chilli, but there's something slightly savoury about it so I think that sprinkle of salt is lurking in there. It's really tasty on its own and I would happily drink this as is. However, as this is a gin blog and all that, I'm mixing this with Pothecary Trinity gin and it allows the juniper from the gin to shine through, but adding a citric kick at the end. Adding a splash more tonic and the bitter lemon becomes more prominent, and the chilli mixes with the alcohol to give a lovely warm feeling at the back of your throat. I do think this would work well with a light rum or a tequila, and whilst I'd love to try this with more gins, I think this is tasty enough to drink on its own.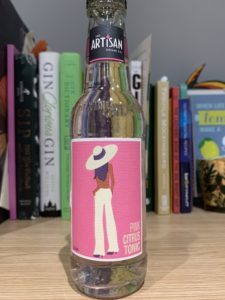 Pink Citrus tonic
I was lucky enough to try some of this tonic with February's Craft Gin Club box and loved it's fresh citrus flavour, so I'm excited to revisit this. Blending tonic with blood orange and grapefruit gives this a bold citric hit (and a gentle blush colour to your drink). On it's own it is beautifully tart, like fresh pink grapefruit juice. It has a hint of sweetness to it but the main feeling is the sourness. I would very happily drink this on it's own, or mixed with tequila for a Paloma-like cocktail.
For the G&T I'm starting with a simple Elg gin which only uses three botanicals, and mixed 50/50 the flavour from the gin shines through the tonic, indeed you don't get much flavour from the tonic at all. Adding a splash more tonic helps to bring that citrus flavour back to life. If you love grapefruit you could go all out and add it to something like Lakes Pink Grapefruit gin to make your mouth very sour indeed, or I think adding it to something more floral (which for me isn't my favourite flavour) could help bring it into balance. A tall glass of this filled with ice is the perfect combination for a summer's day.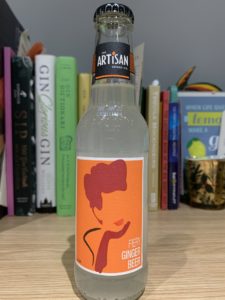 Fiery ginger beer
Gin and ginger beer isn't the most common combo, but as someone that likes to go against suggested serves and just drinks a lot of ginger beer, this is a good mix to me! This ginger beer combines ginger and chilli from Africa to give this ginger beer an extra oomph that they say makes it the perfect pairing for bourbons and rums. On it's own, it smells more fiery than it tastes, you know when you get a whiff of something and it catches in your throat? Yeh, that happened. On the tongue it is very fizzy, and the heat is clearly that of fresh ginger rather than something pretending to be ginger, and you get the fire of the chilli just on the very tip of the tongue. I am a little sad the heat isn't more consistent throughout the mouth, but I'll get over it as the ginger really sticks around.
To mix this with gin I have plumped for Colombo No.7 as it's a spiced gin so think it will complement the ginger beer (to be honest, most things go with ginger beer). The ginger is definitely still prominent but the spices from the gin (cinnamon and curry leaves) are still noticeable. I personally prefer this with a touch more ginger beer as it helps amp up the fiery side and tones down the curried notes.
You can buy a pack of four 200ml bottles direct from their website for £6 (at time of writing). You can find the Artisan Drinks Co. on Facebook and Instagram.
Have you tried any of the Artisan Drinks Co. range? Let me know your thoughts on Twitter and Instagram.