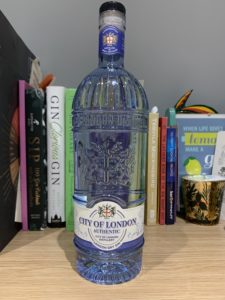 As you may know from this blog or my social media, I work in central London. Just down the road, in fact, from the City of London distillery. Whilst coronavirus might mean we can't travel or go anywhere, a fantastic deal online meant I pity-bought myself a bottle of their Authentic gin. The Authentic gin is the first gin the distillery launched back in 2012, becoming the first gin distilled in the city of London. The gin itself is pretty simple with just seven botanicals – classic juniper, coriander seed, angelica root and liquorice root alongside a load of citrus peel (orange, lemon and grapefruit). Distilled in a pair of 200l litre stills named Jennifer and Clarissa (after The Two Fat Ladies), the Authentic gin launched and defined the brand that now boasts an impressive nine gins (in fact, I've already reviewed their citrus led Six Bells and the Square Mile gin).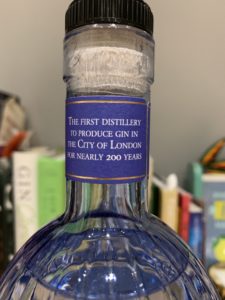 Opening up my bottle (which took multiple attempts and the use of a silicon oven mitt because my hands are soft and pathetic and the cork was wedged in tight) and it smells exactly as you hope it would. Juniper forward along with some citrus. Simple but effective. In the glass you get a whiff of ethanol, but it's 41.3% ABV so it's not to be sniffed at (even though I am, literally, sniffing it). Adding a drop of water cleans the aroma, and on the tongue you get a surprising amount of peppery fire across your tongue. Towards the end you get a twist of citrus at the back which is definitely on the tart grapefruit side of the citrus scale. After a few sips, you acclimatise to the pepper and whilst it is still there, you are able to pick up the softer juniper and the sweeter lemon notes.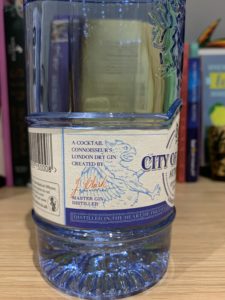 Mixing the gin with equal parts tonic and over the quinine bitterness you still get that pepper and citrus. I'm surprised more juniper doesn't come through, but it's not like you can't taste it at all. It's just a classic London dry gin really. A good quality one for sure, better than the average Gordon's but there is no wacky flavours or gimmicks. Even the citrus isn't overly pronounced, but there's definitely a sweetness to it at the back of your throat
You can get a 70cl bottle from Master of Malt for £33.95 (at the time of writing). I think this is a really good price (although I got it for £15 from Drop Store thanks to one of their flash sales that gave you three bottles for £45, absolute bargain) and the bottle is lovely so if you buy it as a gift you've got the wow factor as well. You can find the City of London Distillery on Facebook, Twitter and Instagram.
Have you tried any of the City of London Distillery range? Let me know your thoughts on Twitter and Instagram.