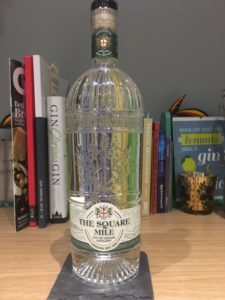 A few weeks ago, I went to the City of London Distillery for one of their distillery tours (which I recommend, it was great fun on a Wednesday night [note: I paid for this myself, it wasn't gifted]). As we left, obviously I bought myself a bottle of gin. The City of London Distillery opened in 2012 on Bride Lane (literally five minutes from my office) with their traditional London Dry gin which was quickly followed by the Square Mile gin that I am trying today. Since then, they have also launched a Sloe gin, an Old Tom gin, their Christopher Wren gin, and a number of flavoured gin such as the Six Bells gin they launched with Craft Gin Club. The Square Mile gin is distilled with juniper, coriander seeds, fresh orange and lemon amongst others and won a Double Gold Award at the San Francisco World Spirits Competition in 2017 which is a pretty big deal. Bottled at 47.3% ABV, it is also the strongest gin they make (I am slightly surprised they haven't added a navy strength gin to their family, but hey, there's still time).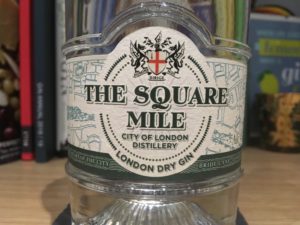 How does Square Mile gin taste?
Opening my bottle and you are instantly aware of the piney fresh juniper, which stays when it is in the glass. Despite the fresh orange and lemons, the gin doesn't louche at all and adding a touch of water allows the citrus notes to come out. On the tongue, it's surprisingly peppery and has a touch of mentholic freshness. It's light and easy to drink, whilst tasting stronger than the 47.3% ABV.
Paired with Fever Tree light tonic, and the citrus is lifted, it fills your whole mouth and you get a combination of sugary sweetness and dry sourness at the back of your throat. By adding just a splash more tonic, the harshness of the alcohol is muted and allows you to enjoy the flavours more. If you like your gin strong but want to tone it down from a navy strength slightly, I'd say this is a solid bet. I am using more tonic than I usually would (by 25ml), but this just softens out the rougher edges and makes this a delight to drink.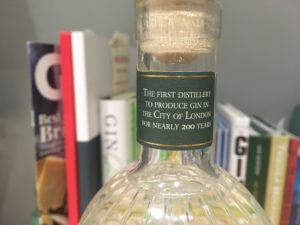 Where can you buy Square Mile gin?
If you can't make it to their distillery, all of their gins are available on their website – the Square Mile gin is currently £35 (at time of writing, although if you book a distillery tour you get £5 off). Honestly, they are a great distillery and everything I've tried from them has been great (including their Mercurian Orange which is delightful and I don't event like orange). You can find them on Facebook, Twitter and Instagram.
Have you tried any of the City of London Distillery range? Let me know your thoughts on Twitter and Instagram.