Note: I met the team from Opera gin at Junipalooza and they kindly gave me a sample to try, as always I'll let you know what I really think.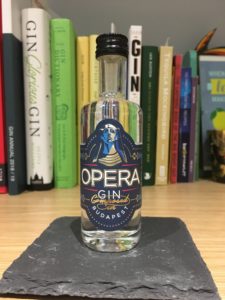 What is Opera gin?
To anyone looking for their next holiday destination, I would recommend Budapest. It's a lovely city and we had a very fun week there despite falling down the stairs in a ruin pub and spraining my ankle, and falling in the Danube (sprained ankle first). You might wonder why I'm telling you this, but today's gin comes from that fine city. Fellow WSET student, Balint Damosy (also a lawyer) realised during his training that gin was his passion and spent two years researching and learning about gin, before deciding that launching their own gin was not as insane as they thought. And so Opera gin was born. In April 2018, they received their distilling license to become the first micro-distillery in Hungary, and set up shop in a former cotton factory within the Budapest city walls. They chose to create a traditional London Dry gin as they wanted to create something that was not just high quality, but also true to the spirit. They start with a Hungarian corn spirit before adding standard botanicals: hand picked juniper from the Kiskunság National Park; Bulgarian coriander seeds; angelica; orris root; and liquorice. They then make their gin unique by using citronella grass (which I've never come across as a botanical before but feel free to correct me!), lavender, a touch of aniseed and cubeb pepper, and their signature botanical poppy seed. They say this all blends together for a citrus and juniper forward gin that works well with tonic, but also pairs with a dry vermouth to make a crisp martini. So, how does it taste?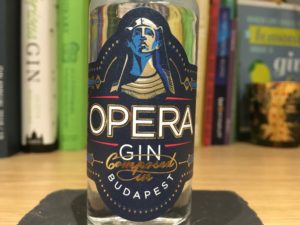 How does Opera gin taste?
Opening my baby bottle (which luckily still has a beautiful label) and the citrus is instantly recognisable, it smells delicious and like a good quality gin should. In the glass, the ethanol hits you, but giving it time to settle brings out a gentle spice and that little hint of aniseed adds a savoury edge to it. With a touch of water, the spice and citrus blends well together on the nose, and there is a strong whack of juniper there too. The first thing you notice is the pepper that sets up shop at the tip of your tongue, the second thing is the thick, creamy mouthfeel. The smoothness of it reminds me of vanilla or almonds, although none of the botanicals sit in that area (although a quick google says that poppy seeds have that nutty quality so perhaps this is what they bring to the party). At 42% it's not the highest ABV gin I've ever had, but it has quite a kick to it neat.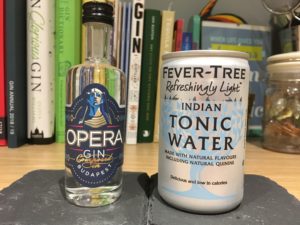 Mixed with equal parts Fever Tree light and you can now pick up on the soapy lavender (favourite smell, not so favourite botanical) and the aniseed and cubeb are staying strong. It's strangely savoury, it has quite a herbal end to it thanks, I believe, to the citronella grass (closely related to lemongrass). It's slightly cloying as it currently is, so I've added a dash more tonic which calms it down and allows a softer, sweeter side to come out. I feel that the flavours are balancing better now, and adding a small lemon wedge really amps up that sherbety feeling – this feels like a very different drink to when I tasted it neat. Both forms are good, but in very different ways.
Where can I buy Opera gin?
You can get your hands on a 70cl bottle of the 42% Opera gin from Gin Kiosk for £42 (at time of writing). Some of this cost will be due to the transport and taxes involved with shipping it (indeed their website is selling it for 12900 Forints which currently converts to about £35). I think it is a good gin, and it can appeal to multiple people due to the flavour differences from neat to diluted. I'm not completely convinced this one would be my top choice. You can find them on Facebook and Instagram.
Have you tried Opera gin? Let me know your thoughts over on Twitter and Instagram.