Note: The lovely team at Gwyr gin sent me a bottle to try, but as always I will let you know what I really think.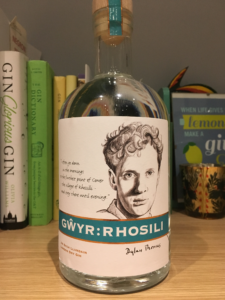 What is Gwyr Rhosili gin?
If you want to know about Gwyr gin, then I will point you to my posts on their original gin and their Pinwydd edition. Today, however, we are drinking their newest edition to the family, the Rhosili gin. This has been designed with the Dylan Thomas Estate to commemorate the poet's links with Gower and Rhosili (his body is interred around the coastline in Laugharne). Thomas is most famous for poems such as Do not go gentle into that good night, a poem that has been quoted in numerous shows and films like Doctor Who and Independence Day. So how is this gin different to their others? Where their original gin focuses on pink grapefruit and fennel, the Rhosili edition features foraged gorse flowers, fresh lime zest, sea buckthorn (a botanical that seems to be appearing more and more) and linden flowers. Linden flowers have been used by herbalists for all sorts of things – coughs, colds, high blood pressure and migraines and research has shown that the flowers may have properties that help prevent damage to your liver. Which surely can only be a good thing when added to something that is proven to damage your liver? Please note I am not saying that drinking this is good for you in any way, as always, please drink responsibly. So, moving on, how does it taste?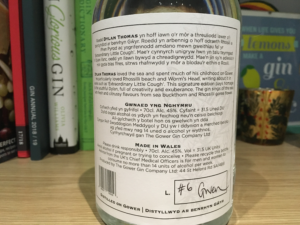 What does Gwyr Rhosili gin taste like?
Opening my bottle, and the smell is very enticing and welcoming, you get a hit of citrus and something perfumed in the top. In a glass, this opens up to a very familiar smell. I just can't work out why I know it. It's such a balance of scents – the citrus comes through as a cross of heady bergamot and a freshly squeezed, juicy orange; a heavy perfume from the gorse like honeysuckle and jasmine on a warm summer's evening; and finally a crisp fruitiness from the sea buckthorn with a tinge of salt. With a touch of water, there is a hint of sharp pepper that is pinpointed in the centre of the tongue. The citrus swills around the edges of your mouth, brightening the entire feel of it. It maintains an earthy note that links it back to the familiar juniper we expect from a gin.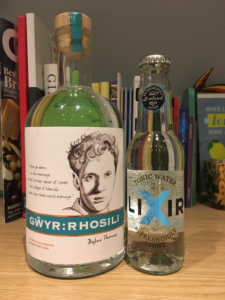 Combined with some Lixir light tonic, and the pepper stays around but it is less focused and now travels around the mouth. The citrus is prominent, along with a smokey flavour which has hints of whiskyesque caramel to it. I'm slightly underwhelmed with it with tonic (although I will continue to experiment as perhaps it's just Lixir it jars with). I should clarify, this isn't bad at all, I simply prefer this neat (but they do have two other great gins that work brilliantly with tonic and in a negroni). After my first taste, I made another drink using two parts tonic to one part gin, and I think this is a better combination. It's allowing the citrus to really shine through and you can definitely pick up the fresh lime. Garnishing this with a slice of lime makes it super tart and refreshing, perfect for a summer evening.
Where can I buy Gwyr Rhosili gin?
You can get a 70cl bottle of the 45% gin from Cheers Wine Merchants for £39.95 (at time of writing). As expected from the Gwyr team, this is a great gin that I think is better enjoyed long for a more refreshing drink (or neat). Personally, in my usual one part gin to one part tonic, this wasn't my favourite but the change in flavours from neat to mixed is an interesting one. You can find them on Facebook, Twitter and Instagram.
Have you tried any of the Gwyr gin family? Let me know your thoughts on Twitter and Instagram.