Note: The lovely team at Gwyr gin sent me a bottle to try, but as always I will let you know what I really think.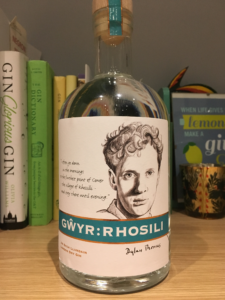 What is Gwyr Rhosili gin?
If you want to know about Gwyr gin, then I will point you to my posts on their original gin and their Pinwydd edition. Today, however, we are drinking their newest edition to the family, the Rhosili gin. This has been designed with the Dylan Thomas Estate to commemorate the poet's links with Gower and Rhosili (his body is interred around the coastline in Laugharne). Thomas is most famous for poems such as Do not go gentle into that good night, a poem that has been quoted in numerous shows and films like Doctor Who and Independence Day. So how is this gin different to their others? Where their original gin focuses on pink grapefruit and fennel, the Rhosili edition features foraged gorse flowers, fresh lime zest, sea buckthorn (a botanical that seems to be appearing more and more) and linden flowers. Linden flowers have been used by herbalists for all sorts of things – coughs, colds, high blood pressure and migraines and research has shown that the flowers may have properties that help prevent damage to your liver. Which surely can only be a good thing when added to something that is proven to damage your liver? Please note I am not saying that drinking this is good for you in any way, as always, please drink responsibly. So, moving on, how does it taste?